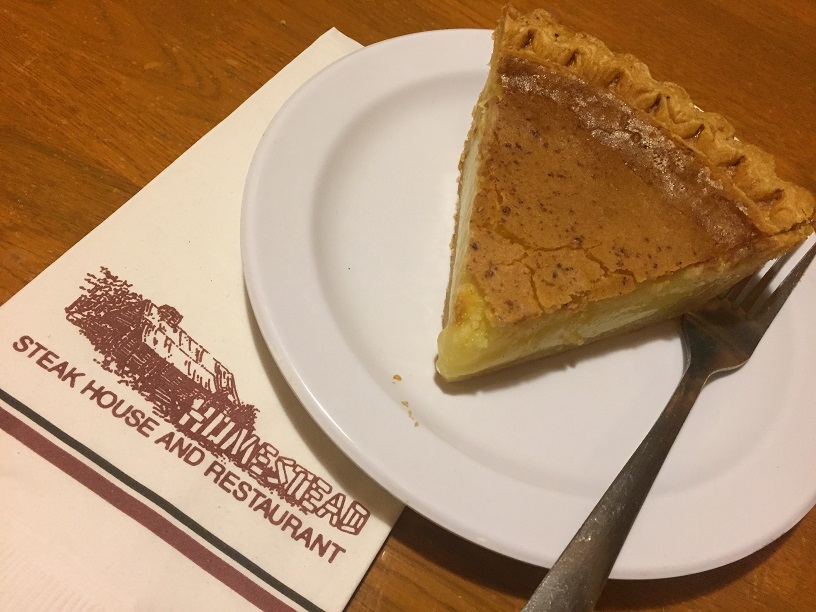 The Homestead Steakhouse cooks up authentic American dishes, as well as Southern style food offerings. For this holiday season they have generously offered up the recipe for this special item you won't find on their regular menu… So, if you can't get enough of it at the Homestead or just can't wait, now you can make it at home.
Ingredients
½ Cup Buttermilk
1 ¾ Cup Sugar
2 Large Eggs
3 Table Flour
Pinch of Salt
1 Stick Butter Melted
1 Teaspoon Vanilla
1 Teaspoon Nutmeg
Cooking
Preheat oven to 400 degrees.  Mix all ingredients together and pour into unbaked 9-inch pie shell.  Sprinkle lightly with nutmeg on top.  Bake 15 minutes.  Reduce oven to 350 degrees and bake 45 minutes.  Cool to allow filling to set.
The Homestead Steakhouse and Restaurant is located in Timberlake just a couple of minutes south of Roxboro. For more information visit TheHomesteadSteakHouseNC.com or call (336) 364-8506 to make a reservation.