Building More than a Business – Revitalizing a Community!
By Joe Wilkerson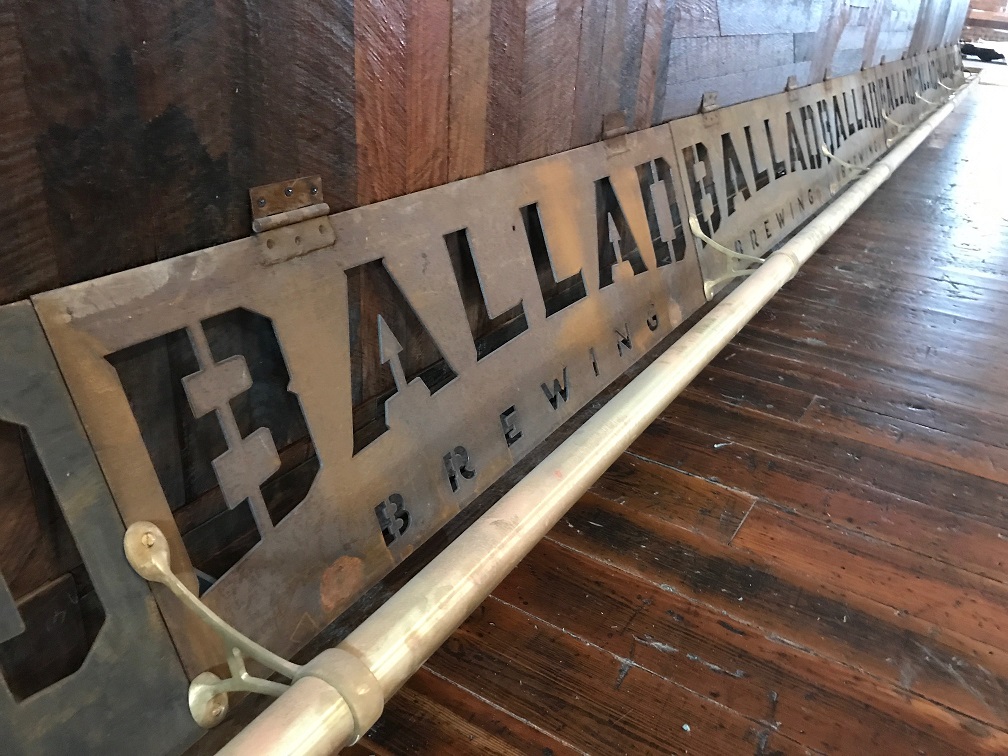 Ballad Brewing, located in the historical River District of Danville, VA, is quickly establishing itself as a popular destination for both casual and avid beer lovers. Ballad Brewing embodies the SPIRIT of community, rejuvenation, and passion. Beginning with its name, inspired by the classic ballad "Ballad of the Ole 97", Ballad Brewing's focus is squarely on the spirit of community by working to continue to embrace the heritage that made Danville, VA such a vibrant city in the past. Today, we are witnessing a resurgence of the once thriving city, and Ballad Brewing is a central fixture in this rejuvenation. One step into the taproom or on their outdoor patio, and you will feel the passion that drives Ballad to deliver a great atmosphere and great beer from all walks of life.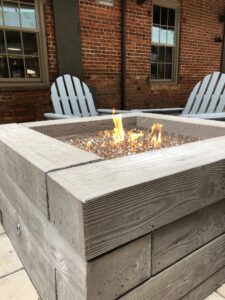 From its inception, the owners of Ballad Brewing wanted to build on the spirit of community. According to Tim Meyers, General Manager, the spirit of community is the core of the mission at Ballad Brewing. "We wanted to create a space where our community could gather. We offer 12+ beer varieties in the taproom, and we have an eye towards approachability by planning unique events such as food pairings and paint nights as well as unique activities like trivia and games (such as shuffleboard, darts, and even human foosball!). We try to give our community more reasons to visit us and interact with one another."
When you visit Ballad, you cannot help but take notice of all the fine details that went into the planning and flow of such a unique venue. When I was approached by Garrett Shifflett, one of the founding owners about creating a patio space outside the taproom, I instantly knew that Ballad Brewing would be successful. One of Garrett's first impressions on me was that Ballad Brewing would be a place to build community and friendships. Their attention to detail was paramount and they allowed us creative liberty with our design. As a result, we created an ideal outdoor area that complemented the unique interior. It is great to watch people in conversation, having fun, building memories. Ballad Brewing exemplifies the spirit of community and fellowship.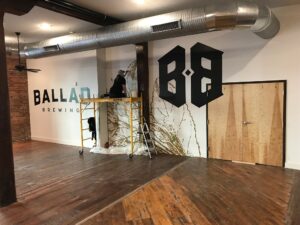 Located in the River District of Danville, Ballad Brewing is a shining example of the spirit of rejuvenation. Since the downturn in our local economy nearly 30 years ago, we have seen a once thriving community grind to a halt. A casualty of our local economic demise has been abandoning of historic buildings that once housed the economic engine of Southside Virginia – tobacco and textiles. The management and owners of Ballad Brewing take their role of revitalizing the river district seriously. According to Tim Meyers, "We are here for Danville and the first way we can impact the progress of revitalization is to build a successful and growing business within Danville's economy. We aim to breathe new life into our location by creating a functional and efficient production space as well as a comfortable taproom where guests can spend time and enjoy themselves."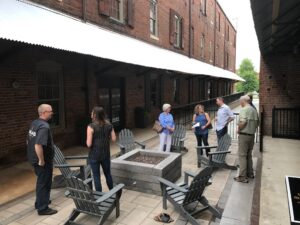 Being part of such a great project brought rejuvenation in my life as well. Transforming an old alley, once desolate, run down, and covered in mud into a beautiful patio enjoyed by so many is a life-giving experience. Unique product choices and construction techniques complemented the unique interior of this old tobacco drying warehouse and the spirit of newness and rejuvenation. We were challenged by the old construction of the two buildings not on the same level, as well as being essentially flat with nowhere for water to drain.
We overcame these problems by building the patio as a permeable surface – implementing a rather new technique that is ideal for overcoming such challenges and is very environmentally conscious. We also constructed the steps, walls, and firepits out of a new product from Techo-Bloc named Borealis.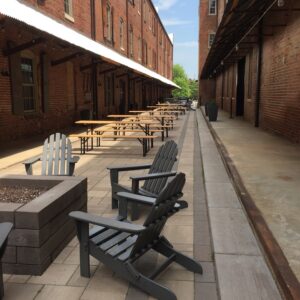 Borealis is a unique concrete product that resembles wood timbers in such a way that we frequently had people quietly stepping up to touch the "timbers" too afraid to ask if they were "real" or concrete. The large, beautiful wood timbers that make up the main construction of the taproom and throughout the building were the inspiration for this unique look.
The unique firepits are a great place to strike up a conversation, relax, and just enjoy some good beer. The Borealis resembles the large cross tie timbers that support the train tracks – another symbolism that is scattered throughout Ballad Brewing.
Since the grand opening of Ballad Brewing nearly 18 months ago, changes continue to happen in the River District. New restaurants and businesses alike continue this spirit of rejuvenation. According to Tim Meyers, "The additions we've seen throughout the River District have helped to draw tourists and make Danville a desirable place for transplants. Job creation is another product of revitalization. We, like our neighbors, employ local citizens and we are eager to watch our growth continue to create viable income opportunities in Danville." It is exciting to see such growth and new life in an area that had been abandoned.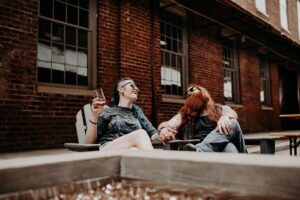 The spirit of passion that drives Ballad Brewing fuels their efforts in the community and rejuvenation of Danville. "That passion fuels our efforts toward community, uniqueness, quality, and creativity and makes it easy to come to work every morning. Lucky for us, that passion is present in all of our staff members which makes for very genuine interactions with customers and pride in the product we produce," declares Tim Meyers.
Dr. John Andorfer is the brew master at Ballad Brewing, and his passion for creating a unique collection is evident by the nearly weekly introduction of a new beer flavor. According to Tim Meyers, "John is constantly coming up with ideas for new beers. He is also constantly perfecting our longest standing recipes. He does not settle, and he is always working at better processes, better ideas, and as a result better beer."
Dr. John Ardofer says "My brewing reflects my creativity and thirst for knowledge. I have always embraced both art and science. Brewing has been a great discovery for me. Satisfying both passions by coupling my technical and scientific knowledge to my creative side." John also praises the freedom and rewarding nature in his job saying, "Ballad Brewing has afforded me the freedom to be creative and find inspiration wherever I can. It is quite rewarding and motivating to see that our creations and hard work have been well received and appreciated."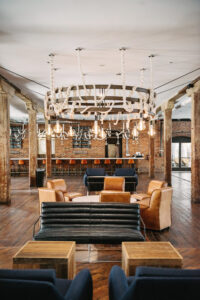 Subtle attention to detail will continue to drive this connection. For instance, Fast Mail, Ballad's flagship distributed beer is named after the Southern Railway steam train that tragically derailed at the Stillhouse Trestle in Danville that fateful day in 1903. Fast Mail was the Gold Medal winner in the Virginia Craft Brewers Guild Cup. Balladeer is the staple IPA, named for the songwriters that were inspired by the wreck of the Fast Mail train to author several ballads, most famous The Wreck of the Old 97. Cash Crop, Ballad's Farmhouse Ale, pays subtle homage to the tobacco heritage of Danville and the building that houses their taproom and production facilities.
Ballad Brewing recognizes the strong connection between the passions aligning their creations, the community, and their avid customer base. The spirits of community, rejuvenation, and passion flow abundantly from the taps of Ballad Brewing. When in Danville, make time to enjoy fellowship over a few beers in the taproom or the outdoor patio that has such special meaning to me and my company. As time goes on, the connection of Ballad to Danville will continue to grow and flourish. Unplug, relax, and enjoy a few good brews.
Ballad Brewing is located at 600 Craghead St, Danville, VA 24541. The phone number is (434) 799-4677 or visit them on line at www.BalladBrewing.com.


Joe Wilkerson is the owner of Southside Hardscape & Landscape Co., LLC. He was born and raised in our community. To get to know him better, check out his bio at www.SouthSideOutdoorLiving.com/meet-the-owner.