Served with Garlic Roasted Asparagus Blanched Carrots and a Rosemary Demi Glaze.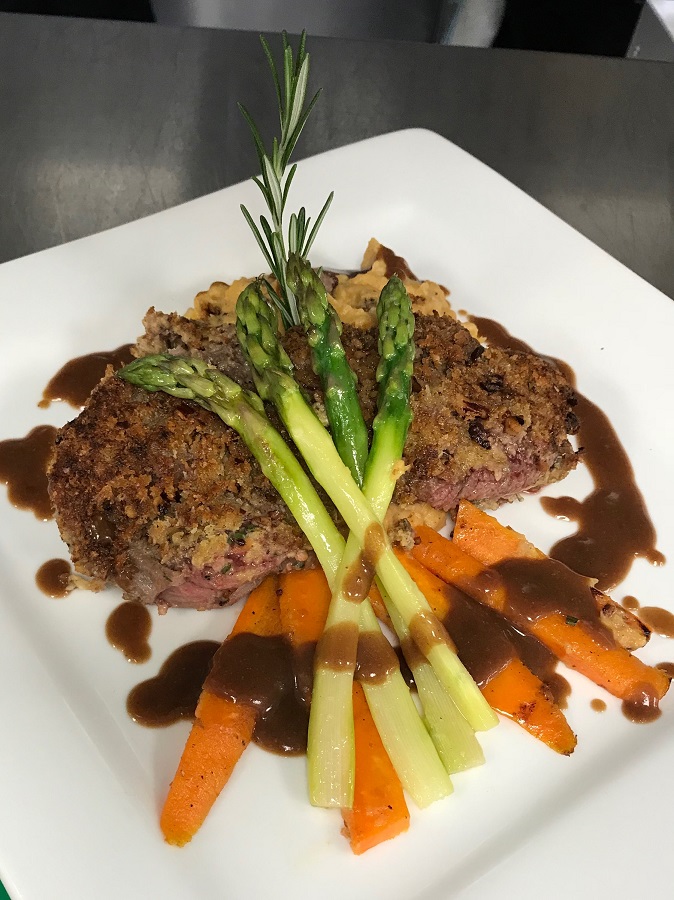 Demi Glaze
2 carrots large chopped
1 stem of celery chopped large
1 onion chopped large
1/2 cup red wine
1 pound veal bones
2 springs of rosemary
1 small bunch of tyme
4 leaves of sage
4 peppercorns
4 cloves of garlic crushed
Tomato paste to coat bones
2 quarts beef stock
Preparing the demi glaze is a 12-hour process. Roast the veal bones coated with tomato paste in the oven at 350 until golden brown. Meanwhile, roast the celery, onion and carrots. Add red wine to deglaze both pans of roasted vegetables and bones, add to the veal bone pan, add beef stock to cover. Simmer for 12 hours until it reduces to at least half and coats a spoon then strain.
Ingredients
2 lamb chops
4 spears of asparagus peeled and blanched
1 carrot 1/4 in sliced and blanched
2 cloves of garlic roasted
1/4 cup of Pistachio nuts lightly ground
2 tablespoons Dijon mustard
Lightly dredge the lamb chops in flour until evenly coated then fry till golden brown. Coat lightly with Dijon mustard and crust it with ground pistachio nuts. Prepare a pan with a hot mixture of 30% extra virgin olive oil and 70% vegetable oil. When the oil is hot, almost smoking, sear the lamb chops to a golden brown, remove and allow to rest.
Blanch the asparagus after peeling if the stems are thick. Blanching in ice water preserves the nice bright green. Toss it in a bowl of roasted garlic and oil to keep a bright color. Repeat for the carrots.
Plate Up
With a clean plate lay the lamb chops down placing the asparagus and carrots around it, then drizzle with demi glaze. Remember to wipe the plate so that it looks clean, making sure everything is hot and beautiful. You are ready to serve this elegant dish to your loved ones, family or anyone you want to make happy.
Scott Cox is the chef of Buoy's Restaurant located on Hyco lake. Scott, along with the new owners, look forward to pumping new life into the only restaurant on Hyco Lake. With a brand-new menu and staff, you'll have to taste it to believe it.