Story by Norwood Walker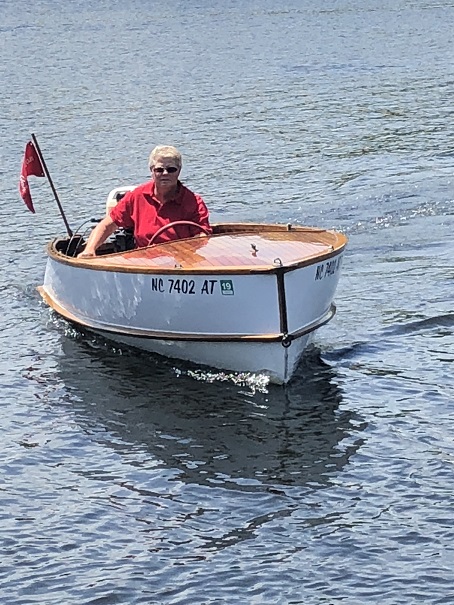 Before there was aluminum and fiberglass, there was wood. Anyone who grew up in the 1920's to 1950's and spent any time on the lake in the summer, were well aware of this fact and enjoyed the excitement and beauty these well-crafted vessels added to their summers. Motor boats became increasingly popular in the US following their invention in Europe in the late 19th century. Mostly handcrafted, these were more than just a means of fun on the lake. They were works of art. In the 1950's with so much aluminum available and increased industrialization boat making changed, not only in material but in process. A post war time economy afforded people disposable income and leisure time. More money and more time meant a need for more boats for more lakes. Mass production geared up, fiberglass appeared, and those wooden boats began to be part of the past. A few boat makers like Hacker Boat Company, Graf, J-Craft and Boesch continued to produce these.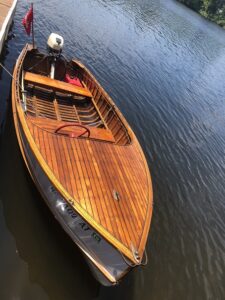 Today there is still interest in these boats and like antique cars this interest has spawned clubs, businesses, and shows all with the wooden motor boat at its center. CBS News recently showcased this interest in a special segment highlighting a Hacker Craft, as it is now known, continues in the production of new boats and the restoration of the older ones. Hyco Lake is the home to at least a few of these wooden boats. (https://www.cbsnews.com/news/artistry-on-the-water-wooden-motorboats)
One such of these crafts is owned by Vicki Holt, a life-long resident of Person County and well-known for her years of association with the county recreation department. Her boat is a Penn Yan 1955 Commander which is 14′ long 58″ wide and 25″ deep. Weighing 305 pounds without the motor, the boat has bronze and brass fastenings and hardware. The floor is made from cedar, the ribs are oak, the seats spruce, and the transom mahogany. It originally sold for $392 when produced in Penn Yan, NY.
Vicki found the boat sitting in a yard in Beaufort, NC. The previous owner of the boat had restored it and given it to his son, who now wanted to sell the boat. Having grown up before there were any houses around Hyco Lake and camping with her mom and dad in a wooden shell camper on the back of a truck, Vicki always wanted a wooden motor boat. She seized the chance and bought the boat. Only finding one small repair needed, she enlisted the aid of a friend. Garret Carr, who she calls a superb wood craftsman, repaired the slight leak in the back end of the boat. She christened the boat Eden in honor of her rescue dog.
Vicki has lived full time on Hyco Lake since 1988 within a short walk from where she camped with her mom and dad in that wooden shell camper. She has always felt that Hyco Lake has been her home and feels blessed to have a sister and her family only a kayak ride across the lake. She takes Eden out in the early morning or late evening, finding great peace and serenity. Her favorite quote of "Boating is like being a kid again: wide eyes, big smile, wet bottom."
Norwood Walker has spent much of the last 60 years in a classroom on one side of the desk or the other.  Loving to write poetry and stories in high school, his English teacher of 3 years once told him he might become a writer if he overcame his radical period. She is still waiting. He can be reached at norwoodwalker@gmail or Rainbow's End on Facebook.