Strawberry season is right around the corner! Something new is coming in May.
Saturday, May 21, 2022 9:00 A.M – 4:00 P.M.
First ever Strawberry Festival in Halifax, VA at the Farmer's Market!
Hello, Virginia. This is Viny from Halifax.  Another successful, community/family event is going to take place in the small town of Halifax.  The festival will be free to the public and the first three hundred people will get a free strawberry cupcake from Cooks Back Home Bakery located in Lynchburg, VA. 
The goal of the festival is to bring Halifax County together to celebrate the many things that our community has to offer.   This event is a growing enterprise.  Any ideas are welcome.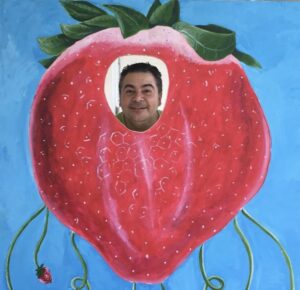 Weather permitting, it will be held outside and inside the Halifax Marketplace.  There are over 30 indoor vendors.  The market also has a variety of fruits, vegetables, and homemade treats.  There will be live music/bands, a dj, a cake walk, and games for kids. Any proceeds from sponsorships will go to the Halifax Marketplace for renovations and updates.
Sponsor so far are Viny's Italian Restaurant in Halifax, Frutopia Mini at Viny's, Palmer Properties of VA LLC, 95.3 WHLF FM, Italian Delight Family Restaurant, DJ Loco Entertainment, WSBV Christian Radio, Sheriff Fred Clark, Superior Signs, South Boston Speedway, Cooks Back Home Bakery, Halifax Marketplace, and TCMG Troy Chandler Music Group.
For more information about the Strawberry Festival, contact Viny, owner of Viny's Italian Restaurant, Brad Palmer at Palmer Properties of Virginia, Denise Barksdale at the Town of Halifax, Linda Martin at Halifax Marketplace, or Justin Lloyd at 95.3 HLF.