Halifax County Historical Society
By Norwood Walker

HOME: the word conjures myriad thoughts, memories and old familiar quotes.
"There's no place like home. Anywhere I hang my hat is home. Home is the place where, when you have to go there, they have to take you in. Home isn't a place, it's a feeling. Home is the nicest word there is. The ache for home lives in all of us.
All of the above would certainly apply to the Halifax County Historical Society, which recently moved into its first real home; the Chaffin House at 110 Mountain Road in Halifax, Va. The society was first organized in 1976 when Bicentennial fever was sweeping the country. Younger readers won't remember this, but it was a series of celebrations and observances during the mid-1970s that paid tribute to the events leading up to the birth of the United States. It culminated in a nationwide celebration on Sunday, July 4, 1976 celebrating the 200th anniversary of the Declaration of Independence. Many small towns and communities set up their own celebrations and many historical societies were formed, I am sure. Like many of these organizations, the Halifax society became inactive until 2004 when, according to current president Barbara Bass, a group of interested people revitalized it.
During the 16 years since this group was revitalized, members have stored books, supplies, and other items acquired in the private homes of the members. They have met in members' homes. At times, they worked out of a room upstairs in the Prizery in South Boston, but never had a home. Until now. An anonymous donor gave the group the two-story frame cottage that was built around 1880, giving them — at last — much needed space for a library housing the Society's publications and displays of historical artifacts and other donated articles. The additional rooms will give space for meetings, receptions and other group gatherings.
Because the house has been vacant for almost 10 years, many repairs, both major and minor, are needed. The Chaffin House Capital Campaign was created to raise money for these repairs. Part of the campaign was room-naming opportunities for certain levels of contributions. All the rooms have been named, but other opportunities to contribute still remain.
The Halifax Historical Society is funded completely by contributions, memberships, and the sale of its books and other items such as Christmas ornaments issued annually since 2008 depicting historical sites throughout the county. It receives no government funding at any level.
Bass has written several of the books and pamphlets and co-authored several more with Ginger Gentry. More about the books and these ladies later, including one about a Japanese tobacco company helping farmers in Halifax, Pittsylvania, and Caswell counties refurbish and save old, decaying tobacco barns and another about a family of builders and their contributions to the historical architecture landscape from Halifax to Raleigh.
This is just the beginning of the story of a group dedicated to the mission, "To preserve historical information for dissemination to the public, to help individuals who wish to preserve historic structures, and to present programs and exhibits of historic value to the public."
There are many stories to be told about this group and others like it throughout our area. Stories about what a few dedicated people can do to make their region better for all.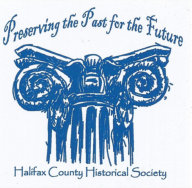 Halifax County Historical Society
P.O. Box 601
South Boston, VA 24592
www.halifaxcountyhistoricalsociety.org

Chaffin House
110 Mountain Road
Halifax, VA
Norwood Walker has spent many years in a classroom on one side of the desk or the other. He loved to write poetry and stories in high school and his English teacher of three years once told him he might become a writer if he overcame his radical period. She is still waiting. He can be reached at [email protected] or Rainbow's End on Facebook.