Habitat Yard Sale and Volunteers Make Safe, Affordable Housing Possible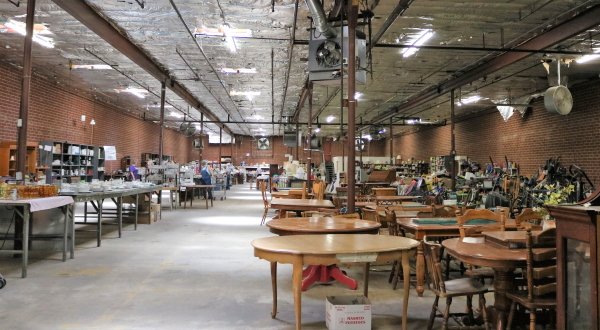 Story and photos by Mackenzie Clayton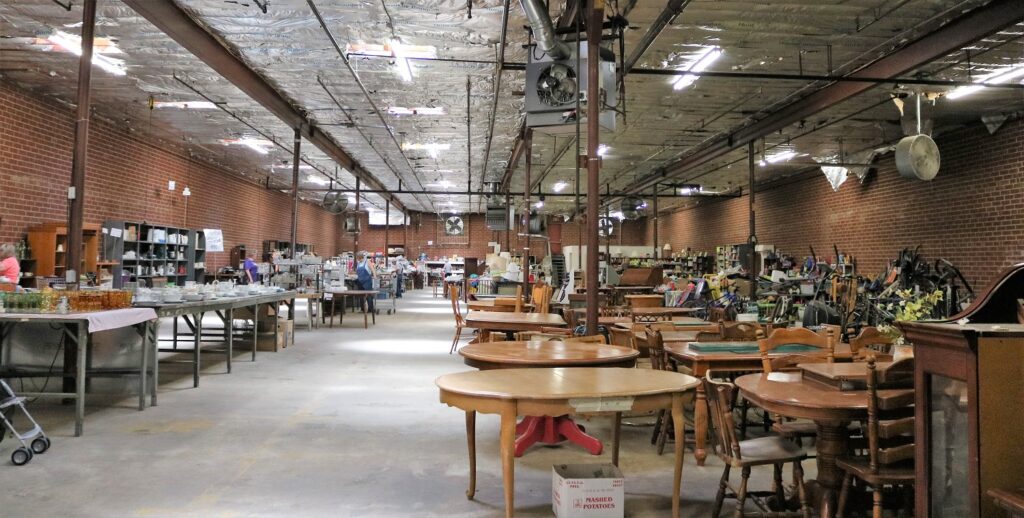 Habitat for Humanity's Yard Sale offers bargains for shoppers while also helping families afford adequate housing. Habitat is an international, non-governmental, nonprofit organization that works to provide housing for those in need. Here in Person County, Habitat for Humanity has been active since 1992.
In Roxboro, Habitat is usually involved in two main types of projects: building houses and running the warehouse, which provides furniture, kitchen items, books, and other everyday objects to the people in the community. The money that is made from the warehouse yard sales goes straight into the building of Habitat houses.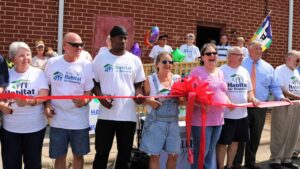 The Habitat for Humanity yard sale is the main financial support for Habitat's housing programs. From the yard sale last year, Habitat made around $70,000, which is enough for them to build a house. The first house that Habitat built was finished in the early 1990s. Habitat for Humanity helps people who cannot afford a regular mortgage get an adequate and affordable home. When building houses, the local Habitat cannot go outside of the county. However, if a neighboring county does not have a Habitat, the one in Person County is able to get special permission to build in those areas.
To qualify for a Habitat home, a family must show need and that they cannot afford a traditional mortgage. They do have to show that they can pay a mortgage because when Habitat offers a house, the family still has to pay a mortgage payment, but it is lower than what a commercial house would be. Habitat usually does these mortgages at a zero percent interest rate. This keeps families' payments low and the payments go to paying off the house rather than the interest. They also have to be willing to partner with Habitat. Everyone who receives a new house has to volunteer a total of 300 hours, and at least 100 of those hours has to be working on houses.
A large amount of the building materials used to build these homes is donated, and while some of the labor is paid, most of the work is done by volunteers.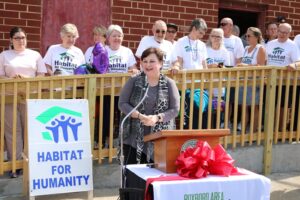 Personian Ronnie Dunevant has been involved in Habitat since the organization began helping the people of Person County. He has worked with Habitat International and the Global Village Team, where groups of people spend time at a local Habitat to help build a house. He has led teams to New Orleans, Florida, New Mexico, Hawaii, and to an Indian reservation in South Dakota.
"I don't have a job title. My job title would actually be volunteer," said Dunevant. "I love finding a way to help people who don't have it easy, but just need a little helping hand. But the other thing is that the other people that I volunteer with either at the houses or the warehouse, I mean they're just great folks, just so cool to hang with."
"Habitat is a good organization. It's a Christian based organization and so we try to do things for the right reasons and for the right people," said Graydon Spivey. Spivey has been involved with Habitat for Humanity for 35 years. He was the director of the Habitat yard sale until February 2018. He worked with Habitat before he moved to Person County. "I still like to come by and volunteer, and I still get calls about picking furniture up," said Spivey. "I do the things that I can. Habitat is my passion."
Vicki O'Duffy has been involved with Habitat in Person County since August of 2016 when she moved from Minnesota. In February 2018, she began managing the Habitat yard sale. Her daily tasks usually include scheduling, volunteering, working with donations, pick-ups, managing the yard sale, and moving furniture.
"Well, as a new-comer to Roxboro, it [Habitat] gave me community, like an instant family, as I started working with the volunteers here," said O'Duffy. "It's such a great, warm, welcoming group of people. It gives me a sense of purpose. No doubt about that."
On June 28, Habitat for Humanity held a ribbon-cutting ceremony for the grand opening of its new warehouse, which is where the Habitat yard sales will be held. The Capital Campaign was also kicked off during this ceremony, to raise money to pay for the new warehouse.
The volunteers at Habitat ended up having only 10 days to move everything from the old warehouse to the new warehouse. Volunteers started getting ready for the move in February, as soon as they found out. In the months of March and April, volunteers worked over 2,000 hours helping with the move, and in the new warehouse, volunteers have worked over 1,000 hours to help get it ready.
"It was amazing when we had to do the move like our regular people were there but then tons of other people came to volunteer and I'd be moving stuff and look over and see people that I didn't even know who had just shown up to help. That's the thing I love about Habitat, is the sense of community that you have," mentioned O'Duffy. "For the community, the yard sale is a really big, impactful thing," said O'Duffy. "We have a lot of people that come in that are able to get household goods or building materials at a low price."
In the new warehouse, there is also a whole section dedicated to used books. "Roxboro does not have a used book store so we built them one," stated O'Duffy. "For a lot of people, it's more like they rent the books. They'll pay 25 cents for a book and go home and read it and then bring it back."
The volunteers and staff at Habitat are constantly working, whether it be raising money at their yard sales to go towards building houses or actually building homes for families.
"Habitat is 100 percent volunteer run. Nobody gets paid to come and do this stuff," said O'Duffy.
"We can use all volunteers. We have something everybody can do," said Spivey. "We could use plumbers, electricians, carpenters, yard workers, painters, and contractors. It's something everybody can do and we all have fun doing it."
When there is a housing project going on, Habitat has three volunteer days a week where volunteers come and do painting, roofing, or whatever they can do to help with the process.
"The more volunteer assistance that we get, the less we have to pay, and when we have to pay less because of volunteers or because of donated materials, we still have enough money to get started on the next house," said O'Duffy. "The whole mission of Habitat is to move towards a world where everyone has decent, safe, and affordable housing. So, our primary mission here in Person County is just one house at a time, one family at a time to rehabilitate existing homes or build new homes," stated O'Duffy.
Two years ago, Habitat constructed their first handicap accessible home, which includes a roll-in shower and a paved driveway. Back in the winter of 2018, Habitat moved a family into a house right before Christmas. They have another family that will move into their new home at the end of the year, or hopefully by mid-fall.
"There is an awful lot of people that need our help, that are appreciative, and it's a good thing to be a part of something like this," said Dunevant.
Almost in tears, Spivey said, "You just don't really know what kind of feeling it gives you to see somebody come out of a rundown shack and move into a new home. You just have to experience it to really know what it means. The Bible tells us to spread the word to all corners of the Earth and that's what Habitat is trying to do with building affordable homes and that's a great feeling."

The Habitat for Humanity Yard Sale is located at 110 Carver Drive, Roxboro, NC 27573. The yard sale is open every Wednesday from 9 a.m. to 3 p.m.; the second Friday of every month from 8 a.m. to 5 p.m.; and the second Saturday of every month from 8 a.m. to 2 p.m. Find out more at www.personcountyhabitat.org or by calling 336-597-2206.


Mackenzie Clayton is a rising junior at Roxboro Community School. RCS, a public charter school for grades six through 12, is housed in the former Roxboro Cotton Mills/Tultex building, constructed in 1899. It is on the National Register of Historic Buildings.
With each issue of Hyco Lake Magazine we publish stories written by high school and college students. Our goal is to give the young people of the Hyco Lake Region a voice as well as encourage them to read our community-based publication. And we pay them for stories! Visit this link for more information HycoLakeMagazine.com/article/