Reflective Address Signs Save Response Time, Possibly Lives!: Semora VFD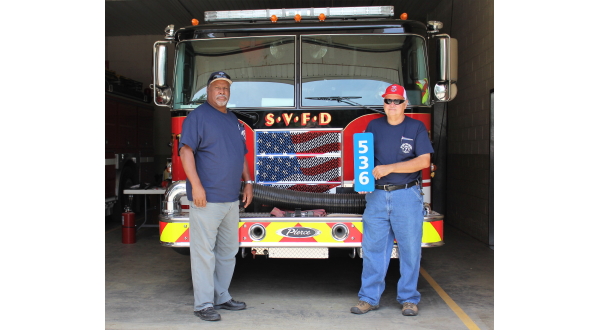 Story and photos by Phyliss Boatwright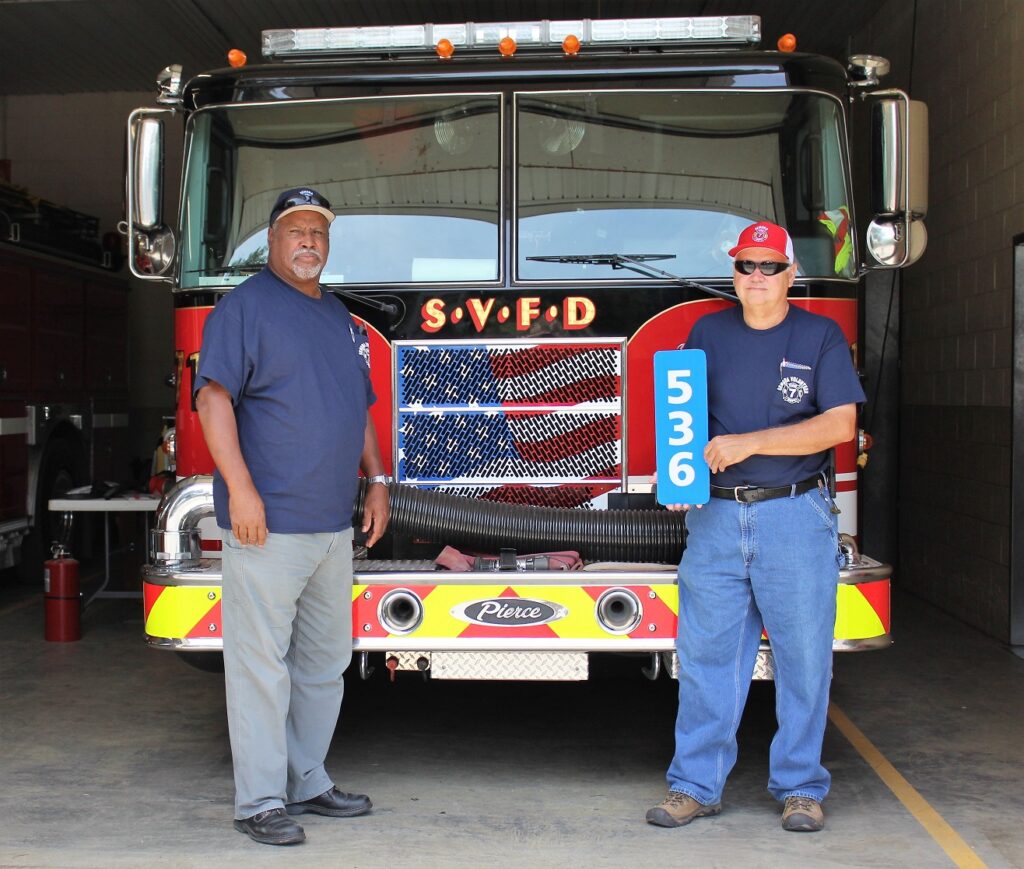 "When seconds count, if we can't find you, we can't help you," is the advice Semora Volunteer Fire Department (SVFD) leaders are trying to convey to home and business owners in their district. Chief Bobby Dodson said it is imperative that homes and businesses have reflective address signs that are visible from the road.
The campaign for reflective address signs is not new, Dodson explained, but with continued growth around Hyco Lake, there are more and more homes being built in spots that may be unfamiliar to Emergency Management Services (EMS) or other first responders.
"We know our district," Dodson said, but other emergency services may not. He said, in a six-month time period, he could pass by an area and see "five or six houses that weren't there before."
Homes that are tucked away on long, private or neighborhood roads can be particularly hard to get to. Assistant SVFD Chief Landell Cunningham said homeowners should be careful where they place the signs.
"If the sign is on the house, especially on back roads, it is hard for us to see it at night. People should ride around at night, and try to find the address of their house," he advised, noting that even signs placed close to the road could be blocked by trees, shrubbery or other impediments. He cautioned homeowners to regularly check to be sure their address signs are clearly visible, both day and night, from the road.
Dodson said, if a resident was having a heart attack and called for help, it could take several minutes for first responders to get near the scene, and, without visible street address signs, it could take another, precious, three to five minutes to locate the correct house. In such instances, the fire chief said, first responders would contact Dispatch, which may be able to give cross street names and a description of the house. If this doesn't help, Dispatch will contact the caller to provide more detail and better directions. This takes added time, Dodson said, that could save a life.
Another way in which clearly visible address signs can help, said Cunningham, is if a passer-by notices a fire or suspicious activity at a home, he or she could quickly call 911 and report the exact location, enabling faster response time.
The address signs also help invited visitors and delivery drivers more easily locate homes and businesses, said Dodson.
Growth around the lake is not the only reason the fire chief and his staff have increased their efforts to get address signs at all locations in the district. A recent study by Person County GIS (Geographic Information Systems) convinced the SVFD leaders that too many homes do not have the signs, and would be difficult to find in an emergency situation.
The SVFD district includes parts of both Person and Caswell counties. Dodson said Caswell County has not yet conducted the GIS study, but he knows many houses on that side of the district are not clearly marked either.
The firefighters praised Person County as well for its recently adopted requirement that an owner must have an address sign in order to get a building permit for a home.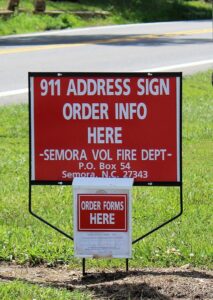 In addition to visible address signage, the firefighters say homeowners should also make sure a truck that is "eight feet wide, 30 feet long and 10 feet tall can get to the house in an emergency." Dodson said some homes are tucked back into small nooks that are difficult for larger vehicles to access. Homeowners who are in doubt as to whether a fire truck or other large vehicle could easily reach their home can call the fire department at (336) 234-9366 and ask that someone come out and take a look.
"We will even bring a truck out to see if it can get there," Dodson added.
The blue or green reflective address signs may be purchased for $20 from the SVFD, Dodson and Cunningham explained. The application forms can be picked up outside the station and dropped off at or mailed, with a check, to the SVFD. A member of the department will help install the signs if a senior citizen or disabled person needs assistance. They are located at 4997 NC-57, Semora, NC 27343 | (336) 234-9366.


The Semora Volunteer Fire Department is located at 4997 NC Hwy. 57 North, in Semora. Chief Bobby Dodson has been with the SVFD for 41 of the 47 years the department has existed. Cunningham has served for 43 years. Deputy Chief Clayton Myers has been a member of SVFD for 22 years. All three men said they urge all home and business owners to purchase and install reflective address signs so that, should there be an emergency, precious minutes won't be lost.
The department recently had its Insurance Services Office (ISO) fire rating lowered from 9 to 4/9, said Dodson, which means lower insurance rates for homeowners. Fire departments are rated on a scale of 1 to 10, with 1 being the top rating. Dodson, Cunningham and Myers said they are proud of the rating, but know that the district would be even safer and possibly better rated if all homes and businesses had easily visible reflective address signs.
Phyliss Boatwright is a journalist who for years reported Person County news in The Courier-Times. She has published two books and several short stories. Her book review show, Turn the Page, can be heard on WKRX, 96.7. For the past seven years, she has taught journalism and served as public information officer at Roxboro Community School. She can be reached via email at [email protected].