ROXBORO, NC- Family-owned restaurants always seem to have a special relationship with food. When you enter the Gordon Street Café and Market, located in Hall's Way in uptown Roxboro, you will be invited into that relationship with the Chambers family, Jay, Nancy and Brett.
Happily, entering that relationship is easy. "We feed people!" says Jay, a sentiment Nancy quickly echoes as she places in front of me the first of several treats I will sample during our interview. Over the next hour and a half, I am treated to a delightful sampling of food from around the world. Not something you would expect from a small-town café. So, prepare to be surprised and delighted!
Introductions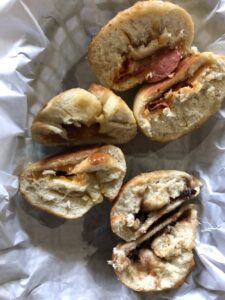 Jay Chambers is a local boy whose stint in the Marines took him to California, where he met Nancy. Jay is an IT guy who has put his training and skills to good use managing the restaurant's website, POS (Point Of Sale) system, marketing, and graphics. He is also a self-proclaimed "eater."
Nancy hails from Texas. She met Jay when her life journey also led her to California. Nancy loves to cook. Jay loves to eat. The rest is history, as they say. Nancy learned to cook from her father, Jack, who learned to cook from his Sicilian mother. Jack owned a restaurant called Sundowners in Texas during the late 1960s, where he served pizza and pasta from a converted Fotomat building. Fotomats were overnight film developing businesses typically set up in the parking lots of supermarkets or strip malls. Fotomat adopted its name from the Automat, a type of self-service diner popular in the 1940s and '50s. Apparently, Jack's food drew people from hours away to enjoy homey Italian food served from this unique venue.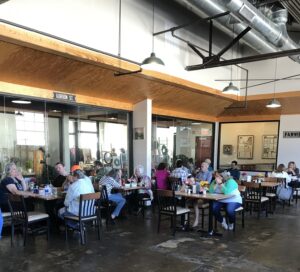 Jack also did all of the cooking for family gatherings. Nancy remembers large pots of tasty smelling and delicious dishes prepared by her father for family gatherings. Naturally, she was drawn into her father's kitchen, which became her familial culinary school. Not only did she learn to master the basics, but also began developing her palate. She is big on flavor and invests a great deal in creating flavor combinations, not just in her Italian cooking, but in everything that goes on the menu at the Café.
Nancy's son Brett moves quietly in the background, keeping the food coming as the interview progresses. He moves seamlessly from the kitchen to the front of the house. He is also on the family tasting committee. Nancy won't serve anything to the public that she and her family will not eat. Brett can whip up the specialty kolaches and has been involved in the development of some of the restaurant's cookies. Who knows what his future will be, but he seems the next logical link in the mother to son passing on of the apron.
What to Expect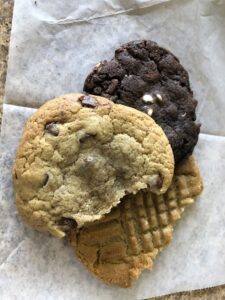 At first glance the menu seems to offer standard café/deli luncheon fare. However, ingredients are carefully selected and combined. Having not been able to find a local baker, Nancy and Jay use artisanal bread from their suppliers. Nancy keeps three types of mayonnaise in stock. Each mayonnaise is used to make certain dishes and is chosen based on which one best enhances the flavor for that item. Meats and cheeses are sampled through a sort of competitive process to get the best taste combinations. The chicken salad is Nancy's own recipe, developed to be both tasty and nutritious, combining chicken with nuts and fruit to provide a well-rounded and yummy meal. As much produce as possible is purchased locally.
To help you narrow the list of choices, specialties, in addition to the chicken salad, include the Club Sandwich, (a smaller version, the Club Jr. is also available) their soups, Shepherd's Pie, and kolaches, as well as a range of cookies.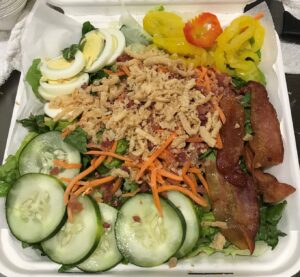 Kolaches will probably be new to many readers. These are stuffed dough balls, originally of Czech origin, filled with savory or sweet fillings. Gordon Street Café offers two savory (pizza and sausage) plus one sweet (cinnamon raisin) variety. The dough is slightly sweet but balances well with the savory ingredients, and enhances the sweet. Kolaches can serve as a main dish or as a side or appetizer. You would have to travel far to find these anywhere else and they are well worth a taste.
Another unique feature of this menu is the "Build Your Own" option. Available for both salads and sandwiches, you can obtain a list of available ingredients and tailor them to your taste. (Remember that all of the ingredients are specially selected.) This has proven to be a popular option. Many of the café's regulars have come up with their own preferred combinations, thus entering their own special relationship with this restaurant.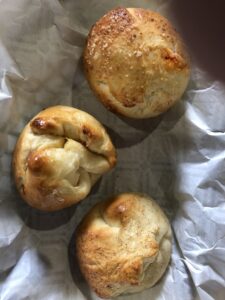 If you are interested in a suggestion for where to start or continue your culinary journey with Gordon Street Café and Market, the owners shared their favorites. Jay recommends the club sandwich, hearty and flavorsome. Nancy would go for the spaghetti followed by chocolate covered strawberries. Brett loves the tomato basil soup paired with pizza kolaches.
And don't forget dessert! Remember the cinnamon raisin kolaches, the chocolate chip, double chocolate brownie, and peanut butter and oatmeal currant cookies. Or go for a slice of homemade apple, berry, peach or pumpkin pie. Nancy makes her own crusts and fills them with the choicest seasonal ingredients. Add the beverage of your choice (no alcohol) and you have the perfect pick-me-up.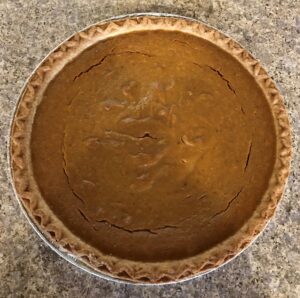 If you are curious about anything on the menu that you have never tried, just ask for a sample. Sampling is a staple at the Café. Nancy and Jay both love to say, "Just try the food!" One taste is worth more than any description.
At the time of this writing, the restaurant was following current COVID-19 restrictions by only providing take-out service and working on a viable delivery service.
The Café and Market also provide gluten-free choices and is working on expanding this feature of the menu. They regularly stock gluten-free options for soup, salads and sandwiches. Call at least 24 hours ahead if you are interested in gluten free cookies.
So, What Next?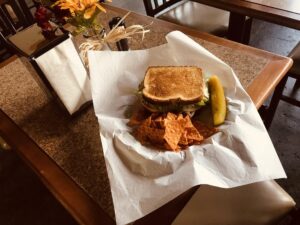 Despite somewhat of a slowdown due to the COVID-19 restrictions on restaurants, the Chambers family is using the extra downtime to develop their plans for the future. At the top of the list are their "Take and Bake" menu items. Customers will be able to pre-order items such as kolaches, spaghetti, lasagna, and Shepherd's Pie in ready-to-heat containers with simple cooking instructions. You will be able to feed just yourself or the whole family with a restaurant quality meal for an affordable price. Clean up will be easy too, since the cooking containers are recyclable.
They also plan on increasing the gluten free options on offer. The Market aspect will also be developed to become a convenience shop where folk can pick up common grocery items on the way home. They invite your input into the types of items that they should stock.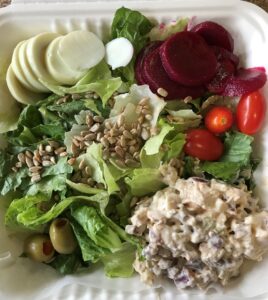 Although the current restrictions, at the time of this writing, prohibit gatherings over a certain number, why not plan your COVID liberation party at the Café? The interior has an outdoorsy/sidewalk feel, as well as being sleek and modern. Parties of 25 or less are invited to use the space for events, and the owners will happily discuss menu options.
So, give Gordon Street Café and Market your support as a local small business. Enjoy well-crafted, tasty food with your friends and family! Keep in mind that their working motto is, "We feed people!" Body, soul, and community. You will have chosen well.
Gordon Street Café and Market
www.gordonstreetcafe.com
[email protected]
(336) 364-5175
William Spivey is a librarian by profession and a recent transplant to Person County. He is an avid cook, loves art, needlework and gardening/landscaping. His favorite pass time is creating and collecting miniatures.