Story and photos by Meredith Bernard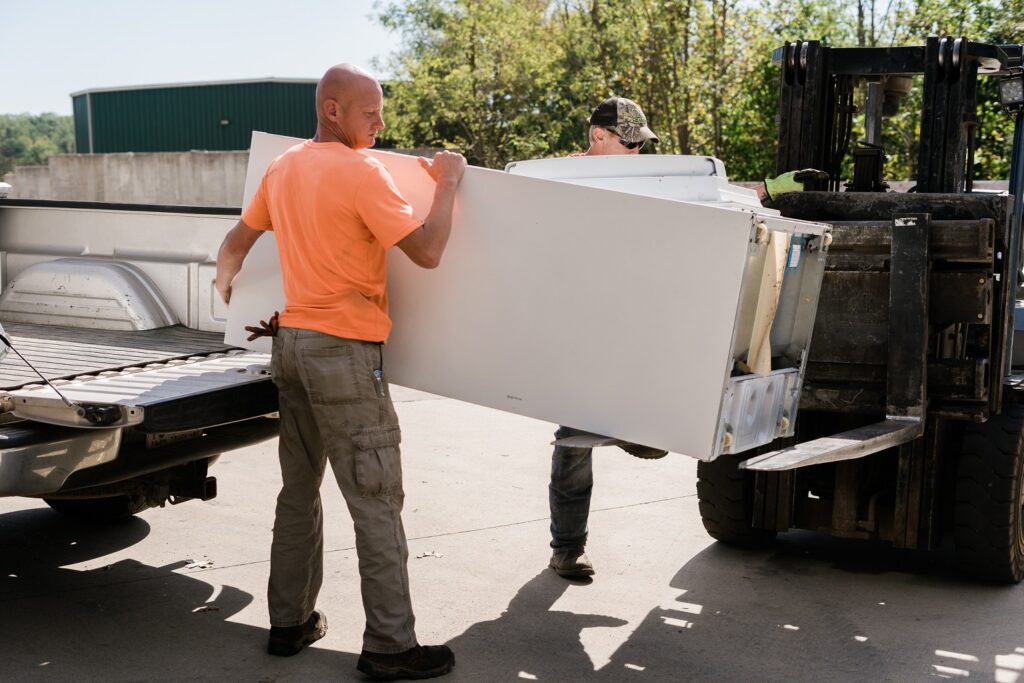 Sometimes we let pre-conceived notions keep us from getting out of our comfort zones or learning new things. Driving into Foss Recycling Yard in Providence, NC was the first step in helping me let some of those notions go, and by the time I left, replacing them with a mind full of possibilities. Maybe like me when you hear the term recycling, you think of plastic bottles, newspapers or aluminum cans. Chances are you don't consider other things you have lying around your house, yard or shop that can not only be recycled, but also earn you money. Perhaps like me, you also consider "scrap yards" as dirty places only good for leaving with a flat tire. Whereas that may be the case in other yards, it's not the case at Foss Recycling. Being one of only two yards in the general vicinity that are fully concreted, the lot is blown daily, leaving your tires safe and the entire facility neat and clean, even though it's packed full of things people no longer need or use. Not only is the appearance at this local yard appealing and well kept, Jim Hudson, the yard manager, goes out of his way to make it a place for people to feel welcome and welcome to come back to regularly.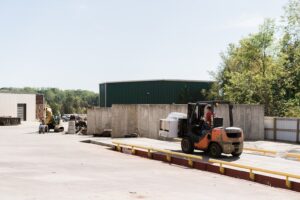 Growing up only two miles from the yard where he now works, Jim started his career in the recycling industry ten years ago working for Greer Recycling in Lynchburg, which was bought out by Foss Recycling. He then made his way to their Reidsville yard and Mebane yard, eventually taking a career turn working for another company in Raleigh. A year and a half ago he was given the opportunity to get back to his roots with Foss and offered the manager position at the Providence yard, which was a perfect fit for him and his family.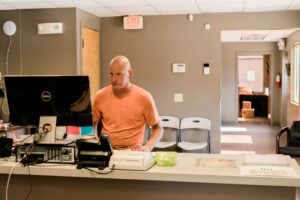 Jim says the best part of his job is that he learns something new every day. As long as he's been doing it, he says he still receives items he's never seen before. The most unique item was a small airplane that came in strapped on the bed of a truck. Other interesting things have been pontoon boats, a race car, tractors, forklifts and parts off of a crane. But you don't have to have "scrap" airplanes lying around to be a customer. He says they buy just about anything metal, except for propane tanks. The most common items are refrigerators, washers, dryers, sheet metal, old cars, aluminum, copper and brass. A trip through the warehouse also revealed large bins of computers, motherboards, a vast assortment of wire, cables and computer cords. The list and possibilities are really endless for what types of metal can be and are recycled.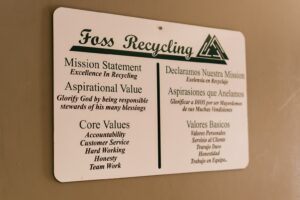 Since I'd never personally recycled anything metal, I decided to take an old non-working refrigerator to get a feel for how the process worked. In doing so, I saw first-hand how items are received, weighed, disposed of and paid for. Depending on what kinds of items you bring in, you'll either drive over the large truck scale for weighing or take items directly to the non-ferrous building (metals that don't contain iron, like aluminum, brass and copper.) You may also park at the main building, have your items unloaded by a forklift and weighed, as they did with my refrigerator. Then the larger items are hauled to individual concrete-divider compartments where they will be shipped to another facility for melting and recycling or taken for storage in bins at the non-ferrous building. Once your items are weighed, information is loaded in the computer and you're paid cash for your items. Different yards have different pricing and this yard tends to have better pricing than others around, bringing customers from as far away as Hurdle Mills, South Boston, Roxboro, as well as Danville, Yanceyville, Reidsville and many other towns from bordering counties.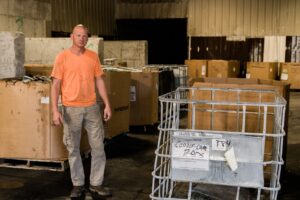 Jim says he is very thankful for all of his customers from far and wide. Several times a year he does customer appreciation events, from Fourth-of-July hot dog cookouts to goodie bags of candy when you stop in to visit in the fall. The address is 2508 Walters Mill Rd, Providence NC 27315. For more information about items accepted and yard hours visit fossrecycling.com, Danville location. Or even better, call Jim directly at (434) 770-4681.


When the hustle of fall slows down and winter settles in, why not take inventory of all the things you may have that can not only be recycled, but also put some extra cash in your pocket. Foss Recycling would love to help you make old things new again and you'd be supporting a local business, to boot. There's nothing bad about that.
Meredith Bernard is a photographer, writer and farmer living and working with her husband and two children on a beef cattle farm in Milton, NC. Connect with her online at thisfarmwife.com.