Shoppers Sure to Find Treasures
By Phyliss Boatwright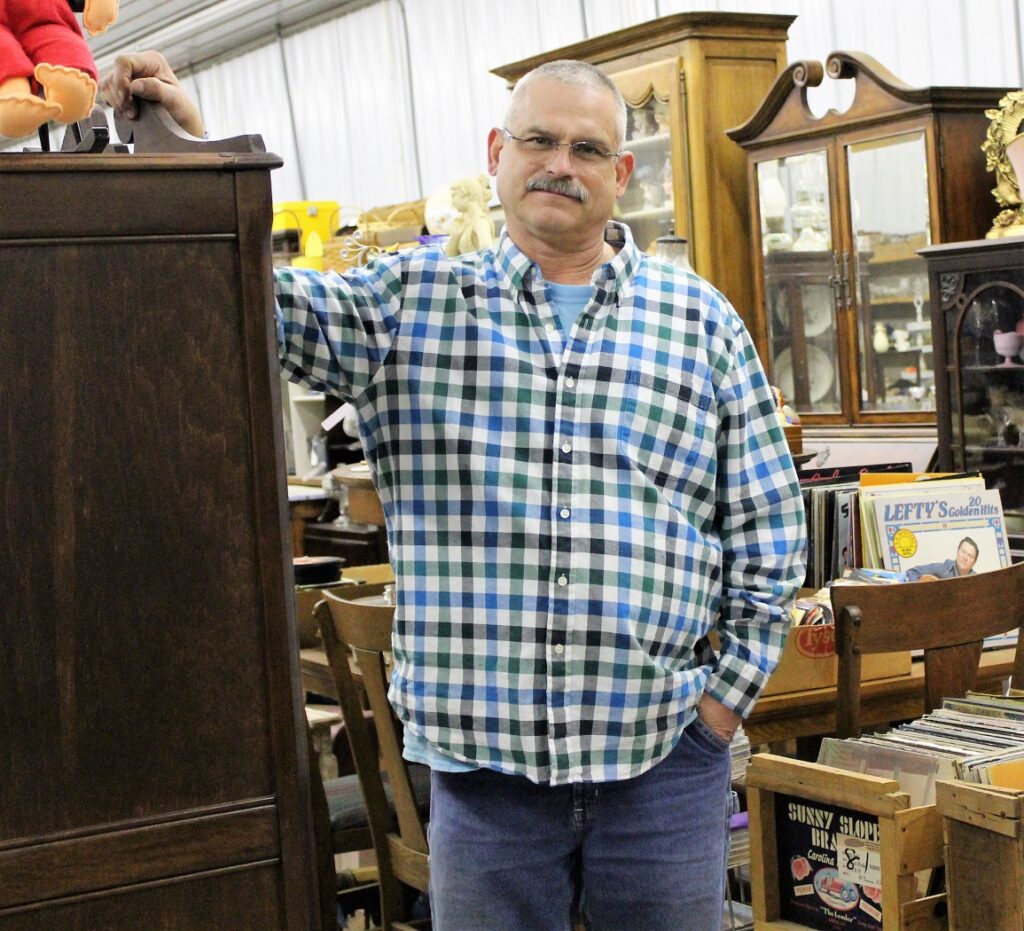 Shoppers searching for anything from "uniques to antiques" are sure to find the perfect item at Hillside Sales in Prospect Hill – and have a good time visiting with the owners.
Chris and Sandra Yerton offer customers a vast assortment of furniture, glassware, lamps, jewelry, vintage signs, wall clocks, vinyl records, paintings, Indian artifacts, antiques of all types, metal yard art, and – twice a year – French and English bulldog puppies. Walking around the large store with Chris Yerton is a treat, as his obvious enthusiasm for buying, collecting, selling and visiting keeps the conversation lively and interesting. And he might show off a couple of family pups.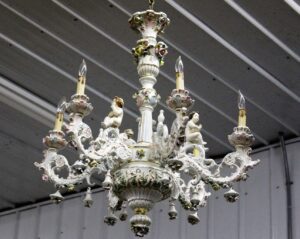 Fenton glass is a big seller, according to Yerton, as are Depression glass and antique furniture. When Hyco Lake Magazine visited recently, on display was a Pepsi wall clock that came from Snead's Store in Mebane. A washboard hung on the wall near the clock. Scattered around the store were antlers, pie safes, bedroom suites, China cabinets, a Tiffany lamp from Chiswell, Va., and a breathtaking Capo di Monte chandelier that had been sold but not yet picked up. Yerton goes to Alaska on vacation each year, and has brought back walrus tusks.
He said he buys items at estate auctions and "gets a lot of personal stuff" that "the kids don't want" after parents pass away. He has found unusual items like a 1915 bridal purse and a German cuckoo clock, still in the box, that he wanted to keep for himself. His wife "couldn't stand" the hourly cuckoo, though, so he "brought it back to the store and sold it."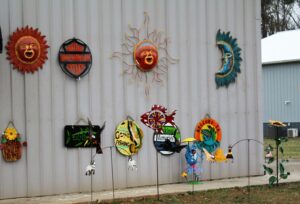 Yerton said he and his wife had always enjoyed going to auctions and finding unique items. Several years ago, this former pressman lost everything, including his family and job, due to a struggle with substance abuse. When he reached rock bottom, a men's ministry and rehab helped Yerton get straight and reconnect with what was most important to him. His and his wife's love of collecting helped lead him to a new career as well.
Thanks to a men's ministry, "The Lord restored it all to me," he said. After getting sober, Chris and his wife, Sandra Yerton reunited and turned a former hobby into a business. Chris Yerton now says he lives for the future, and "wouldn't change anything" about his past because it brought him to the life he now so enjoys. It also allows him to give testimony to those who wish to hear it.
The Yertons have been in business on Highway 86 between Hillsborough and Yanceyville for about seven years. Their store is located in what was once a Hooters Series race car shop owned by Sandra Yerton's father. The store is on a busy highway, Chris Yerton said, and for a time after the store opened, customers just drove past, without stopping to sample the wares. When he started collecting metal art and displaying it on the yard in front of the store, however, "it made people stop," he said with a smile.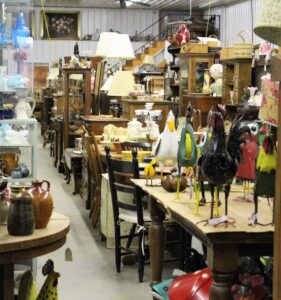 Yerton said he now has "a lot of repeat customers" with whom he has built relationships, and that means a great deal to him. Still, however, he gets newcomers and "a lot of impulse buys. People come in, say they're just looking," and end up making a purchase. That's just fine with the shop owner too.
He added, "A ton of people just come by to spend a little time" visiting and talking. During a recent interview, relaxing in his recliner at the front of the store, Yerton said he had been told by visitors, on more than one occasion, "I want your job." But, he asserted, "a lot goes on in the background" to keep the business running and customers happy.
One of those unseen tasks is moving the metal art out on the lawn each morning, then bringing it back in at night, to protect it from the elements. The effort is well worth it, though, for it brings in the customers drawn in by the array of flamingos, flowers, frogs, animals and other metal creations. With spring, Yerton said in January, he will have a wider offering. "It is always changing," he said.
In addition to the inanimate objects for sale, the Yertons have two litters of French and English bulldog puppies available each year. When the pups are for sale, the Yertons advertise on the sign in front of the store and on the Hillside Facebook page. The pups are raised in the Yertons' home, and are much loved. Two puppies that will remain in the family were in the store on the day Chris Yerton talked with Hyco Lake Magazine. He proudly showed them off, as the happy pups wiggled and wagged for and licked and snuffed at a new human visitor.
Hillside Sales is located at 15080 NC 86 in Prospect Hill. The telephone number is (336) 562-5600. The store's hours of operation are Tuesday through Saturday, from 9 a.m. to 5 p.m. in winter. Summer hours are Tuesday through Sunday, 9 a.m. to 6 p.m.


Phyliss Boatwright is a journalist who for years reported Person County news in The Courier-Times. She has published two books and several short stories. Her book review show, Turn the Page, can be heard on WKRX, 96.7. For the past seven years, she has taught journalism and served as public information officer at Roxboro Community School. She can be reached via email at [email protected].