CEDAR GROVE , NC- An unassuming blueberry farm, located immediately off NC Highway 86 in the Cedar Grove community, just north of Hillsborough, is home to a unique business. Botanist & Barrel. A cidery/winery, is owned and operated by the brother and sister team of Lyndon and Kether Smith and their spouses, Amie Fields and Deric McGuffey.
At first glance, Botanist & Barrel looks like a run-of-the-mill warehouse building. When visitors step inside the tasting room, however, they are immediately delighted by the homey decor and impeccable customer service, as well as delicious beverages.
A tasting at this cidery and winery is a treat, from the delicious drink offerings to the variety of snacks available to go with the ciders and wines, to the conversation with the bartender. On a warm, early spring day this year, the tasting room was filled with a party of six women and a mother-in-law and daughter-in-law pair. Conversation was lively all around, and everyone was seemingly enjoying the cozy, relaxed atmosphere.
A Bit of Cedar Grove History
The Smith family purchased the 98-acre blueberry farm in 2014. Lyndon Smith said this land in Cedar Grove had been divided into two portions, "until we purchased them both and brought it back together under one family. Our parents own the majority of the farm, including a portion of the blueberries," he said. "We own a small portion that includes some of the blueberries, and the warehouse space that houses the cidery/winery."
Lyndon and Kether Smith opened Botanist & Barrel in 2017, after two and a half years of hard work. Lyndon said, "So much bureaucracy and regulation is involved with alcohol," so a plethora of planning, reviews and revisions were required.
"We are Orange County's first winery," he said, "so there were some unknowns that we had to flesh out." But, he said, it was "all worth it in the end!"
In addition to the blueberries grown on site, the Botanist & Barrel team uses several other flavors in their ciders and wines. Smith said they have planted a few small orchards with pears, peaches and apples to go along with sourcing local grapes, blackberries, plums, raspberries and more from other local farms.
"We also raise shiitake mushrooms and have installed a French trellising system to grow cider apples, which will get planted this fall," Smith said.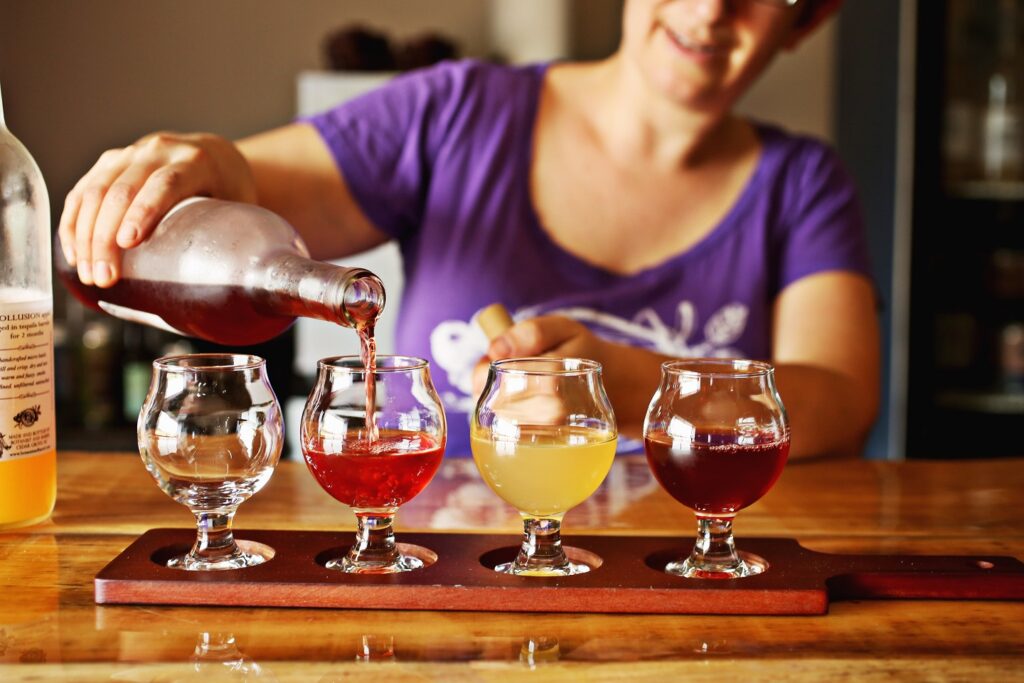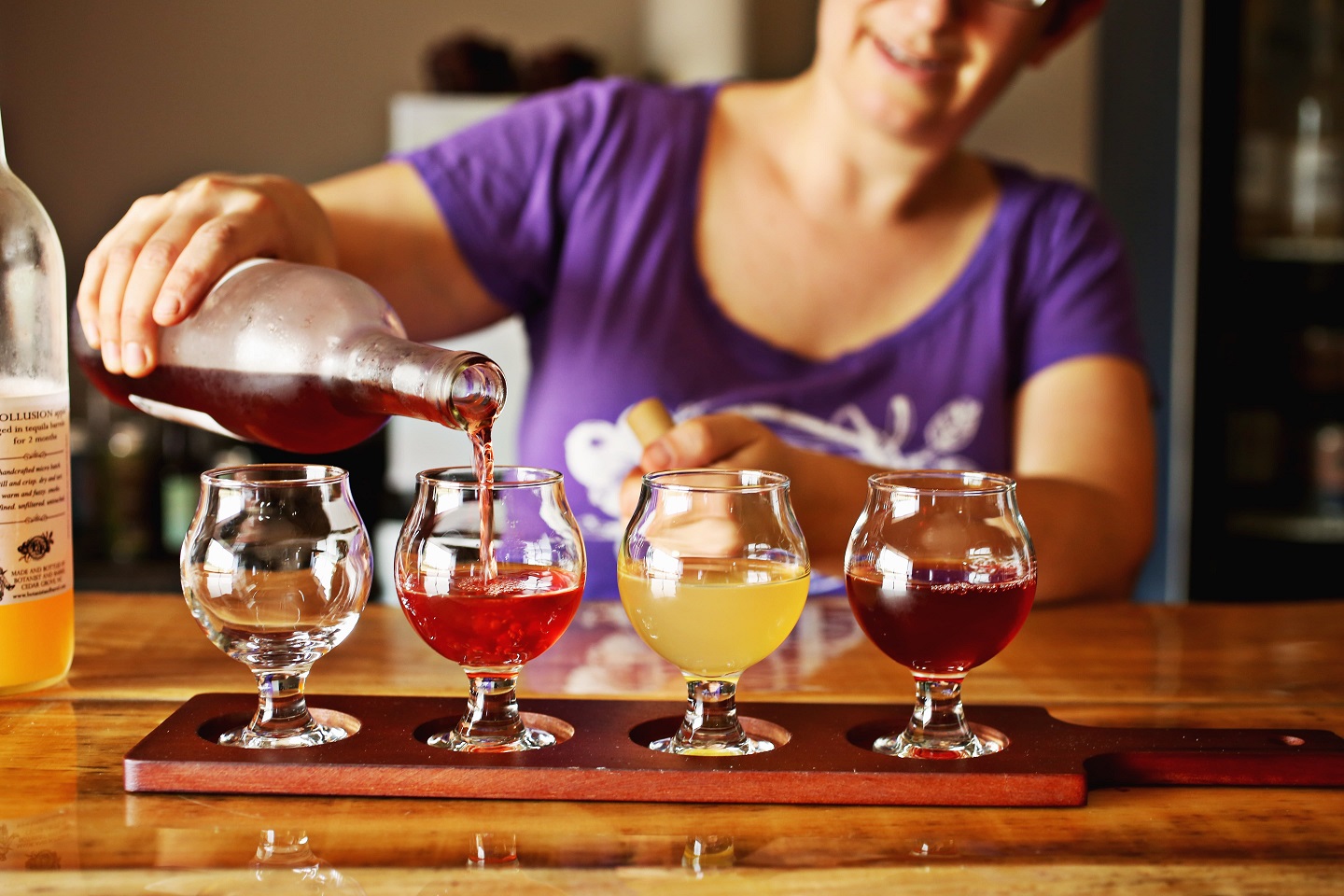 Learning Lessons in Cedar Grove
Nourishing Acres leases a portion of the Botanist & Barrel farm land, and grows certified organic produce and fruits, said Smith. "A lot of flavors for our ciders are sourced from Nourishing Acres, such as melons, basil, hibiscus, ginger and turmeric," he explained.
While the Smith siblings did not grow up on the Cedar Grove farm, they "did spend [their] youth learning about foraging" from their grandparents, with whom they spent a month each summer, said Lyndon Smith.
"We would spend hours every day picking sun ripened red currants, wild blueberries, blackberries, raspberries and choke cherries on old farmland in Pennsylvania. We'd make all types of things with the fruits, from infused spirits, to jams, jellies and pies," Smith said.
When asked how he and his sister first became interested in turning a blueberry farm into a cidery/winery, Smith said, "We had the idea the second we set foot to consider purchasing the land. One of the problems every farmer has to solve is what to do with the 'ugly fruit.' Using it in a winery just makes so much sense, as we need beautiful flavor, not beautiful looking fruit. And it allows us to bring to market a value-added product that sustains us year-round, as the blueberry season is very short."
Previous Careers in the Wine Industry
Lyndon and his wife, Amie had previous careers in the wine industry, and had visited hundreds of wineries all over the world together. They were also home winemakers, making cider, wine and kvass in their basement. Kether and her husband, Deric McGuffey, were both professional chefs, so they had classical training in flavor and balance. The respective backgrounds made the perfect combination for a winery/cidery.
"Before we opened," said Lyndon, "Kether also took a course in cider making through a program at Cornell [University]. And honestly, most of it is simply committing to doing it by all means possible through much research, experimenting and blending the final product."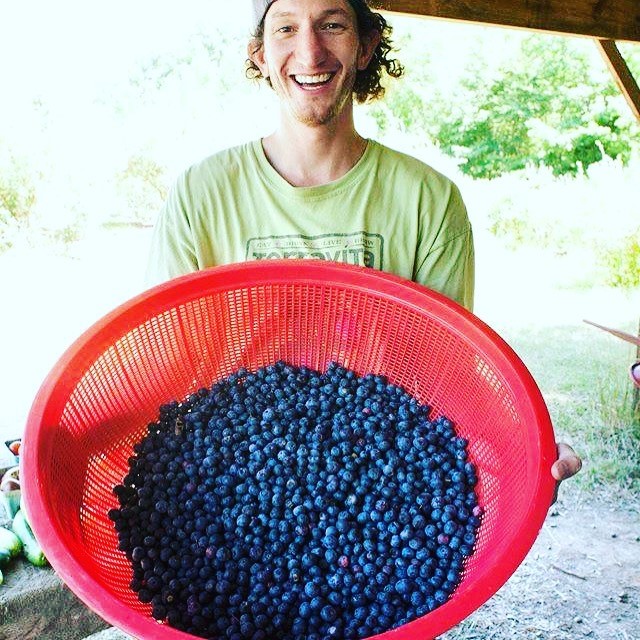 Going Through The Process in Cedar Grove
The process for making natural wine/cider "is all about patience," Smith explained. He said the first step is to harvest tree-ripened fruit "that is full of flavor, character, sugars and tannin. Next, we press the fruit, although for some fruits we do whole fruit fermentation. Next, we taste the juice and decide how we want to gently guide the fermentation process. If we choose to not spontaneously ferment, and are aiming for a precise flavor profile, we will add a wild or selected yeast, and then let it rip. Since we are unfined, unfiltered and unpasteurized, instead of filtering, we rack the juice multiple times, allowing gravity to clarify the wine and cider," he said.
"We are continually tasting, and may decide to age in barrel or keep it in stainless steel for a brighter expression," said Smith. "Some wines and ciders take much longer than others to ferment and age."
He said the flavors "come from what is seasonally available and as local as possible." The Smiths take what is available, then play "with those cider/fruit/wine hybrids using flavor mixology, different barrels and lots of tasting and blending," Smith said. "Our combinations are very chef-driven, as three of our seven team members are former chefs."
Looking For Perfect Balance
When blending, Lyndon and Amie look for the perfect balance, which he said comes from years of studying. tasting and evaluating wine.
He said, "As business owners, we are so delighted we've been able to craft ciders naturally with a sense of place, and no additives. We love crafting a healthier alcoholic beverage option for people. As we like to say, 'all of the good and none of the bad.' We've also been able to support local farmers and our community by purchasing local produce and are also proud to continue to build a sense of pride for southern crafted serious beverages," Smith explained.
The most satisfying thing about owning and operating Botanist and Barrel, he said, "has been the feedback from the community. We get thanked all the time for making 'serious cider' or 'dry cider,' and cider without additives. It warms our hearts every time. When we started out," he said, "we weren't sure how much of a market there was for bone-dry natural ciders, but the response has been overwhelming."
Smith added, "A big part of who we are is doing things the old school way using seasonal whole fruit. No automated machines, just patience, ripe fruit, tanks and barrels. We create what we enjoy drinking ourselves and are enthusiastic about sharing with others. We want to show another side of cider; an elegant side that is perfect for enjoying with meals."
Botanist & Barrel has won gold and silver medals at cider competitions. "We just won three silvers at the biggest cider competition in the US," Smith said. "It's always a great feeling to get positive feedback from your peers as well."
He said the product he and his team are most proud of is called Less is More, a Petillant naturel cider that is spontaneously fermented and naturally sparking using the oldest method for making sparkling wine.
Botanist & Barrel offers special events throughout the year, including a couple of oyster roasts. Smith said his team will host a free pancake brunch and market on October 5. He said Botanist & Barrel will be at Big Pour in Winston Salem September 14, Chow Chow September 14, and Ciderfest October 12, both of which are in Asheville. The team will be at Terra Vita October 28. He advised, "Keep your eyes open for other events like wood fired pizza nights on the farm that will pop up on the schedule."
Tours are offered on Thursdays, Fridays and Sundays. Smith recommends buying tickets ahead of time on the Botanist & Barrel website to reserve a spot. The tasting room is open Thursday and Friday from 1 to 6 p.m., Saturday from 2 to 6 p.m., and Sunday from 1 to 5 p.m.
Visit the website at botanistandbarrel.com. The cidery/winery is located at 105 Persimmon Hill Lane, Cedar Grove, NC, 27231. The telephone number is (919) 644-7777.


Phyliss Boatwright is a journalist who for years reported Person County news in The Courier-Times. She has published two books and several short stories. Her book review show, Turn the Page, can be heard on WKRX, 96.7. For the past seven years, she has taught journalism and served as public information officer at Roxboro Community School. She can be reached via email at [email protected].