Gunn Memorial Public Library in Yanceyville, NC
Story and photos by Meredith Bernard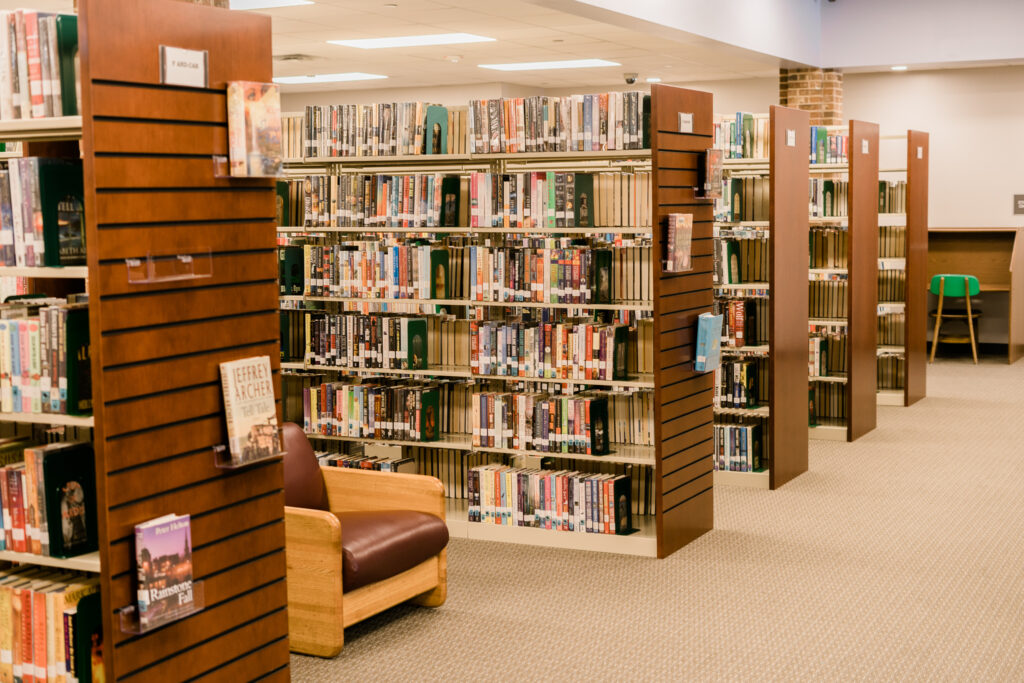 Like the stitching on the thousands of book bindings housed on row after row of its shelves, the new Gunn Memorial Public Library in Yanceyville, NC is binding together a community deeply devoted to sharing the love and benefits of its new shining star. The library's director, Rhonda Griffin, spent hours upon hours putting books on shelves at her local library as a teenager. Now finding herself in a career pursuing a passion laid down at an early age, she says she didn't choose it, instead it chose her. The pride she has in the new facility she helps steer is evident in the way she talks about its past, its present and the promise of its future.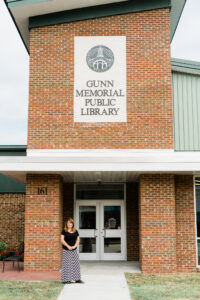 Rhonda's Associates in Business, Bachelors in Business Management, and Master's Degree in Library Science were all stepping-stones that built a foundation preparing her for the role of Library Director she assumed in 2010. She says when she first came to the Gunn Memorial Public Library, the one glaring need was space. Housed in the same small building where it was founded in 1965, only one small expansion had been made in the previous 56 years. Room for the library's growth had become stunted, especially considering this library was ranked 11th in the state for program attendance per capita. Summer programs were so popular that the nearby Civic Center was rented to hold them. With no doubt the community both needed and wanted this library to expand, Rhonda made it her goal to see to it that it would happen.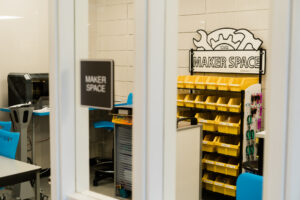 Like most anything in life that makes growth a priority, growing pains tend to be part of the process. For this library, funding was the biggest threat. In 2012, the library was given a planning grant and a ten-year, zero percent interest loan by Piedmont Electric Cooperative for half of needed monies to build, beginning what would be a seven-year process of establishing all needed funding to make the new library a reality. That same year, Rhonda took it upon herself to further her education even more by receiving her Certification in Grant Administration and Management from East Carolina University, which she put to good use working to secure grants for the remaining $1 Million.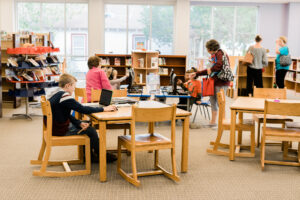 Although the final construction cost came in slightly over estimate, additional grants were awarded to cover non-construction items such as furniture and equipment including: $10,000 from McDonalds for Children's furniture, $49,978 from the State Library for a Career Center and equipment, $44,000 from Duke energy for a MakerSpace, and $40,000 from The Community Foundation for new shelving for additional $143,978. In the process, she says she received a lot of "no's," but she didn't let it stop her from finding enough "yes's" to make this dream a reality. Finally, with several large grants and loans from other area investors including Danville Regional Foundation, Golden LEAF Foundation and the Cannon Foundation, the new library broke ground and eventually opened its new doors in May of 2019. They opened with a bang, breaking records for the number of new library cards given out for two months in a row.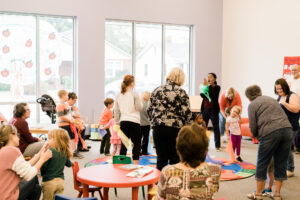 In the same way a book can only truly be appreciated by opening its cover and soaking in the words on its pages, you have to open the glass doors and circulate your way through this new library to appreciate all it has to offer. Depending on the time and day, you have many options to not only browse a huge selection of books and videos, but you and your family have ample opportunities to be involved with various activities. Every Wednesday morning at 10am, children up to 5 years of age gather on the carpet in a bright, glass-walled corner of the library. For an hour there are toddler grins and squeals to beat the band, as they sing songs and listen to books read aloud, while pinning felt photos on a display to match what they are learning that morning. Come back Tuesday afternoon for "Bookbaggers," children ages 6-12, where they do crafts, listen to stories, and play games. Another popular addition to the library offerings is the Teen Area. This glass-walled room has sofas, computers and a gaming console, creating a safe, enjoyable environment with noise separation from other parts of the library and partial supervision.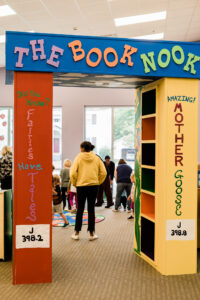 Still other times, you'll find young people in the Makerspace, participating in the monthly Robotics Club or doing other STEM related activities, including 3-D printing. The Makerspace isn't just for kids, though. Adults also have access to the equipment (including a Cricut machine). This space was created to help people of all ages build, learn and design and is open to the public during library hours, with the help of trained staff and volunteers. Next door to the Makerspace you're given a chance to visit the past in the Local History Room. Here you have access to various forms of local history, events and genealogy, as well as free access to Ancestry.com through a library computer.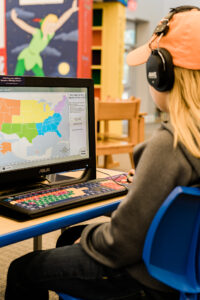 During the day, you may find local businesses utilizing one of two meeting rooms, with state-of-the-art equipment, hi-speed wi-fi and a quiet, comfortable environment. Other times you'll find adults accessing programming to learn computer skills, life skills such as CPR training, or health and wellness workshops. You can even "book a librarian" to assist with job interview skills and résumé creation. If the services weren't enough, the fact that most of them come at no cost to the public makes them even more valuable.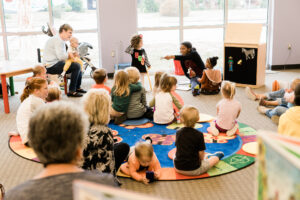 Rhonda says helping to get this new library funded and built for Caswell County has been the highlight of her career, and the time and effort it took to make it a reality was well worth the costs. She has as much pride in the facility as she does for all those who have helped make it happen. From staff who used their personal vehicles to move books from the mid-term rental facility to the new library; to the local football team who loaded boxes of books for the move; to the high school Beta Club who helped organize the books on new shelves; to employees from a local bank who helped put furniture together; to Piedmont Community College's donation of shelves, the entire project has been a community effort. No matter how you turn the page on that, it's a prize worthy story that's being written.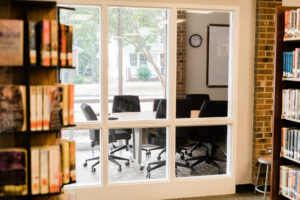 To stay up-to-date on library programs, dates and times, you can follow them on Facebook or call (336) 694-6241. Better yet, take a trip to the library, meet the friendly staff, see the facility first-hand, and leave with a program newsletter (and maybe a book or five). What better way to spend winter days than in this new Caswell County gem, and then taking part of it home with you to enjoy? To miss visiting the new Gunn Memorial Public Library is to miss an opportunity to connect with our community.


Meredith Bernard is a photographer, writer and farmer living and working with her husband and two children on a beef cattle farm in Milton, NC. Connect with her online at thisfarmwife.com.