Passed Down Through Food and Stories
By Olivia Townsend, RCS Junior

Every family has a set of traditions they have passed down from generation to generation. These traditions serve as windows to our past and by participating in them, we are helping to keep those memories alive.
My grandparents began teaching me the traditions of my family when I was young. I remember being in their kitchen learning how to make German desserts and Italian meals.
My favorite when I was younger, and still one of my favorites today, is "Pasta Sunday." Every Sunday, my mother and I go to my grandparents' to stay for hours talking, drinking, and of course eating lots of pasta.
The holidays are extremely important to my family because each one has a special tradition associated with it. For example, Thanksgiving dinner is always full of an array of different foods from different places in the world. While apple and pumpkin pie are always served, so is one of my personal favorite desserts, German black forest cake. My grandfather always makes this and it is something I look forward to every year. Multiple stacks of chocolate sponge cake held together by cherry filling is always popular at Thanksgiving.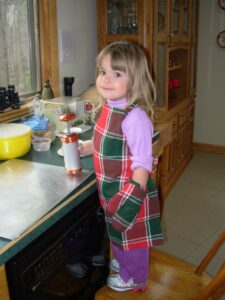 However, my most treasured tradition is our Christmas tradition.  Every Christmas day, my grandmother makes Swedish coffee cake. Swedish coffee cake is a dry bread with almonds, candied cherries, and white icing on top. Before opening presents, we always eat the coffee cake while sitting in the living room chatting. Christmas wouldn't be the same without my mother and me arguing over who gets the last slice.
I learned that something my mom used to do with her cousins and my grandparents during the Christmas season was to make Kifli, a European dessert. My grandfather decided to make Kifli one day, which is when my mom told me her memories of making it as a child. She described making an assembly line with her cousins and each of them having a separate job. One would be cutting the almonds, while a few were making the dough, and then someone would make the almond paste. During my first time trying Kifli, I enjoyed hearing my mom talk about the memories it brought back — almost as much as I enjoyed eating it. Click here for the recipe!
While it doesn't sound like a tradition, one thing that I love doing is learning new recipes that have meaning in my mom's or grandparents' past. Just the other day I learned how to make plättar, a Swedish breakfast food. My mom and I bought the ingredients and went to my grandparents' to learn how to cook the plättars. You need a special pan; it looks like a frying pan but there are indentions on the top to pour your batter in. They look just like pancakes except they are smaller and lighter. Although it took my mother and me a few tries before we could make one to grandma's standards, we finally succeeded and they tasted delicious.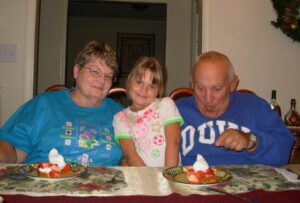 The first thing my grandfather ever taught me how to make was meatloaf. It is an easy recipe that everyone loved to eat. I remember putting all the ingredients into one large bowl and mixing them with my hands. I always had fun making this and enjoyed eating it too.
Each meal my grandfather makes or each dessert we eat always has a story to go along with it. Hearing these stories is very important to me. I might not have met the people I am being told about, but it feels like I know them through the stories I hear. Learning these new recipes and hearing how important they are to my family gives me a feeling of pride. These traditions are not only delicious but they hold significant meaning to my past. Learning them is something that means the world to me and I can't wait to be the one to pass these traditions down to my family.
Roxboro Community School (RCS), a public charter school for grades six through 12, is housed in the former Roxboro Cotton Mills/Tultex building, constructed in 1899. It is on the National Register of Historic Buildings.
With each issue of Hyco Lake Magazine we publish stories written by high school and college students. Our goal is to give the young people of the Hyco Lake Region a voice as well as encourage them to read our community-based publication. And we pay them for stories! Visit this link for more information: https://hycolakemagazine.com/article/