ROXBORO, NC- Bennie Clayton and Carrie Howard are co-owners of a new, "fashion forward" salon in Roxboro, NC. The pair had been stylists in surrounding areas for years, but never connected until they "hit it off" working at the same salon nearly two years ago.
"Our friendship was really instant," said Howard, who believes everything happens for a reason. Soon enough, that reason would prove to be one of their greatest adventures yet.
"Neither of us were looking for a change," explained Clayton, who admitted he initially lied to Howard about his interest in having a salon of his own.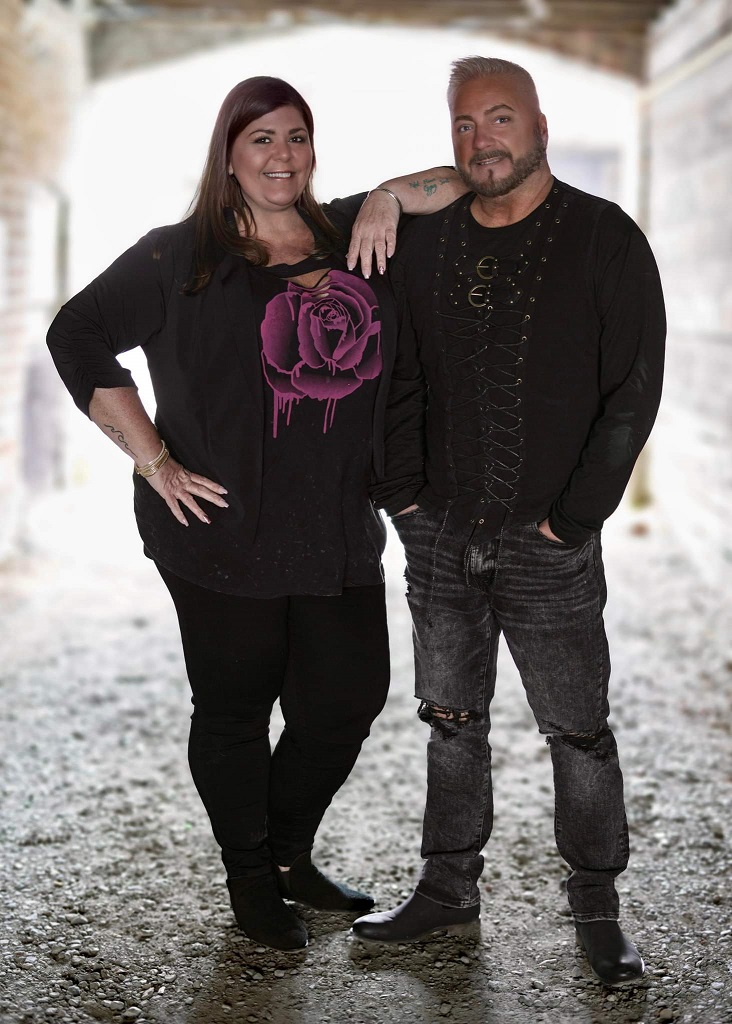 At the time, Clayton and Howard had two separate clients coming to their chairs with business ideas. This had each of them secretly wondering what it would be like to create a space that could reflect their own values and visions. "We weren't unhappy," the two clarified, "we just had dreams."
Taking A Leap
Howard talked about the moment Clayton told her the truth.
"I was cutting his hair one afternoon when he said there was something he had to admit," she explained.
Clayton, who usually made an announcement when heading out for lunch, had left in a rush. "I told everyone I had an errand to take care of…and then I booked it out of there to look at a building," he said. "When I told her what I had actually been doing, she couldn't believe it, especially since she had been thinking about doing the same."
After deciding this was what they really wanted to do, Clayton and Howard began searching for buildings and brainstorming ideas. The uptown location was important to them, so they "took a leap" and officially opened their doors just a few months later on May 11, 2021.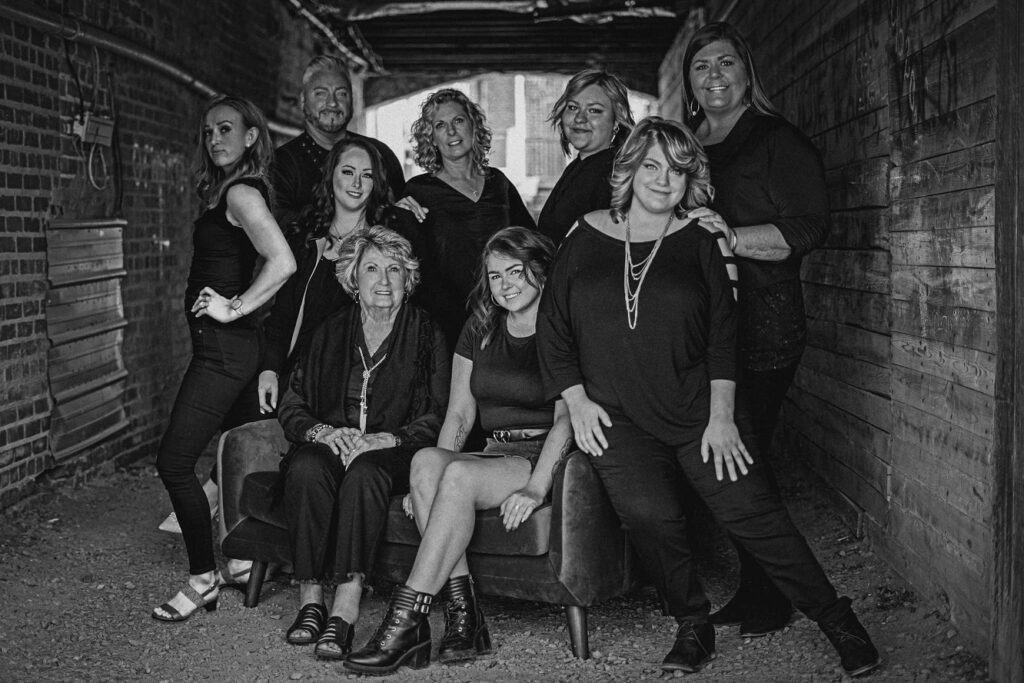 The People Behind the Chairs
Beyond Clayton, Howard, and their clients, a few others have contributed to the quick success of this salon in Roxboro. Wendy Cole was one of the first to be added to the bunch. After being out of the business for years, Cole had been considering salon life again when she ran into Clayton at a local winery.
Cole inquired about space at local salons when Clayton shared the news of his plans with Howard. Quickly, three became eight as Shirley Wrenn O'Brien, Lizzy St. John, Sarah Farenga, Paige Lovette, and Lindsay Bowman joined in on the fun.
In addition to hair, these stylists have a wide range of skills, ensuring their clients are taken care of from head to toe. O'Brien does nails, while Cole offers manicures, pedicures, and facials. St. John is a make-up artist, while Farenga's space at the salon is dedicated to permanent make-up. Bowman has experience with lashes and brows, as well as spray tans and waxing.
The best part is "we are much more than co-workers, or even bosses," Howard said, "this is our chosen family…there's a lot of love here."
Community Driven Salon in Roxboro
Clayton and Howard's drive to serve others is what makes Elysian different.
"As a whole, we wanted to offer more than a place to get a haircut," they agreed.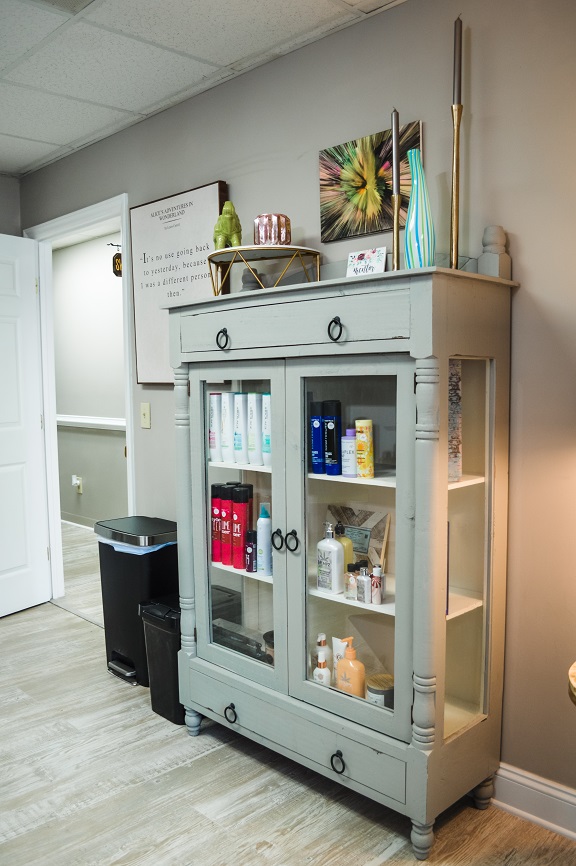 The group enjoys participating in events, large and small, like weddings, girls' nights out, and birthday parties for kids. They've already started giving back to organizations and creating gift baskets for several businesses and benefits. During their first year, they created a scholarship in memory of fellow stylist, Chrislynn Painter, which will go to a high school student interested in pursuing cosmetology.
The team is extremely proud of the "Elysian Salon Makeover Project," which they created with the intention of pampering one member of the community who deserved some special treatment. The winner of this received several things, including food, clothes, and accessories from partnering businesses. Clayton and Howard received eleven "really emotional" nominations, making it hard to choose.
"We actually had a client from Virginia come in and ask about it. She was so touched that she volunteered to sponsor a second winner," Clayton said, "After that, we were so touched by her generosity that we decided to sponsor a third."
Recently The Courier-Times presented the salon in Roxboro, Bennie, and Carrie with several Best of Person County awards:  GOLD Best Customer Service, GOLD Best Place to Work, SILVER Best Hair Salon, SILVER Best Nail Salon, SILVER Best Birthday Party Venue, Bennie – GOLD Best Makeup Artist & SILVER Best Hair Stylist, Carrie – GOLD Best Hair Stylist.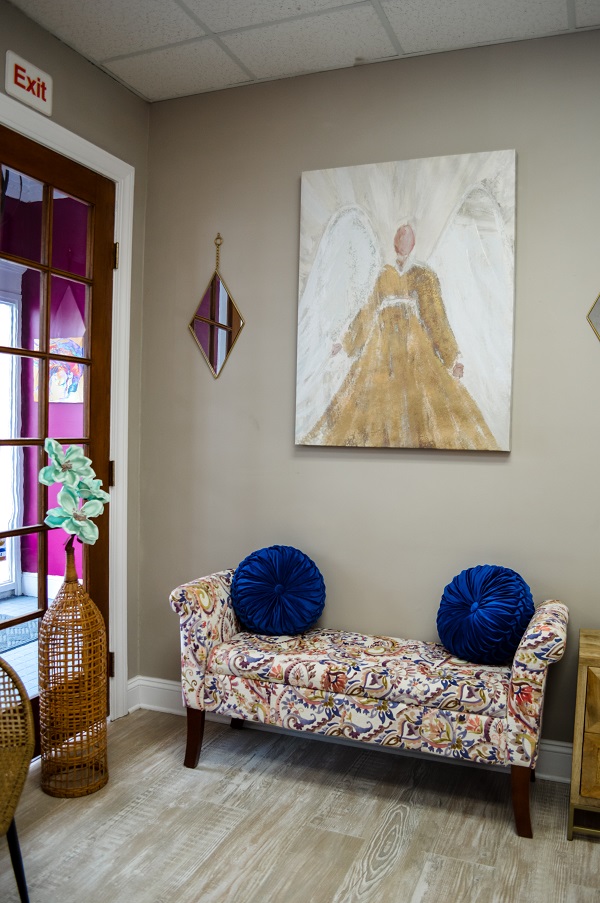 Bringing The Vision to Life
Clayton and Howard believe they have been "very fortunate" to be "so well received." It was important for them to have the freedom and the space to express their creativity in their own way.
"We have more responsibility now, of course you worry over the little things, but it's all so rewarding," Howard said. The pair is proud that they have already been able to make people feel so good.
Even the name of the salon in Roxboro was chosen with this goal in mind. Clayton and Howard wanted to be represented by a word that would truly encapsulate their intended vibe. They came across a picture on Pinterest that defined Elysian as "Beautiful and creative. Divinely inspired. Peaceful and perfect." – an overall excellent description of the atmosphere they have worked hard to create.
"We're aiming for comfort here. Upscale, but laid-back and fun," Clayton said. "Our clientele is from various walks of life, but they all deserve to have a luxurious experience that makes them feel as beautiful as they are."
Before long, the salon will be celebrating its one-year anniversary. The team has big plans and encourages the community to keep their eyes open for an announcement coming soon. In the future, Clayton and Howard are looking forward to continuing their journey of growing into who they are and what they can be for this community. For Clayton, "nothing compares" to the "genuine smiles" that have occurred throughout this experience thus far. "I can make my customers happy anywhere, but I want to be happy too," he said. "This is everything we imagined," added Howard, "we wouldn't have it any other way."

25 Reams Ave
Roxboro, NC 27573
(336) 647-4114



Sara Coates recently landed her dream job as a Family Service Worker at Earl Bradsher Preschool. She credits Fayetteville State University for her ability to succeed in her field and Roxboro Community School for helping her fall in love with journalism. In her free time, she loves exploring photography and writing for Hyco Lake Magazine.