By Norwood Walker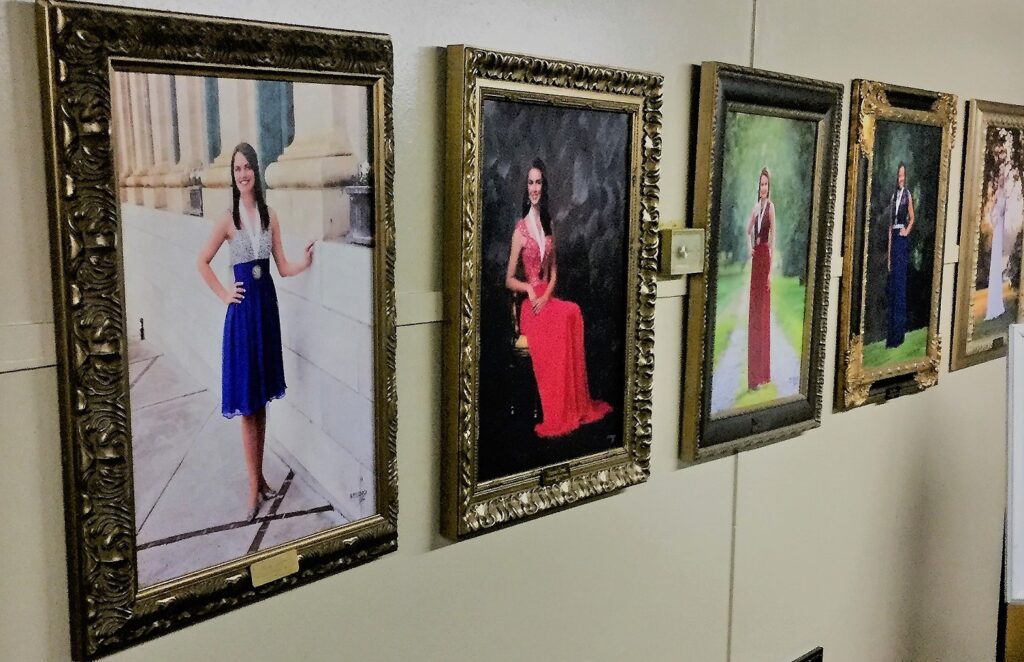 When you enter The Old Country Club Steakhouse you immediately notice many portraits of young women lining the walls, in the main left dining room there are more of the same. All of these young women share the title of Roxboro's Junior Miss, Young Woman of the Year, or Distinguished Young Women, which are really all the same. The current representative always hanging on the wall facing the door according to Chris Long, owner of the steakhouse. He explained that the practice started with a suggestion from Charlie Hubbard, a well-known lawyer in town and before his passing, a very strong supporter of the program.  Mr. Hubbard (Charlie) first made the suggestion in the early 80's and Edwin Long, Chris's father as Chris was a mere child then, quickly agreed. Lisa Fox, Junior Miss of 1982, was the first portrait to go on the wall in the entryway. As the years passed and the number of portraits grew, early years were moved to a main dining room wall and the entrance reserved for the most current title holders. Every year since 1982 is represented.
Growing up is tough. Navigating the rough waters of puberty and adolescence is full of whirlpools, eddies, and rapids. Males have had a bit of an advantage, some might say a huge bit of an advantage, in navigating these trying waters with more opportunities in sports, academics, part-time jobs, and other ways of "becoming their best self," especially in smaller towns and communities. This is the story told in chapters and highlights about a program which helped even the playing field between the sexes and served as a springboard for young women into careers of distinction and service. This is the story of the effect this program had on one particular small town, not just for one generation but several. This is the story of a program that attracted those who are now grandmothers, their daughters, and their granddaughters with an opportunity to step into the spotlight for at least one night with a chance of other nights in many different spotlights. This is the story of an event with small beginnings in many local communities that not only has survived but thrived. But the story is really much more than the story of a program, it is the story of the participants, the impact on their lives, and their contribution to their community. This particular story is of the Junior Miss, Young Woman of the Year, Distinguished Young Woman in our small town in tribute to all the distinguished young women everywhere then and now.
When the Roxboro Jaycees began planning the first Junior Miss Pageant in Roxboro in 1967, little did they know they would be starting a tradition that would continue into 2019 and would offer so many high school senior girls so much. Those Jaycees back then were seeing Junior Miss as a replacement for the Miss Roxboro Pageant which had been an annual project for them until the mid-sixties. In a story appearing in an October 1967 edition of the Courier-Times, Wendall Watters, Jaycee chairman of the first Roxboro Junior Miss pageant, explained the purpose of the program and why the Roxboro Jaycees decided to adopt it over the Miss Roxboro pageant which was part of the Miss America Program. "Special emphasis is placed on these qualities 1. Character, 2. Citizenship, 3. Leadership. 4. Scholastic achievement, 5. Personal ambitions, 6. Lady-like poise and demeanor." Watters was quoted as saying. He also strongly emphasized that it was not considered to be a beauty pageant. But like the Miss America pageant it did have a national component with local winners competing on the state level and state winners competing on a national level. Unlike the Miss America pageant there was never a swimsuit competition and the program was only open to high school senior girls.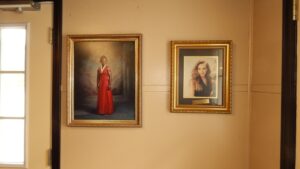 The first Roxboro Junior Miss Pageant was held on Saturday, November 11, 1967 in what was known then as the Morgan Street School auditorium which was later known as Northern Junior High and is now tennis courts at Huck Sansbury Park. Ten senior high school girls from across the county were invited to participate in this first program. Now interested girls in their junior year can signed up to be part of the program. Usually meetings occur in January and the girls spend time with community service projects, photo sessions, fun events, and fund-raising activities such as flower sales until late summer when the real fun begins. Local Jaycee program chairs begin meeting with the girls on Sunday afternoons where they rehearse individual talents, opening numbers, choreography, practice interviews, and begin the hard work of putting together the program open to the public in late September or early October. As father of a former contestant (talent winner at that) who went on to serve as co-chair of the local pageant for several years, and father of a son whose girlfriend was a local winner and competed in the state pageant, I am in awe of how those involved in this first program pulled it off in such a short time. Wait, not only pulled it off, but produced a program which resulted in a state winner.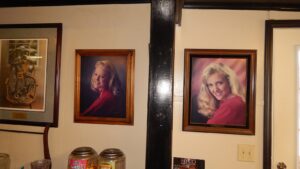 Kathy Gentry, daughter of Mr. and Mrs. Robert Gentry of Timberlake and a senior at Helena High School, was selected from those first 10 contestants as Roxboro's Junior Miss. Kathy went on to win the State Junior Miss title in Charlotte held in January of 1968 and competed in the National Junior Pageant held in Mobile, Alabama in March of that same year. She caught the eye of photographers from Seventeen and appeared in one of the spring editions of that magazine. That picture was prominently displayed in my dorm room with the prideful declaration that she was my Junior-Senior prom date. She really was! Kathy had performed a medley from My Fair Lady and her talent, poise, and scholastics evidently blew away a couple panels of judges. She went on to a successful career in banking and married a high school classmate (Richard Cates) and had two kids and now grandkids. I contacted Kathy when I first started on this article and her message showed her modesty and feelings toward the program:
Thinking since your first message and I don't think I need to be featured in your article. The program certainly deserves a tribute. It was a wonderful experience and I certainly enjoyed and benefited from participating in Jr Miss. The support shown by the people of Roxboro was overwhelming.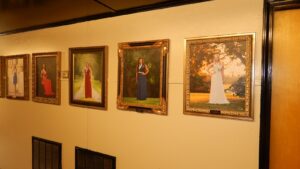 First runner-up to Kathy was Julie Wood the daughter of Mr. and Mrs. Charles Wood of Roxboro. Second runner-up and the Personality Award winner which was selected by the other contestants was Faye Gentry, daughter of Mr. and Mrs. Cecil Gentry of Roxboro. The other inaugural contestants were Katherine Cash, Marie Hicks, Kathy O'Briant, Sherilee Adamson, Janie Nicholas, Faye Poindexter, and Brenda Broach. Brenda Broach Moore now owns Rolling Hills Garden Center/Village Gallery Florist and grows the flowers that the girls sell in their fund-raising activity. Her daughter Kathy and also granddaughter Katy have been contestants in the local program. (Quite a few mother/daughter/ traditions have been carried on. More on those later.)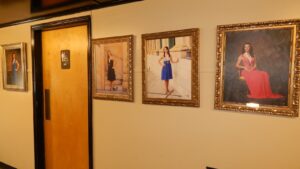 This is a program that has since the very beginning received a great deal of community support. Scholarships for that first program were provided by Person County firms such as Collins and Aikman Corporation, Central Carolina Bank, Peoples Bank, Eaton Yale & Towne Inc., Roxboro Cotton Mills, Home Savings & Loan, Roxboro Saving & Loan, RPC Division of Midland-Ross, and Tar-Heel Chevrolet. Trophies were provided by the Roxboro Jaycees, WRXO, Foushee Tire Service, and Coca-Cola Bottling Company. Winners also received gifts from the following: Green's, Carney's, Cato's, The Bootery, Russell's, Peebles-Kimbrell Co., Foushee's Men Shop, and Long's Men Shop. Note how many of the names may be unfamiliar to many of you and may bring to mind memories for others who have forgotten these businesses, services, and merchants that once thrived here. Changes in the program nationally and changes in the local economy lead to the addition of the yearly flower sale by the participants. This gives them a great sense of ownership in the program and a feeling of accomplishment in raising some of the scholarship monies themselves.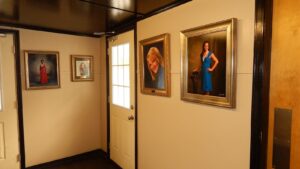 Still the program goes on. Plans are already underway for the 52nd annual program to take place in the fall of 2019. It will be known as the Distinguished Young Women. From Kathy Gentry 1968 to Paige Austin 1990 the program was known as the Junior Miss Program; then for a few years it became Young Woman of the Year, but then reverted back to Junior Miss which it remained until 2010.
Sometime in the 70's the program outgrew the auditorium on Morgan Street and moved uptown to county owned and recently remodeled Kirby Theater, where it remains. Many programs have sold out the Kirby in the past and tickets are always eagerly sought, not just by friends and family of the participants but others who love seeing the tradition continue.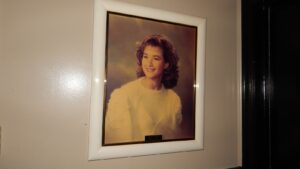 It is a program that offers many young women opportunities that they may otherwise not have, to explore new frontiers and risks to discover themselves. It has also brought recognition to our area. As already mentioned, Kathy Gentry won the state title in 1968, Susan Tew in 1970, Virginia Rogers in 1971, Stacy Lunsford in 1974, and Kristin Davis in 1996, all Roxboro Junior Misses. But in 1997 Casey Noblett of Roxboro was competing as Winston-Salem's Junior Miss while a student at North Carolina's School of the Arts also won the state title. Casey went on to become first runner-up to America's Junior Miss after missing much of the week of rehearsal due to the flu. Who knows what would have happened if she had been healthy!!!!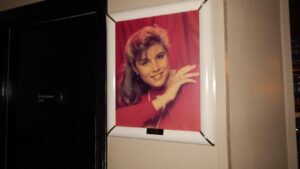 Now the stage is set, a bit of the history revealed, to follow stories across the years from current participants, past winners, their mothers and grandmothers. It is a story of the celebration of young women, of encouraging them to become their best selves, to step out on the stage and be in the spotlight and bright lights. I remember sitting in the Kirby back on a fall night in 1999 and seeing a young girl in a blue checked dress with red sparkling shoes, holding a small picnic basket with a stuffed dog peeking out singing Somewhere Over the Rainbow. Somehow my vision blurred, and I couldn't speak. She finished and the audience loved her as much as I did. I remember the pride I felt when she was announced as a talent winner. Fast forward to when she and her best friend were now making it possible for other dads, boyfriends, uncles, moms, aunts and others to experience what I had. I know that this program has given me many stories/memories from the very first one when I could brag my prom date won a state title and modeled for a national magazine to ones as a dad and by default, a practice interviewer and whatever else. I know as a teacher what it meant to the many, many young women I taught who competed and won whether it was a title or not.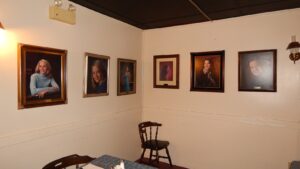 What are your stories, your memories? Whether you were a participant, a parent or both, or just know someone who was, help me tell their stories. We want to feature them as well as accomplishments of all the distinguished young and forever young women of our area. Email me at [email protected] and help me write and be a part of the next two stories.
(Click here to continue reading: There Is Something to Come Back For – Distinguished Young Women –
The Story Continues)
Norwood Walker has spent much of the last 60 years in a classroom on one side of the desk or the other. Loving to write poetry and stories in high school, his English teacher of 3 years once told him he might become a writer if he overcame his radical period. She is still waiting. He can be reached at norwoodwalker@gmail or Rainbow's End on Facebook.
Special thanks to Anna Hester-Martin with Re/Max Premier Realty. She is an active member of the Roxboro Jaycees, where she serves on the board and co-chairs the Distinguished Young Women of Roxboro program. She can be reached by phone at 919.414.4587 or by email [email protected]. Read her success story on our website: https://hycolakemagazine.com/anna-hester-martin-re-max/