The Danville-Pittsylvania County Fair
By John Theo

On Friday, September 13th the Danville-Pittsylvania County Fair returns to celebrate its 29th year. The fair runs for nine days and brings back all of the attractions people have come to expect, and more.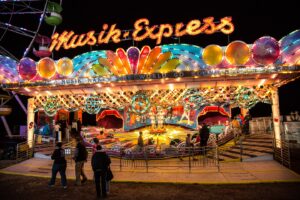 Along with rides, games, food vendors, and a livestock building there is an opening night concert featuring country music sensation Mark Wills. Notable singers of the past were Eric Church, Montgomery Gentry, Dustin Lynch, as well as Colt Ford. This year the hugely popular Demolition Derby is back, as well as the figure-eight-race. This unique event is one-part race, one-part demolition derby.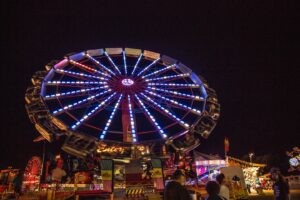 Unlike the majority of fairs throughout the country, The Danville-Pittsylvania fair is a private, family owned enterprise. Larry Burnett and brother Ray co-own the business. The Burnett brothers dreamed of creating a fun place where they could re-live their childhood and share with future generations of children. A place where parents could bring kids, friends could meet up, and young men could bring sweethearts. For the Burnetts, and many children of the 1950s and 60s, the fair was the most exciting event of the year.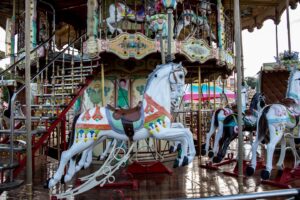 Larry has said of his childhood, "The whole town would be buzzing and the kids would get so excited. We'd come home from school, throw our books down, and go to the fair." Ray Burnett's wife, Lori, runs the front office and said of her childhood, "I remember getting out of school early to go to the fair."
For two generations, the Burnett family has made a living in the railroad industry both building and repairing, existing railroads. With their construction background, the brothers purchased, cleared, and prepared a 1,000-acre parcel of land at the Ringold location in just two short years. The Danville-Pittsylvania County Fair opened in the fall of 1991 to rave reviews.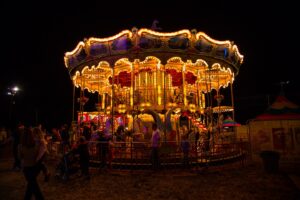 Over the years the fair has become so popular that it has grown into a multi-generational event with many of the Burnett spouses, siblings, and grandchildren helping out. Around every corner is a Burnett, whether it's public relations, finances, administration, or concessions.
Generations ago, the majority of county fairs revolved around produce, livestock, new farming techniques and technologies with only a few rides and games. Today the Danville-Pittsylvania County Fair still retains some of the agrarian past, but focusses more on entertainment, which has a fascinating history as well.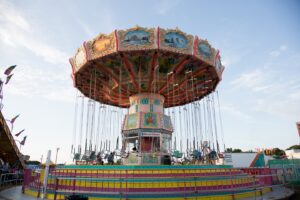 Planning for the fair is an all year process which culminates with a September meeting at the Ringold Train Station on Depot Road. There, the Burnett family greets another family owned business. The James Strates Carnival Company shows up with freight cars full of amusement rides, games, and staff of their own. The Strates Carnival Company is the last remaining United States carnival company who travel the country primarily by train.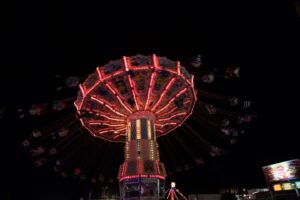 Over the decades, county fairs across the country have slowly succumbed to diseases like time, developers, high taxes, and low attendance. They are now more of our past than present. Today, there are massive year-round theme parks, beaches, malls, and a myriad of places and activities vying for customers attention and dollars, but the Danville-Pittsylvania Fair still has an impact on the young. Lori described seeing children enter the park and their faces, "Lighting up".
The question remains, is the Danville-Pittsylvania County Fair still the most exciting event of the year? Why don't you be the judge and come out on September 13th.
Danville-Pittsylvania County Fair
September 13-21, 2019
2400 Cavalier Road
Ringgold, VA 24586
(434) 822-6850 For advance ticket sales go to
https://dpcfairgrounds.com
There is a dedicated school night, senior citizen night, as well as military discounts.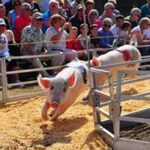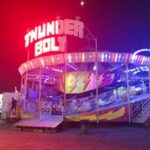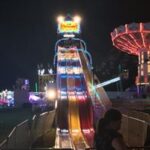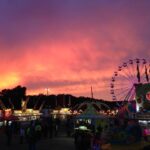 John Theo Jr. is new to South Boston but not new to writing. He has authored several books and penned many articles. Hyco Lake Magazine is thankful to share his perspective on our community. Please welcome John and get to know him better by going to JohnTheo.com, visit him at Cozy Cave Self Storage & More at 306 Webster Street, South Boston, VA 24592 or give him a call at (434) 579-2856!