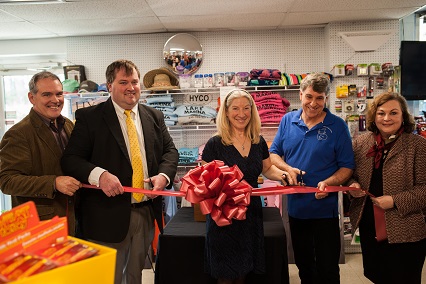 Story and photographs by Meredith Bernard
Small towns have a way of coming through in big ways for their people, and the communities of Hyco Lake and Roxboro, NC are no exception.  When Bobby and Candace Smith bought Hyco Lake Marina in April of 2017, they knew they wanted to be a hub where lake goers could find not only food and convenience items, but also a place to foster fun and community life. On a cold February morning, they did just that by hosting a ribbon cutting inside the marina. Several local business owners, community members and town officials, including Roxboro Mayor Merilyn Newell, Person County Commissioners Board Chair Tracey Kendrick and RACC Board Chair Hunt Fitzgerald were on hand for the event where Mayor Newell welcomed Peter and Chris Berry's business Happy Endings Publications to the Roxboro Area Chamber of Commerce. Smiles were all around as the Berry's cut the ribbon on their new ties with the community they love as well as celebrating their recent purchase of Hyco Lake Magazine from Janna Smith.
Peter explained his and Chris' hopes for the growth of the magazine through a larger online presence via an updated website and Facebook page, as well as plans to broaden the reach and impact of the magazine to neighboring counties and towns. His former experience in computer science and his publishing background made the magazine purchase a natural fit.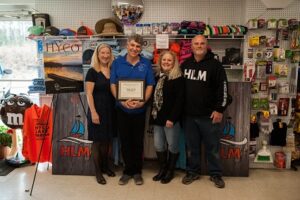 After the ribbon cutting, festivities continued at the RE/MAX lake office where everyone had the opportunity to enjoy food and time catching up with friends and acquaintances, as well as making new ones. Peter and Chris are thrilled to be a part of this thriving community and look forward to shining an even greater light on this "hidden gem," as Tracey Kendrick described the area. The future is bright for both the Berry's and Hyco Lake Magazine.
Thanks to Bobby and Candice with Hyco Lake Marina for hosting!
Meredith Bernard is a farm wife, mom to two, photographer, free-lance writer and regular contributor to this magazine, living and working on a beef cattle farm in Caswell County. She's a firm believer in the power of life stories, strong coffee and daily grace. Connect with her on Instagram, Facebook and Twitter @thisfarmwife and her personal blog at www.ThisFarmWife.com.