Story by Peter Berry
Photographs by Chris Berry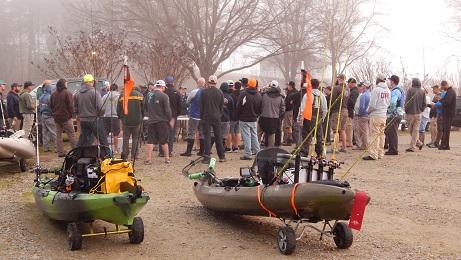 You don't have to live at the lake or own an expensive bass boat with a 225-horsepower outboard to enjoy fishing. Folks come to Hyco Lake and Mayo Lake to fish from the banks and in all kinds of boats nearly every day of the year. And then there are those that fish from kayaks!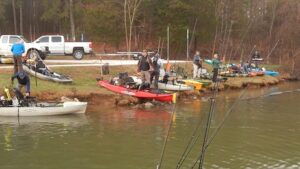 Being an avid kayaker myself, I already knew about kayaks designed specifically for fishing. The store in Greensboro that we frequent, Get:Outdoors Paddlesports, stocks several brands. I even have a friend that brings one to my lake house every now and then. But I had no clue that there were regular tournaments for kayak fisher-people. Yes, I said people because women do it too.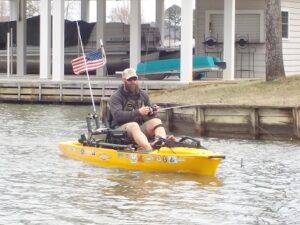 It was a warm Saturday morning in late February, my wife and I got out of bed before sunrise to drive down to the boat ramp to cover the first every kayak fishing tournament on Hyco Lake. To our surprise there were more than seventy fisher people launching their plastic vessels, loading fishing poles, and checking sophisticated electronics. Yes, I said seventy, not seventeen, as in seven-four entrants to this well organized, very serious bass tournament.
The sun was up by the time the captain's meeting was breaking up, but still most of the boats had light poles illuminated because of the dense fog. By the time they made their way out of the cove, the lights were hardly visible and the boats had disappeared.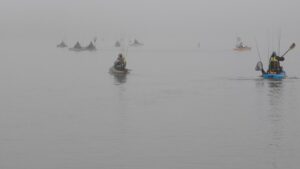 There was hardly a sound or even a ripple on the water… unlike a typical fishing tournament where the silence of the morning would have been cracked by the roar of outboard motors racing to all corners of the lake. There were a few bass boaters present that morning, but they were off to the side. Perhaps they were overwhelmed by the huge number of their fellow fisher-people in plastic boats, maybe they were waiting for the fog to lift, or my guess is that they were just being courteous!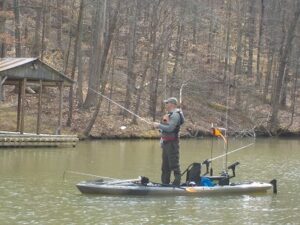 Most of you have seen a modern bass boat with its monster motor that makes lots of noise and goes really fast. To be honest, that is about the only difference I could see in these two groups of sportsmen. Both groups have expensive equipment, high tech electronics, a respect for the environment, and a love for fishing.
This group was organized, right down to having sponsors and prize money. To finds out more, visit http://www.carolinakayakanglers.com
For other fishing tournaments on Hyco Lake, check out Hyco Lake Marina at www.hycolakemarina.com. The next one is scheduled for April 14, 2018.
And if you have a fish story to tell our readers, send us a message at [email protected]