ROXBORO, NC- "You want to go where everybody knows your name" — that's how customers and friends sum up the experience of visiting Cole's Pharmacy on Main Street in uptown Roxboro.
And if you want to get a true taste of Roxboro and Person County, just step inside the building on the corner of Main and Reams that has been a local business spot since 1904. You will be warmly welcomed, well fed and served with a smile.
From the vintage soda fountain to wood shelving in the "old timey section" of the store, history is apparent in the building that has housed a pharmacy since 1960. But history and hospitality are even more apparent in a conversation with Cole's Pharmacy owner James Carver and his son, Robbie Carver. I had the pleasure of spending about an hour with the two recently. While James filled me in on the history of the building and the business, customers came and went, greeting the father and son like old friends.
Cole's Pharmacy Customers
One was visiting to pick up her daily dose of lemonade from Cindy at the soda fountain. The customer proclaimed the day was her 48th wedding anniversary, and received a round of congratulations from the Cole's staff. Another customer stopped by the table where James, Robbie and I were talking, and when James told him I was writing a story on the history of the shop, the customer stated that he was 82, and could remember driving up and down Main Street by the store when he was a teenager and blowing "the horn at the women." He joked that there wasn't much else to do in Roxboro at the time.
One long-time customer, Sonja Vaughan, told me that walking into Cole's Pharmacy is like walking into Cheers, the fictional bar in the 1980s TV series of the same name.
"When I walk in Cole's Pharmacy, it's like walking into a family reunion," Sonja told me. "You will see many of the same folks week after week, and then there's always that unexpected surprise……like running into old friends or classmates you haven't seen in years, people shouting 'hello' and waving and sharing hugs. James and his staff are wonderful, salt of the earth folks, who genuinely love and care for their customers."
More Stories From Cole's Pharmacy
Sonja, a breast cancer survivor, wrote a wonderful book about her journey. My review of the book is in this edition of Hyco Lake Magazine. Sonja told me recently that she "worked on Main Street for almost four years, and during that time, I ate more meals at Cole's than I ate at home."
After she wrote Temporary Lumps, Sonja said, "James reached out to me right away to let me know they wanted to host a book signing for me. They went all out. They had flowers, decorations, food and drinks. I truly felt like a real celebrity author!" Sonja added that the Carvers and staff "were truly some of my biggest supporters during a difficult time."
While talking with the Carvers for this story, I couldn't help thinking they have the perfect jobs. They have long-time, loyal customers like Sonja, who feel like members of the Carver family. As we talked at a red-topped table with a perfect view of Main Street, people strolled by and waved. James and Robbie offered waves, nods and smiles in return, while never missing a beat in our conversation.
Recalling Earlier Times
James fondly recalled being in the store during the 1960s and '70s when, he said, "the streets were filled with people" on Saturdays. Regular customers who planned to be back in town the following Saturday would bring in the bottles and ask for a week's supply of their medications. There were several who would visit or call to say something like, "I don't have the bottle, but I need my yellow pills," James chuckled. That still happens today from time to time, he said with a smile.
"Back in the day," he said, Cole's carried special items for the Christmas season. Shoppers from the 1950s through the 1980s could pop in for last-minute shopping and pick up an Old Spice or Evening in Paris gift set, Max Factor make-up, a Timex watch, or a Polaroid camera for someone on their list.
The store was open until 9 p.m. on Christmas Eve back then, said James, and sometimes shoppers would come in after 8:30 and try to bargain for a better price on that special something. Back before digital and cell phone cameras, James said, film, batteries and flash cubes were among the hottest selling items during the Christmas season. The "old timey section" at the back of the shop still contains a few of those items, as well as products like lye soap.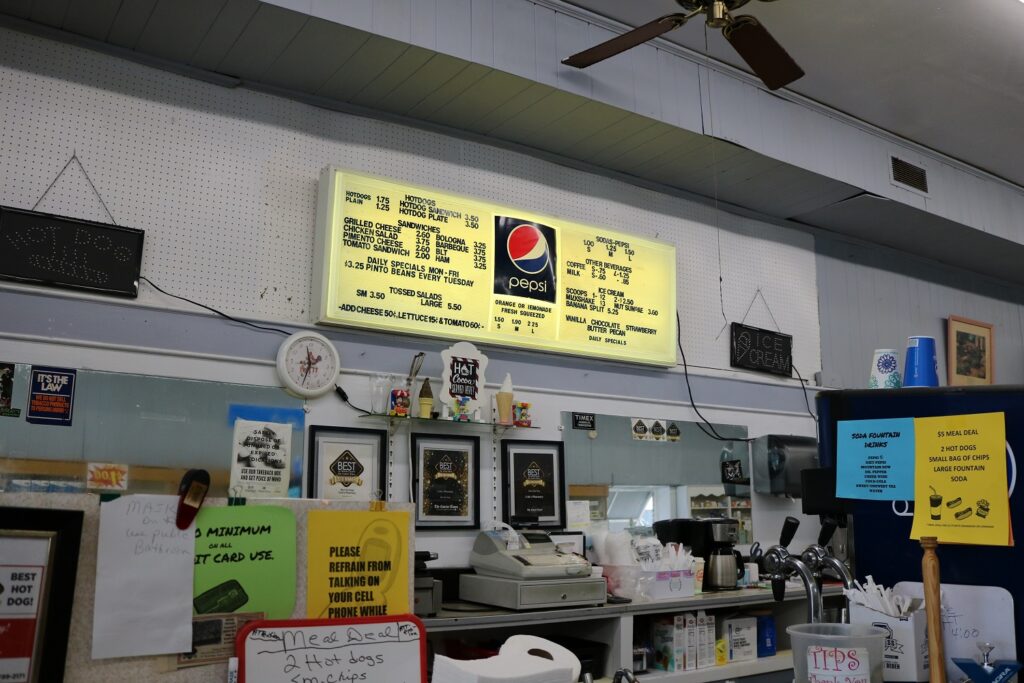 Some Things Stay The Same
As has been the case for years, the snack bar still offers delicious hot dogs, ice cream, fountain drinks, and pimento cheese, chicken salad and hot dog sandwiches. When the building was converted from a grocery store to a pharmacy, the bar and soda fountain were moved from the building that currently houses Tolin & Tolin Law Firm, a couple of blocks away on South Main Street.
My friend Carrie Hawkins has fond memories of the snack bar. Carrie grew up just down Main Street, at Russell's Ltd., the store her mother, Zee Burnette, owned and operated for many years.
Carrie told me, "When I was little, my sister and I used to have to stay at mom's store every day after school. Our treat for having to do this was getting to walk up to Cole's and get an afternoon snack. For many years, I would go and Marie would fix me a hotdog sandwich 'without the orange thing' — so I would eat the bread with ketchup." Carrie would get chips and the famous Cole's lemonade with her hotdog sandwich "without the orange thing." That, she said, was a favorite childhood memory.
Sonja Vaughan said of the hot dogs, "Holy smokes, they are delicious! It's that homemade slaw. But if you really want to live on the edge, you MUST try their hot dog sandwich, and get you one of their famous orangeades to go with it. You'll be glad you did."
The orangeades, soft drinks and other beverages offered at Cole's are chilled a specific way, James said, because "people love flaked ice." He rents a machine to make sure his customers get their beverages just the way they like them.
Memories Of Times Past
Like Carrie, Brinn Clayton, former owner and publisher of The Courier-Times, grew up in uptown Roxboro. When his father, Jerry Clayton, owned and published the newspaper, Brinn and his brother Clay would go to Cole's after school every Monday and Thursday to pick up their newspaper bundles before going on their walking paper routes.
"The ladies behind the counter were always kind to us," Brinn said. He recalled Katie, who "always wore a white jacket like the pharmacist." He said another woman who worked behind the lunch counter back then "had a beehive" hairdo. "I'd get a grilled cheese sandwich and a coke and charge it to my dad," Brinn continued.
Tim Chandler, Roxboro's mayor pro-tem, also had a newspaper delivery route in his younger years. And Cole's was a big part of his workday, too. After completing his route, he said, Tim would meet Clay Clayton at Cole's and "Katie and Marie would make us an orangeade and we'd either get a hot dog or one of their famous 'squished' sandwiches. Those were some good times."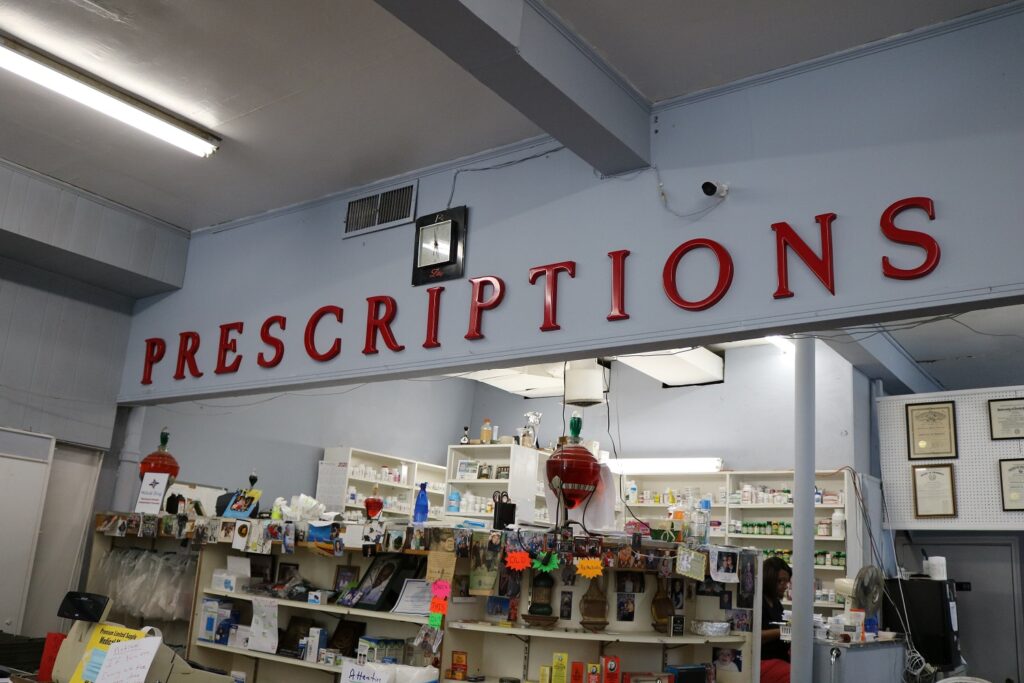 When I Posted on Facebook…
When I posted on Facebook that I was working on a story about Cole's, my friend Shannon Lewis commented, "Back in middle school, we would skip school lunches to save our money and make every and any excuse to get together for a study group at the library after school just because we really wanted to walk down to Cole's for an orangeade and a hot ham and cheese. Back then, encyclopedias were our Wikipedia so we had frequent flyer miles from our public library to Cole's." (Shannon gave me permission to use her post in this article.)
James said Al Cole, the first owner of Cole's Pharmacy, acquired the snack bar and several other items from what is now the Tolin building. James said Al and Winkie Wilkins, former Courier-Times associate editor and member of the North Carolina House of Representatives, one night rolled a five-foot-tall safe down Main Street from the Tolin office to what is now Cole's.
The Cole's Pharmacy building was originally Sergeant-Clayton Grocery Store. A handwritten list of items sold at the store is still on the wall on the second floor of the building. The Carvers renovated the upstairs a couple years ago, turning the former office space into a charming apartment. The pharmacy counter is now located where the grocery store's meat counters once stood. At the side door opening on to Reams Avenue, the grocery store once sold live chickens to drive-up customers, James explained.
Changes in the 1950s
Sometime in the 1950s, the building became Roxboro Drug Company. Al Cole bought the pharmacy in the late 1950s, and changed the name to Cole's Pharmacy, James Carver said. Cole was the sole owner until James graduated from the University of North Carolina at Chapel Hill in 1972 and became a partner and pharmacist. (James is proud of the fact that he graduated in the same class as legendary Tar Heel basketball coach Roy Williams.)
Al Cole retired in the early 2000s, but continued working part-time for several years. Last year, James bought Al out. James said he was about 14 when he first started working in the pharmacy. His children started working there at around the same age. The family atmosphere is apparent the minute a customer walks in the door to receive a warm greeting.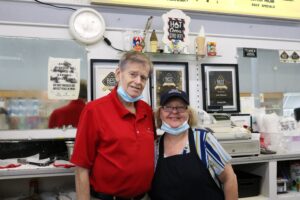 Many treats await Cole's customers, be it food, a cold fountain drink, a friendly smile, getting a prescription filled, or picking up other pharmacy items. And, for customers who can't get to town to pick it up, Cole's delivers prescriptions. The store is located at 117 North Main Street in Roxboro. The telephone number is 336-599-2171. The hours of operation are Monday through Friday, from 8 a.m. to 5 p.m. and Saturdays, 8 a.m. until noon.
Photos for this story were provided by Mackenzie Clayton, RCS Senior.
Phyliss Boatwright is a journalist who for years reported Person County news in The Courier-Times. She has published two books and several short stories. Her book review show, Turn the Page, can be heard on WKRX, 96.7. For the past nine years, she has taught journalism and served as public information officer at Roxboro Community School. She can be reached via email at [email protected].