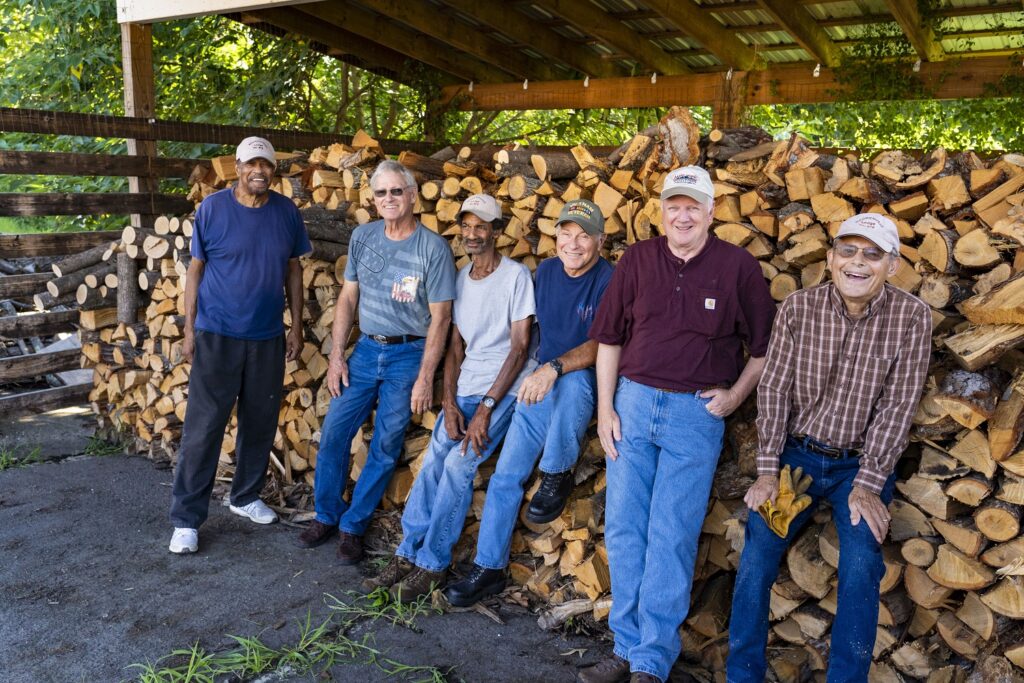 Story and photos by Paul Liggitt

North Carolina has long been known as a state with a rich heritage of logging and lumbermen. It has also been recognized as the leading furniture manufacturing state. Although the industry has changed in recent years, forestry products continue to be a major resource in North Carolina. So, when a tree falls in the forestlands of North Carolina, it does indeed make a sound and people take notice. Such was the case nine years ago when Lyman Johnson took note of a fallen tree and got a spiritual inspiration from the creator of the tree. Not only was he thinking of harvesting the wood but took the next noble step of believing that others in need might be able to benefit from a truckload of cut and split hardwood. The next call was to his "chainsaw junkies," friends from Concord United Methodist Church who, like him, enjoy the whine of a saw cutting a tree for the fire. They were all in and "Cutting Wood for Christ" was started.
It is not only wood cutting but more importantly wood splitting. In the early days, volunteers would go to harvest wood, but now they prepare donated hardwoods to be distributed to families and individuals needing wood for heat. Lyman and the volunteers fondly refer to themselves as members of Woodchucks Lodge 476. Even the lodge number, "476," was inspired and refers to Psalm 47:6. "Sing praises to God, sing praises! Sing praises to our King, sing praises!" How refreshing it is to see people participating in something larger than themselves, simply by gathering to cut and split wood to give away.
The ministry is coming up on its ninth year and has volunteers from eight to 80-years-old with all skill levels. Some of the volunteers were previous recipients of wood and now have it in their hearts to give back. Some come and work for an hour, because it is all they and their body can do. Folks even come from out of state to join with up to 10 area churches in the effort. This brotherhood of volunteers, men and women, gather on specific Wednesdays, and a few Saturdays, in the fall and winter months from 8 to 11:30 a.m. on selected days, to stock the Tom Holtzclaw Memorial Woodshed, in the parking area adjacent to the Christian Help Center in uptown Roxboro. They cut, split and distribute pickup truckloads of wood. For the numbers folks, that translates to about two-thirds of a chord per load. For most of us, including me, it's a "mess'o'wood." The first year, they gave away 69 truckloads and their high total was 555 in a single year. Lyman believes that this year may be more due to the current economic stresses in the area.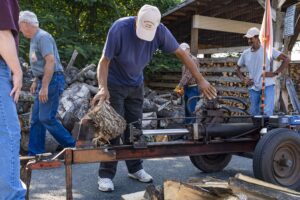 Thanks to word of mouth and some area lumbermen, there is usually enough hardwood at the shed to be split. Many who are having hardwood trees taken down on their property can donate if the tree cutting service doesn't have plans for the wood. Keep in mind, they take only hardwood (not pine) logs up to 20 feet long. Lyman maintains a list of folks who potentially will have or already have trees available for harvest.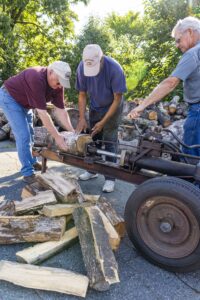 To request wood, contact the Christian Help Center at (336) 599-6070. The staff manages the distribution of the wood, provides vouchers, and keeps tabs on the other folks that need assistance. The fact that the center can provide wood for heating means that the precious financial resources it has can go for other client needs.
To volunteer, call Lyman Johnson at: (336) 503-8770. He knows when the Woodchucks will gather, is the point man for scheduling, and makes sure that splinters and bloodshed are held to a minimum. All kidding aside, safety is paramount and non-negotiable for Lyman and the Woodchucks. Chainsaws and splitters don't care who you are and if you or your digits are in the wrong place at the wrong time.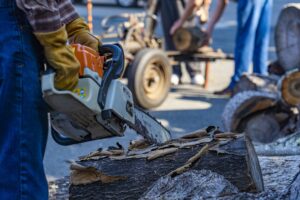 Lyman says, "We always need people…just show up." If you call before you come, however, you can get on a list to be notified if there are changes due to weather. Lyman also maintains an inventory of what tools you can bring. Be aware that it is entirely a volunteer operation. BYO-tools, fuel, muscles, and especially a servant's heart. Although I have heard that you may get a bottle of water and a four-corner Nab during your break!
It used to be said that you could judge the character of a man by the woodpile he had laid up for the winter. If there was an ample supply of neatly stacked "cord wood" in a protected place ready for winter, that was the mark of a man of integrity. He was someone who took responsibility for his family and was prepared for the winter.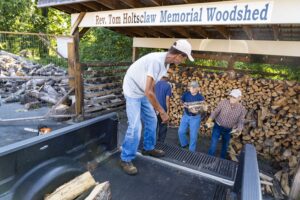 During the upheaval of the economy in 2020, some people are struggling to maintain the basic necessities of food and shelter. According to the Bible, good works don't save us from sin. However, the motivation to do the not-so-easy and sometimes splintery work of splitting and stacking wood to distribute comes from the biblical mandate in James to show people your faith in Christ by your works. It is truly a blessing that the ministry of cutting and splitting wood for those in need has already been established in the Roxboro area. Finally, there is the ultimate relationship of God to his creation and the fact that he cares enough to provide what they need.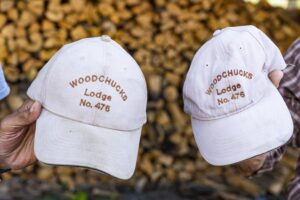 It is no accident that people in this region still appreciate working with wood and a good hardwood fire for heat. I once took a hunter safety course and they counseled us to light a fire if we were lost. It would provide heat, safety from predatory animals, a signal for searchers, and a sense of well-being. Carolyn Johnson, Lyman's wife and co-laborer in ministry, likes to think of the ministry as sending God's warmth to those that receive wood. I agree. I have always read about offerings of incense to God, but I wonder if the scent of freshly split red oak or a wood fire is just as pleasing to him when he knows that wood was freely given in his name to show his love for his creation?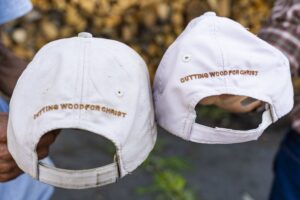 The first date for the wood splitters should start on Wednesday, October 7, 2020 and run on consecutive Wednesdays through the fall and winter months. The Saturday dates that are listed should still be good. It is still a good idea to check with Lyman Johnson if you want to volunteer so he can get contact information for you. (336) 503-8770
Not only can Paul write, he is also a professional photographer. And, he can fly a drone for your professional aerial photography and video needs! Paul Liggitt Photography, (336) 322-1167, www.plphoto.com