A Journey of Faith, Perseverance and Triumph
by Sonja B. Vaughan
Book review by Phyliss Boatwright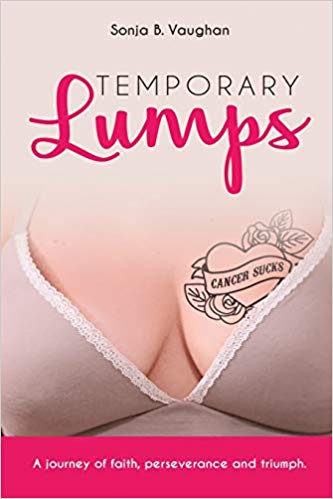 Reading this Book is Like Sitting on the Porch, Chatting with the Author.
Every now and then, I find a book that touches my heart in a way that is hard to describe. That's exactly what happened when I read Person County native Sonja Blanks Vaughan's story about her journey with breast cancer. We all know someone who has battled or is battling the disease. Many of us have fought it ourselves. Sonja offers her own story in a way that is completely relatable, and also inspiring.
A couple of years ago, after Sonja was diagnosed with breast cancer, she decided to document her journey via a blog. She said many folks told her they loved the blog and encouraged her to turn it into book form so that people who don't use the Internet, and more people period, could read about her diagnosis, treatment, faith, and the incredibly positive attitude with which she faced the fight with cancer. The result is Temporary Lumps, a Journey of Faith, Perseverance and Triumph.
Sonja told me that several times, people said, "I felt like you were sitting in my living room talking to me personally" while reading the blog. And after reading the book, I feel the same way.
Over time, Sonja said, as more people told her they thought she should make the blog a book, she believes God began working on her. She said, "It seemed crazy to me that my story would be interesting to anyone other than folks that knew me or knew of me…….but I kept thinking …….WHAT IF……..WHAT IF that's what this whole cancer is about. WHAT IF God has given me this platform and this voice to share with the world how awesome He has been to me?
WHAT IF God cured me of this cancer so that I could tell others of that miracle?"
She said a Bible verse, Esther 4:14, kept running through her mind:
14 "For if you remain silent at this time, relief and deliverance for the Jews will arise from another place, but you and your father's family will perish. And who knows but that you have come to your royal position for such a time as this?"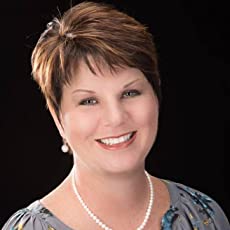 "How could I argue?" Sonja told me.
Another thing, she said, is the fact that she majored in English and Public Relations in college and it's been a running joke in her family that she's never had a job that truly made use of her degree.
"That's just like God — to wait until I was 50 plus years old and finally fully use my gifts and talents," she said.
When I asked, she said her first advice to anyone diagnosed with cancer, "would be to understand that you are NOT alone — to lean heavily on God and surround yourself with a tribe of POSITIVE people."
She said, while going through treatment, she kept a journal with her, whether to write down what the doctors said that day, or record her random thoughts, or conversations with new friends, or a to-do list to help with "chemo brain."
She said another "must have" for her was a Scout Bag in which she kept a blanket, wipes, phone charger, journal, book, dry mouth lozenges, snacks, candy, and other supplies needed for the hospital and treatment days. She said she and her family still call it her "chemo bag" whenever she gets it out now for trips.
Along with good advice for dealing with all the "temporary lumps" that go along with cancer diagnosis and treatment, the book is highly entertaining. It truly feels like the author is sitting by you on the porch, sipping a glass of tea and chatting, building you up to face your own battles, whatever they may be.
This inspiring book is available on Amazon, as a paperback only. You can also pick it up in Roxboro at Truth Books and Gifts. If you haven't read it yet, go right now to Truth Books and Gifts and grab a copy of Temporary Lumps.


Temporary Lumps, A Journey of Faith, Perseverance and Triumph by Sonja B. Vaughan. Paperback, 228 pages. Independently published Dec. 11, 2018. $12.99. ISBN-10: 1791379184
Phyliss Boatwright is a journalist who for years reported Person County news in The Courier-Times. She has published two books and several short stories. Her book review show, Turn the Page, can be heard on WKRX, 96.7. For the past seven years, she has taught journalism and served as public information officer at Roxboro Community School. She can be reached via email at [email protected].