Red Drum Proved Unsuccessful
Story by Norwood Walker
Photos by Tom Berry, North Carolina Wildlife Commissioner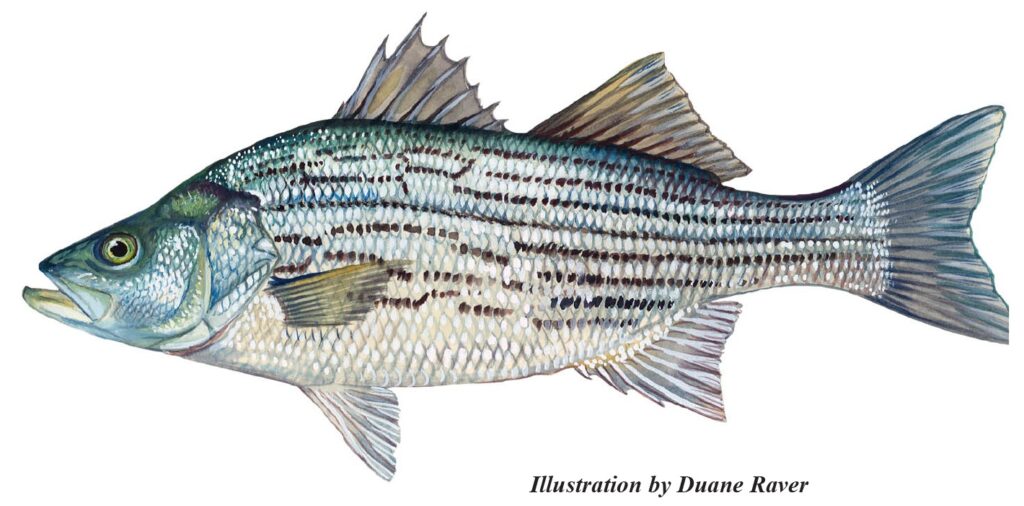 "To conserve North Carolina's wildlife resources and their habitats and provide programs and opportunities that allow hunters, anglers, boaters; other outdoor enthusiasts to enjoy wildlife-associated recreation." Reads the mission statement of the North Carolina Wildlife Resources Commission's.
To fulfill this mission and to return Hyco Lake to its glory days of sport fishing, the North Carolina Wildlife Resources Commission undertook a project to stock Hyco Lake with Red Drum. Unfortunately, this project proved to be unsuccessful. The original story about Red Drum at Hyco Lake and all of its updates can be found at:
HycoLakeMagazine.com/red-drum-at-hyco-lake-update/
HycoLakeMagazine.com/red-drum-at-hyco-lake-discontinued/
To use an old phrase "when one fish fails, try another one." And that is exactly what the North Carolina Wildlife Resources commission did. Now Bodie bass have been introduced into Hyco Lake. According to the NCWRC: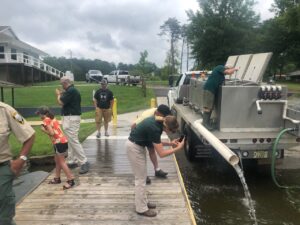 "The Bodie bass (striped bass hybrid) is a cross between a male white bass and a female striped bass. Its color is gray to steel blue above, with white-to pale-green sides. Its appearance is very similar to the striped bass, but the Bodie bass has a deeper body and broken stripes or lines on the sides. The striped bass has stripes that are more distinct and solid. Striped bass hybrids grow very fast and rarely reproduce. They are reared in hatcheries owned by the N.C. Wildlife Resources Commission and stocked in several lakes for recreational fishing. Bodie bass are very similar to striped bass and white bass in their habitat preferences and feeding habits. They are found primarily in open waters, where they search for forage fish such as shad. Although these fish may not get as big as striped bass, individuals larger than 10 pounds are common."
Bodie bass were first introduced to Hyco Lake on June 19th of this year when 37,000 fingerlings (baby fish) measuring between 1 and 2 inches long were released into the lake by biologists with the North Carolina Wildlife Resources Commission's division of Inland Fisheries. According to a news release from the commission on June 27, "biologists expect fish will be harvestable size within the next year or two." Regulations for Bodie bass at Hyco Lake will be set at minimum of 16 inches in length and a daily creel limit of four. Hyco will join the following lakes and reservoirs in North Carolina in becoming a hybrid bass fishery: Moss Reservoir, Oak Hollow Lake, Lake Townshend, Lake Thom-A-Lex, Salem Lake, W. Kerr Scott Reservoir, High Rock Pond (Caswell County), and Dan River (Caswell County).
Fishing techniques that have proven successful in fishing for the Bodie bass include use of live shad and minnows, and lures that imitate minnows. Fishing from the bank with chicken livers has also been successful in landing a prize catch.
Basically, a schooling fish found in open water searching for prey, the Bodie bass in Hyco Lake will have a food source not found in many other lakes in the state. The interplay between the Bodie bass and the tilapia found in the lake is of great interest to agency biologists. According to Kelsey Lincoln, biologist with District 5 Fisheries, "This possible predator-and-prey interaction could make for some fun fishing opportunities for anglers."
This is certainly what Commissioner Tom Berry is hoping for. Berry was instrumental in the Red Drum project and is a staunch and very hopeful proponent of this new project.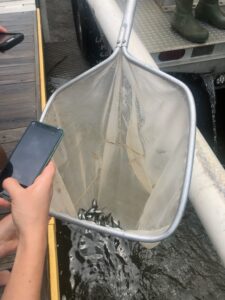 Since its early days, Hyco Lake had been a popular site for Bass Tournaments sponsored by groups like the Carolina Kayak Anglers, the Jon Boat Club, a wide variety of bass clubs from across the state, as well as many local volunteer fire departments. The Semora Volunteer Fire Department just held one in early October of this year. A common factor in many of these tournaments in recent years has been the declining size of the "prize winners." In fact, at some tournaments, the top prize winner would come in a little over five pounds.
As the size of the fish decreased so did Hyco Lake's reputation as a sport fishing destination. The reasons for the decline are related in the story Red Drum at Hyco Lake which appeared in an earlier edition as mentioned earlier.
As a homeowner and frequent visitor to Hyco Lake, Tom Berry became very aware of this decline. He was also able to see the decrease in vegetation in coves on the lake. The tilapia, a tropical fish, escaped from research pens and basically invaded the lake. It seems that Hyco Lake's year-round warm temperatures were a suitable environment for them to flourish. They mostly eat algae and plants and are not often attracted by fishermen's lures and when they are, offer very little in the way of sport compared to the bass.
Mr. Berry was on hand for the stocking in June and continues to follow the progress. He, among many others, are awaiting the day when Hyco Lake once again becomes a sport fishing destination. In the summer of 2020, Commission staff will stock additional Bodie bass fingerlings at the rate of five to ten fish per acre. The actual rate of the stocking will be dependent on "the success of broodfish collections, availability of hatchery ponds and fingerling survival."
Publications like the Carolina Sportsman and other sport fishing magazines from around the state as well as anglers clubs and anyone else interested in sport fishing at Hyco will be following the developments and looking for prize catches or at least news of them. Look for updates online at HycoLakeMagazine.com.
If you are interested in learning more about the stocking program or to view a list of lakes in your area, visit the www.ncwildlife.org/Fishing/Hatcheries-Stocking.
Norwood Walker has spent much of the last 60 years in a classroom on one side of the desk or the other. Loving to write poetry and stories in high school, his English teacher of 3 years once told him he might become a writer if he overcame his radical period. She is still waiting. He can be reached at norwoodwalker@gmail or Rainbow's End on Facebook.