Local Motorcycle Club Brings Christmas Joy to Children in Person County
Story and Photo provided by Steelhorse Strangers Motorcycle Club, Inc.

Blast from the Past – This story appeared in 2013 Winter Issue of Hyco Lake Magazine!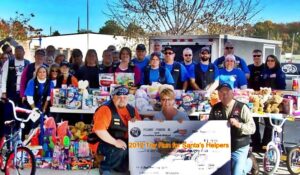 Several years ago a group of friends with a shared passion for motorcycle riding envisioned a club dedicated to serving the people of Person County. And so, while sitting around the dinner table, Steelhorse Strangers Motorcycle Club, Inc. took shape. Immediately, the group began discussing potential service projects. Several individuals mentioned toy runs for children in surrounding counties and the many Person County attendees. The desire to hold a local toy run quickly took center stage.
Since then, the Steelhorse Strangers MC, Inc.'s Annual Person County Toy Run has grown from a few participants in its inaugural year, to close to two hundred last year. The goal is to collect toys and monetary donations to benefit Santa's Helpers of Person County. Along with the reward of contributing to a worthy cause, participants will enjoy a picturesque ride through the Person County countryside. A meal and time for fellowship will round out the event.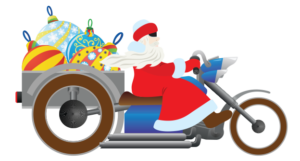 In the past, sponsorship donations have been generously extended, not only from Person County, but from the Triangle region, Danville, South Boston, and surrounding areas as well. Last year over $1,700 in cash and more than 100 toys were collected, equivalent to over $2,700. Please help us reach our goal of $3,000 this year by attending the 4th Annual Person County Toy Run on Sunday, November 10 at Homestead Steak House in Timberlake. Registration will begin at 12:00 p.m. and KSU at 1:30 p.m. A meal will be provided at the conclusion of the ride at Homestead Festival House.
Your participation in the Toy Run will not only bring joy to many children in Person County this Christmas, but it will ensure future growth in fulfilling our organization's mission of helping others in need. We hope to see you there!
If you would like to sponsor this event with a monetary donation please send your name, address, telephone number and the amount of your donation to Steelhorse Strangers Motorcycle Club, Inc. PO Box 3099, Roxboro, NC 27573.