Story by Marlo Countiss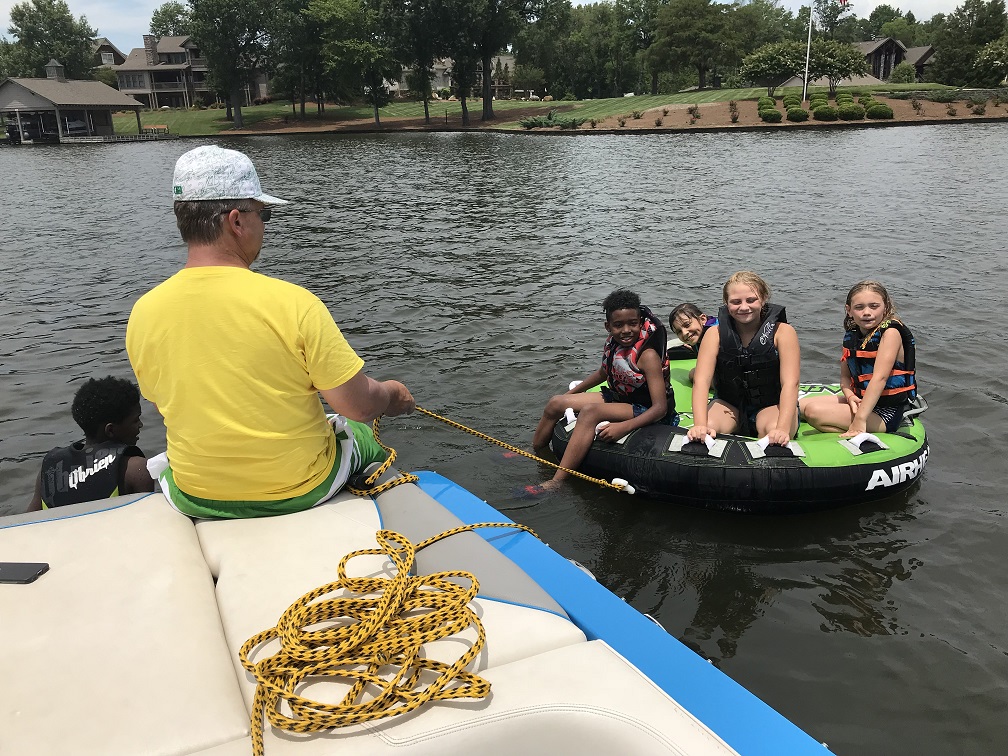 On Thursday, June 28, 13 disadvantaged kids from Burlington and Haw River enjoyed an experience they will never forget.  They got to participate in the first ever Wake The World event at Hyco Lake.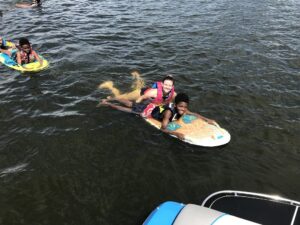 Wake The World is a non-profit organization started by Master's Wake Boarding Champion Greg Hodgin and his wife Lois from Asheboro NC.  After a horrific traffic accident in 2008, Greg realized he wanted to make a difference.  Later that year, he and 7 other boaters joined together to take out kids from the Baptist Children's Home and the American Children's Home and thus began Wake The World.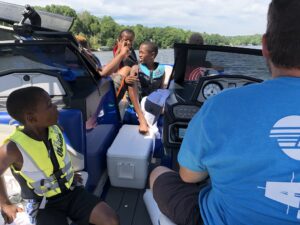 This year, there are over 51 events scheduled in 33 different states, including several adaptive events that allow handicap children a chance to experience a day of fun in the water.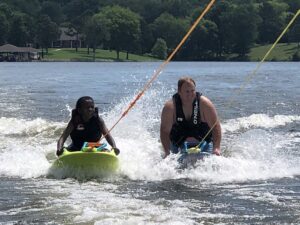 "We found out about Wake The World while vacationing at Smith Mountain Lake," said Marlo Countiss, the events coordinator for Hyco Lake.  "My kids met the coordinator for that event at the marina and they came back so excited."  They said, "mom, we have to do this at Hyco."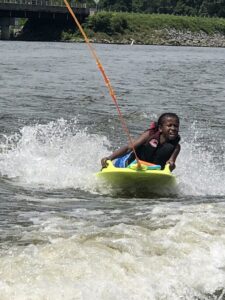 "I was scared to take it on at first, but Greg has a terrific website that makes it easy to learn how to host an event.  I volunteer at a summer feeding program funded through SNAP and I knew these kids never get to do anything cool like this, so I thought this would be a great fit."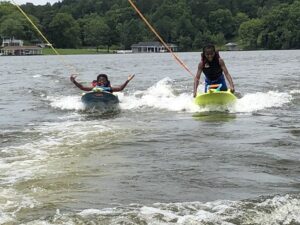 "We decided to make this first event small, so we could get our feet wet and make sure we didn't take on more than we could handle, which was a good thing.  We had two drivers that had to cancel the last minute because of a death in the family and an illness.  "Both of these folks hated to miss and really want to participate next year," said Countiss.  Fortunately, someone suggested that I reach out to the Wright Family at Inland Marine and even with just 12 hours' notice, they rearranged their schedules to participate.  "I was so thankful," said Countiss.  "I couldn't imagine calling these kids and telling them that the event was canceled."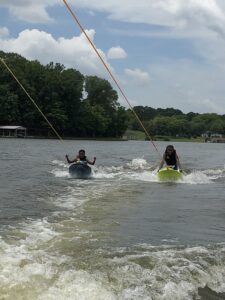 "None of these kids had ever been on a motor boat before and very few of them had any experience swimming.  We spent the first part of the day convincing them that they would not sink as long as they had on life vests.  We had five kids on our boat and three of them never even tried to use the boards.  They were just content to float behind the boat.  They were fascinated that we were swimming in the same water with fish."
Lunch was provided by the Mebane Rotary Club.  "I was so thankful for Kristin Howerton of American National Bank and Gary Brant from the American Red Cross. They had hotdogs, slaw, chips and fresh fruit waiting for us.  The kids really enjoyed the meal."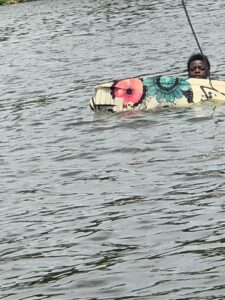 Lois Hodgin was touched by one of the kids participating.  He was very afraid of the water at first but gained confidence as the day progressed.  He even went out on a Zup board.  He told her that his mother died on Mother's Day and it was the best day he could remember.  Some of these kids have been through so much.  It's heartbreaking."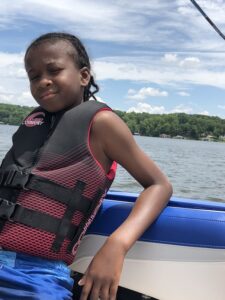 Next year's event is tentatively being planned for June 24, 2019.  "I have a friend that works with at risk kids in Durham.  She said that there are dozens of kids in similar circumstances that would love to attend an event like this.  My goal is to eventually have over 25 boats and 100 kids participating."
To participate, you just need a boat with an inboard motor, a boater safety license, and a love for kids.  "I want to do a better job planning the event next year.  I think we learned a lot from Thursday and with a few more folks committed, I think we can at least triple participation next year.
If you are interested in finding out more about Wake The World, please visit their website at www.waketheworld.org.  If you are interested in participating in Wake The World Hyco Lake please contact Marlo Countiss at 336-269-5292 or marloc@remax.net.