ROXBORO, NC- The sign overhead says Tricia's Espresso , but step into this mom and pop coffee shop on any day of the year and you will surely find more than a cup of joe. Located on the corner of Abbitt and Lamar streets in Uptown Roxboro, Tricia's (as it is comfortably called by regulars) is a family owned and operated one stop shop for a variety of coffees, breakfast and lunch specials, homemade desserts and genuine hospitality.
Owned and operated by Tricia, Rickey, and Will Davis, Tricia's Espresso has been serving Roxboro since 2004. It has been a family business since the beginning, and according to Tricia herself, it has been a blessing and a privilege to have the opportunity to work alongside her husband and sons – each of whom have taken a turn behind the counter with Tricia and the rest of the staff.
Familiar Faces Part Of The Charm
Frequent customers would agree that the familiar faces and down-home friendly atmosphere is part of the charm at Tricia's Espresso. It is the type of place where they know you by name, and for many they even know you by "the usual" order.
As the only full service coffee shop in town, this local hot spot offers something for everyone with 40 different flavors to wake up your latte, a large variety of sugar-free options, hot and cold drinks, smoothies and whole bean coffee.
You certainly do not have to be an espresso lover to be a fan of Tricia's. Come in with an appetite, and you will also find homemade chicken and tuna salads among other sandwiches and specials, as well as homemade soups from September through April.
For those with a sweet tooth, the Tricia's experience is not complete without a sample of her baked goods. Freshly made by Tricia herself, it would be a mistake not to try one of her specialty pound cakes, scones, muffins, pastries, or cookies.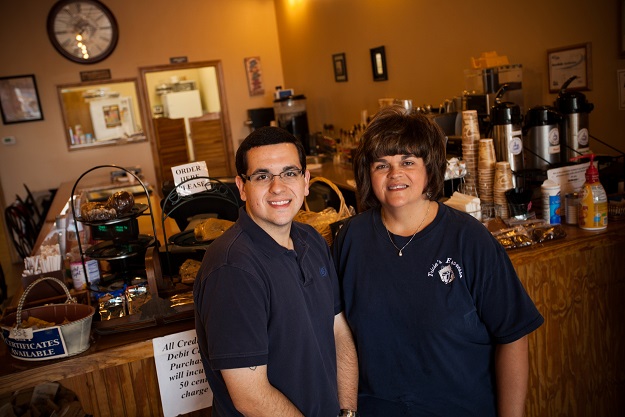 A Few More Options
With a view of Uptown Roxboro, the indoor dining area offers free wi-fi, and two meeting rooms are available in the back for small parties, showers, meetings, or Bible studies. If you prefer your coffee outdoors, Tricia's has recently expanded to add patio seating as well.
In a busy world where drive-thru coffee is becoming the norm, Tricia's Espresso stands proud as one of Roxboro's not-so-hidden treasures. The Davis family is grateful to their community and loyal customers for continued support and patronage, but it comes as no surprise that they come back again and again.
For more information call 336.330.0001. To view their menu, please visit TriciasEspresso.com. You can also check them out on Facebook for daily specials and updates.
Photographs by Studio You.