Walking Through History: South Boston's Tobacco Heritage Trail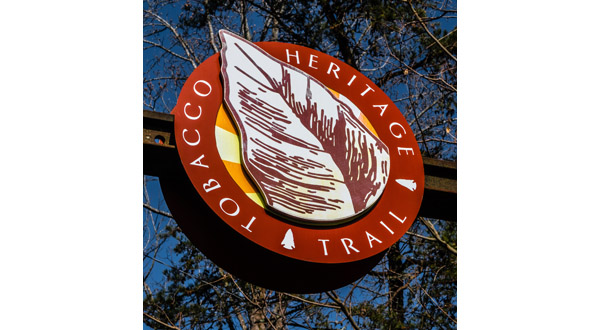 SOUTH BOSTON- One of the first things my family did after we moved to Halifax County was to find inexpensive ways to enjoy the outdoor beauty Southern Virginia had to offer. We explored several parks and beaches around Bugg's Island Lake, found Edmond's park, and stumbled upon the Tobacco Heritage Trail.
This former section of converted railroad has an entry point just behind the Prizery on Railroad Avenue in South Boston. It is a 2.6-mile nature trail which features two brick towers and the remains of an old cotton mill. Other features of this section of The Tobacco Heritage Trail include a duck impoundment, Diamond Hill Slave Cemetery, views of the Dan River, a natural spring and access to historic Berry Hill Plantation.
It offers both a chance to enjoy the present and reflect on the area's past. 
What Is A Rail Trail, Anyway?
For over three decades the term "rail trail" has gradually become part of the modern lexicon. It's a worldwide movement to recapture abandoned railroads and repurpose them for public use. The genius of this model lies in the fact that much of the trail creation has already been done by previous generations of railroad technicians. These engineers spent a tremendous amount of time, energy, and resources preparing the land prior to laying down train tracks over it. Once the tracks have been removed what's left is a near perfect foundation for trail creation and activities like walking, running, mountain bike riding, and in-line skating.
Railroads were historically located near heavily populated cities and towns, and traveled out of these areas passing through countryside, rivers, and seascapes providing a beautiful setting. This makes the location of the rail trails not only accessible to a large population who want a quick escape from the hustle-and-bustle of the city, but also a picturesque background for doing so.
Located in Southern Virginia, the Tobacco Heritage Trail is one of these gems, having been in development for almost two decades. It is a 130-mile rail trail that runs through Mecklenberg, Halifax, Charlotte, Lunenberg, Greenville, and Brunswick counties and offers scenic trails for walking, biking, hiking as well as horseback riding.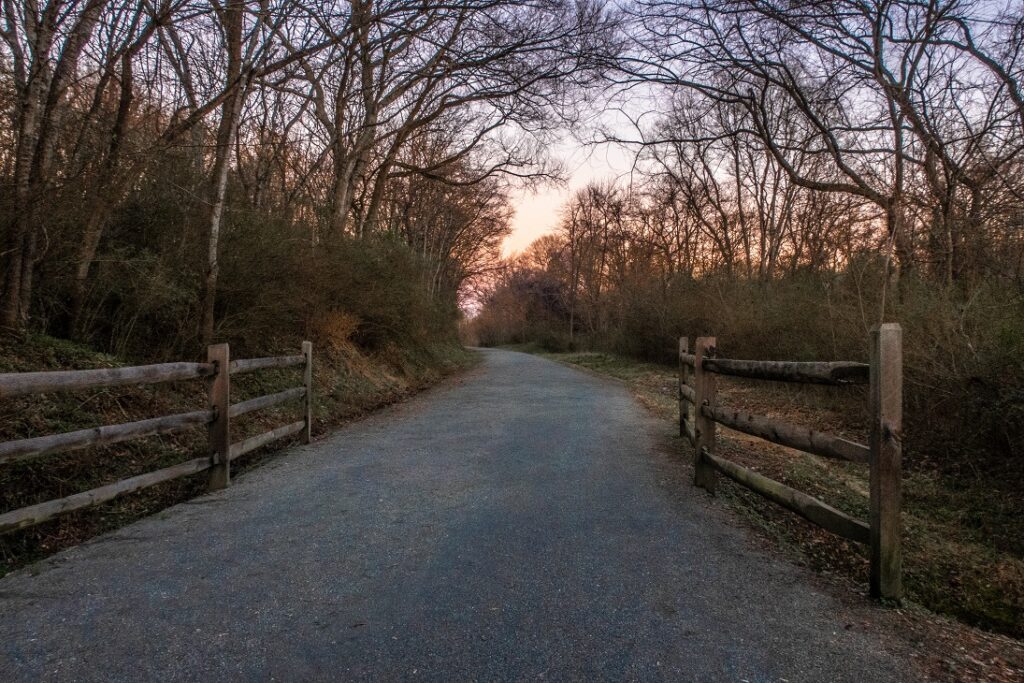 The Tobacco Heritage Trail, Explained
The genesis for the Tobacco Heritage Trail started back in the early 2000's.
"The driving force behind the project came from Sandra Tanner," said CJ Dean. Dean serves as Lawrenceville town manager and volunteer treasurer for the Roanoke River Rails to Trails group. 
He's talking about the Rails to Trails group's current president. Tanner, who also works as a tourism development specialist for Virginia Tourism, saw a trend starting. Communities were repurposing their old and often unused railroads. She knew Norfolk Southern had abandoned their railway system back in the 1980s, leaving miles of unused railway paths that could be converted. Somebody just needed to do something with the land. 
Tanner's idea was to form a non-profit organization, purchase the land, convert the rail system into trails, and eventually make a complete loop system. That's how the Rails to Trails group came about, made up of individuals from each town the trail system runs through. 
THE PRESENT
The Tobacco Heritage Trail is open during daylight hours and currently offers, hiking, fishing, horseback riding, and biking. Bird watchers and naturalists enjoy the scenic walkways as well. There is even a section in Meherrin River where canoes can be launched.
When speaking with Sandra Tanner she explained, "The past decade the project has been in a constant, acquisition and construction phase."  Currently, the Tobacco Heritage Trail does not fully connect into a contiguous loop. Tanner added, "The longest connected section is a seventeen mile stretch from Mecklenberg to Brunswick."
When asked what some of the highlights of the Tobacco Heritage Trail were, CJ Dean stated, "The bridges are one of the biggest draws for the trail as well as peaceful and tranquil scenery.  This trail is highlighted by some rural sections that go through farmland and timberlands. Nearer the Towns, interesting historical architecture can be found."
Dean also noted the types of organized events which occur on sections of the trail each year. "There are bicycle rides, ultra-marathons, horseback rides, 5k runs, and organized nature walks." Each of these events are specific to the towns in which they occur. The next upcoming event is a 5k walk in March to celebrate Dr Seuss' birthday and to encourage reading.  Trail information and events can be found on the Tobacco Heritage Trail website.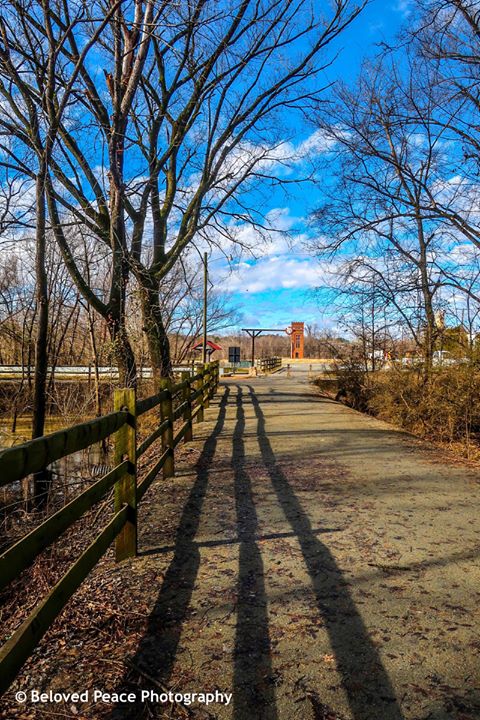 THE FUTURE
What started out as a way to make safe areas for the public to exercise has turned out to have collateral economic benefit to the surrounding communities. In other locations where rail trails were created the abutting towns have benefited tremendously by creating jobs and businesses that cater to the outdoor enthusiast. There are coffee shops, bait and tackle stores, and eateries just to name a few.
Tanner said the model for the Tobacco Heritage Trail was the Virginia Creeper Trail, which stretches 34 miles from Abingdon, Virginia southeast thru the town of Damascus, Virginia.  Not so long ago there were empty storefronts in Damascus. Today, it's a thriving community and destination for travelers largely due to the construction of the Creeper Trail. There are stores, bike rental and hiking outfitters, restaurants, Inns and Bed and Breakfasts, and even a helicopter service for sightseeing. The creation of the trail has not only recaptured beautiful natural paths but, created jobs and transformed the livelihood of many individuals.
The long-term goal for the Tobacco Heritage Trail will mirror that of the Virginia Creeper Trail. The short-term goal is to continue to purchase more land, or gain easements, with the hope to connect the entire trail into a contiguous loop. Once this is complete, and they move into a maintenance phase, the towns can fully explore the potential of the trail, from athletic events to tourism to economic benefits.
Tanner said another long-term dream would be to, "Tie the Tobacco Heritage Trial into the pre-existing 'Beaches to Bluegrass Trail' via Danville." The Beaches to Bluegrass is a trail that runs from Virginia Beach to Cumberland gap.
Virginia is a unique state as it has a myriad of natural settings. From lush forests, to mountains, rivers, lakes, as well as a gorgeous coastline. Rail trails are a way to sample these diverse climates. With its large expanse, the Tobacco Heritage Trail has the potential to become one of the premier rail trails on the eastern seaboard.
For general information go to: www.tobaccoheritagetrail.org
To locate an entry point, trail head, or to map out a route: http://tobaccoheritagetrail.org/plan-your-trip/trail-webmap/
Get involved and volunteer: http://tobaccoheritagetrail.org/volunteer/
 Donate: http://tobaccoheritagetrail.org/volunteer/fund-raise/
TOBACCO HERITAGE TRAIL REGULATIONS
Trail closed after dark
No motorized vehicles
No alcoholic beverages
No firearms
All dogs on leash
Please clean up after pets
Stay on the trail at all times
Share the trail with others
 John Theo Jr. is new to South Boston but not new to writing. He has authored several books and penned many articles. Hyco Lake Magazine is thankful to share his perspective on our community. Please welcome John and get to know him better by going to JohnTheo.com, visit him at Cozy Cave Self Storage & More at 306 Webster Street, South Boston, VA 24592 or give him a call at 434-579-2856!
Photos by David Solomon, Beloved Peace Photography