SOUTH BOSTON- In 2016 Candace Dishmond-Baskervill moved to South Boston with her husband Nelson to be closer to family. They opened Sweet Cee's located at 441 Main Street in the summer of 2017 strictly as a boutique store to offer customized gifts such as tee shirts, hats, banners, and posters.
Candace, who's childhood nickname is Cee, had previous experience running a T-shirt business out of her home for years. As the business grew, the transition from home-based into a brick-and-mortar store was a natural one, and Sweet Cee's was born.
Soon after opening, Candice met with her business advisor, Lin Hite to see how she could grow Sweet Cee's. They quickly realized there was a need for a high-end clothing consignment store for children and young adults, and added this tier into her business model.
Candace explained why she chose to add consignment clothes into her business, "There are so many people living here at, or below, the poverty level. It's hard for kids to dress like everyone else in school."
Harassed For Not Wearing 'Cool Clothes'
In fact, one of her previous jobs was working in the school system where she witnessed kids being picked on for not wearing what other kids perceived to be the "cool clothes". Candace was also one of six children, and had a long history shopping at second-hand and thrift stores growing up.
For her, it was fun AND something she did with her Mom and Grandmother. Unlike thrift stores of the past, Candace wanted to turn that paradigm on its head. Her goal was to offer high-end brands at an affordable price. "No kid should have to be treated poorly due to lack of funds." To her, this became the "purpose of repurposing."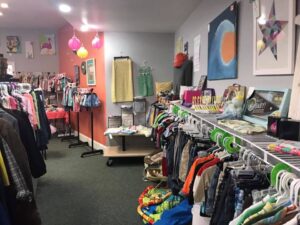 The Beauty of Her Business Model
The beauty of her business model is that Candace does not have to buy clothes from big wholesale distributors or manufacturers outside of the community. Sweet Cee's helps the community by allowing people to place quality clothes on consignment. When the items sell, the clients either receive a store credit, or cash. This also lessens the strain on the environment. By shopping local, and purchasing high-end used clothes, the impact from carbon emissions to landfills is lessened.
When speaking about the clothes on consignment, Candace plainly states that, "The quality is such that you can't tell the clothes are repurposed. Many of the items still have tags on them as they were never worn."
Stepping into the immaculate store one might think Sweet Cee's only caters to young girls, but a quick stroll through the boutique reveals there is something for everyone. From newborns to grown men and women. Sweet Cee's even offers footwear as well as prom, and formal dresses.
Thanks to Sweet Cee's my wife and I don't have to travel a great distance to outfit our three children in quality clothes at an affordable price.
Sweet Cee's is located at 441 Main Street in downtown South Boston, VA. Open 10:00 AM -5:00 PM Monday – Friday and 10:00 AM – 3:00 PM on Saturday. (434) 272-2815. https://sweetceessobo.business.site/ 
John Theo Jr. is new to South Boston but not new to writing. He has authored several books and penned many articles. Hyco Lake Magazine is thankful to share his perspective on our community. Please welcome John and get to know him better by going to JohnTheo.com, visit him at Cozy Cave Self Storage & More at 306 Webster Street, South Boston, VA 24592 or give him a call at 434-579-2856!