By Norwood Walker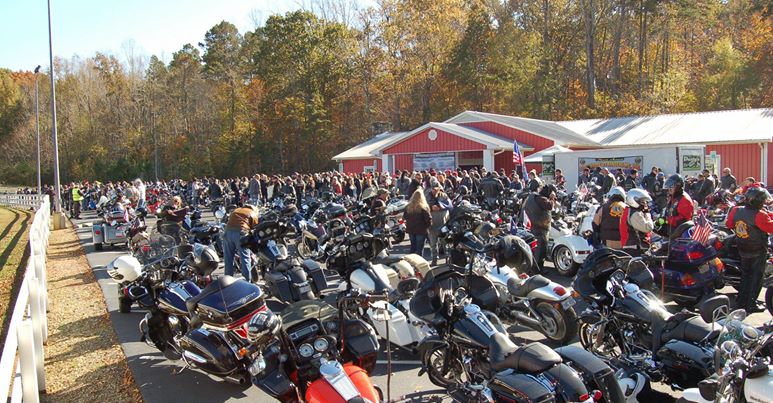 The roar of hundreds of motorcycles. Men and women clad in leather jackets. Long hair, beards, bandanas. What reaction does this bring to your mind and body? Are you ready to close and lock all the doors and windows and hide under the bed? Or, you may be ready to slap on your leather and rush out the door to join them with the strains of Steppenwolf howling in your head: "Get your motor runnin', head out on the highway." If you had been in the parking lot of the Homestead Festival House in Timberlake, N.C.  on Nov. 10, 2019, you would have had the chance to see what your reaction would be.
There were close to 350 motorcycles and over 500 people clad in leather, jeans, and helmets ready to ride. Or you might have been traveling somewhere in the vicinity and had to wait at a stop light as 348 motorcycles, two by two, poured out onto U.S Highway 501, eventually stretching from the Festival House lot to mid-Madison Boulevard in Roxboro. All along the way, law enforcement was present to ensure the safety of everyone, but most of all, that of the riders. These were the participants in the 10th Annual Toy Run hosted by the Steelhorse Strangers Motorcycle Club (SSMC). What do motorcycle riders have to do with toys and who are the Steelhorse Strangers? Why and how have they done this for the past 10 years?
Motorcycle Riders and Toys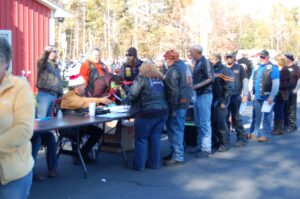 If you are like me, you don't typically associate motorcycle riders and toys with each other. My perception of motorcycles and their riders was created by films such as The Wild Angels, The Wild One, and The Born Losers, among others during my impressionable late teen years. Honestly, I was somewhere between fear and awe and jealousy, depending on how rebellious I was feeling at the moment. I saw these people as wild men and women who answered to their own rules and sought out their own pleasures, the ultimate free individuals, But toys?
Birth of the Steelhorse Strangers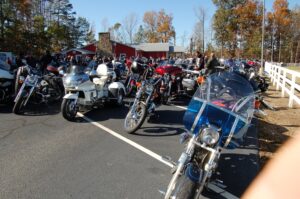 In the words of Jarrett, a.k.a. Joker, Shotwell, the current president of the SSMC, a group of friends who shared the enjoyment of riding motorcycles had the vision in 2010 of starting a club dedicated to serving people in the Person County area. Their main objective was to "help those in our communities suffering from losses due to illness, burial costs, fire and other tragic events." The organization quickly took shape with a mission statement that reads in part:
"We the Steelhorse Strangers are a motorcycle club that has a main goal of gaining the respect and trust of our community…Claiming no territory we are a family that watches over each other and plans to donate to charities and sponsor some local events. All are welcome to ride with us; however, we do abide by the laws…"
Steelhorse Riders and Toys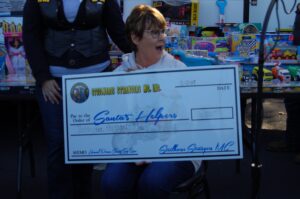 From the club's early discussions about service projects, talk turned to a toy run, since several successful events had been held in surrounding areas and riders from Person County had taken part. The first Toy Run was held on Sunday, Nov. 14, 2010, at Westwood Baptist Church in Roxboro. The event was co-hosted by the Steelhorse Strangers and the Carolina Faith Riders, another local motorcycle club. The entry fee per rider was $5 and a new, unwrapped toy. Hot dogs with all the trimmings were served mid-afternoon following the ride. The toys were given to Santa's Helpers and cash proceeds went to the Christian Help Center.
Richard Fox of Fox's Suzuki-Kawasaki in Roxboro has been a big supporter of the event over the years, as the list of sponsors has continued to grow.
"A monumental task" is how Richard describes the logistics of the event. He says he continues to be amazed at the detail required to coordinate a ride of hundreds of motorcycles.
The Run Experiences Runaway Growth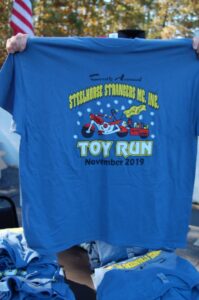 For the first few years, club members did all the cooking and fed the participants, but as the ride grew, something had to give. The church parking lot gave way to the Homestead Festival House parking lot and Randy Cash's staff became the cooks.
Event sponsors at all levels are important, and enthusiastic. This year a bidding challenge has been opened for sponsors to challenge others for the title of Champion Sponsor. This coveted title comes with a plaque and the sponsor's name displayed prominently on the event t-shirts.
The Why and the How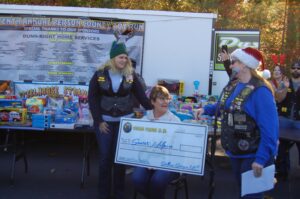 The club's mission statement and C.T.R.L. underlie all their decisions.
Commitment: these individuals committed themselves and their commitment led to the commitment of others.
Trust: they trusted each other and had faith in what they were setting out to do. They trusted that the community would support them.
Respect and loyalty: they knew respect and loyalty had to be earned and maintained. So, from the beginning, they set about doing that.
The club participates with community and school organizations as well as individual fundraising, but the Toy Run seems to be their heart. Robin Simpson, representing Santa's Helpers, said, when presented with a check for $36,000, "Santa's Helpers of Person County cannot adequately express our appreciation for the continued efforts [of] the Steelhorse Strangers. Each year, for over 10 years, they have gone above and beyond to exceed the contribution from the previous year."
Next time you hear the roar of a motorcycle, maybe you will think of toys and children. And if you do, I hope you remember these words from the current sponsor letter:
Where we can reason with what is going on and have faith to pull through, our children may be feeling a little lost. They have been without routines, social exercises, and in some cases milestones such as graduations and birthdays. With children being our mission, this is a year more important than any before it. We ask that you help us shine a light of hope for the children this Christmas.
The 11th Annual Toy Run is scheduled for Nov. 8, 2020. The deadline to be a sponsor and have a name on the back of the t-shirt is Sept. 6. The deadline to make donations of cash or toys goes right up until the event. So, you may want to "get your motor running and head out on the highway." You are sure to have a warm welcome.
Norwood Walker has spent many years in a classroom on one side of the desk or the other. He loved to write poetry and stories in high school and his English teacher of three years once told him he might become a writer if he overcame his radical period. She is still waiting. He can be reached at [email protected] or Rainbow's End on Facebook.