Grove Winery Wins Awards
By Max Lloyd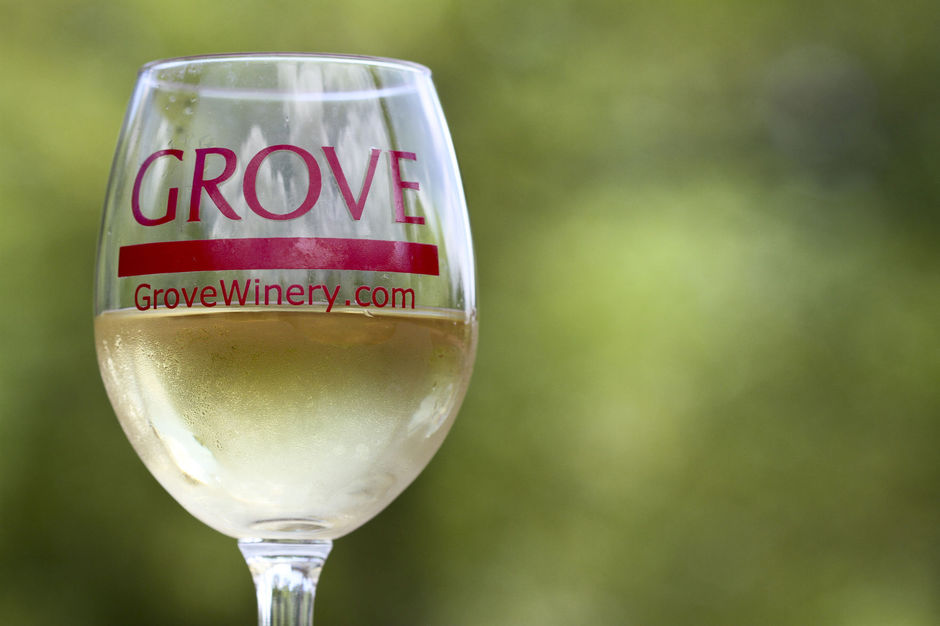 Earlier this year, Grove Winery received an email with the results of a review from Tastings, the international beverage review publication run by the Beverage Testing Institute in Chicago. The Grove Ensemble wine had received a very high 93-point rating. This Grove wine, a high-end Bordeaux/Meritage blend made from 71% Cabernet Franc, 18% Cabernet Sauvignon and 11% Merlot had been aged for two years in French oak barrels. Priced at $30 a bottle, the Grove Ensemble topped wines from across the world, many costing more than $70 a bottle. This is not the first time Grove has brought prestige to the Haw River Valley growing area. In fact, Grove has won more than 400 international and regional awards making it one of the most awarded wineries on the East Coast.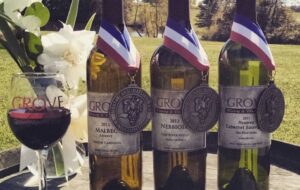 The vineyard location was carefully chosen by owner Max Lloyd as the closest desirable vineyard land near the RDU airport where Max was flying out of on a regular basis as a high-tech executive in RTP. The Lloyd family already owned a commercial vineyard in Virginia and Max was a wine-judge and third-generation winemaker. But his wine-making had been a hobby before opening Grove.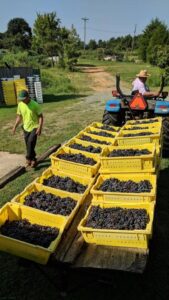 The Grove estate vineyards are at over 700 feet of elevation with sloping, well drained soils and rows that run north-south. French drains were added to give the vineyard even better drainage. Grove Winery is located north of Elon, near where Guilford, Caswell, Rockingham and Alamance counties meet near the Haw River. More than 2 million people live within 50 miles (80 km) of this location and over 7 million people live within 110 miles of Grove Winery.
The 44-acre farm lies within the federally recognized Haw River Valley wine growing region and is home to Cabernet Sauvignon, Nebbiolo, Cabernet Franc, Merlot, Sangiovese, Traminette and Chardonnay. The winery also sources Viognier, Carménère and Malbec from a neighbor's farm. Grove has a current manufacturing capacity in excess of 5000 cases annually. The winery is unique in that it is focused on European style wines. The vineyards were first planted on April 6, 2002 then Grove won its first gold medal in 2006 for its 2005 Estate Grown Merlot.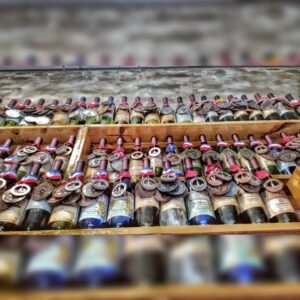 Grove Winery practices a number of low-impact bio-dynamic principals in its operations. Seashells were tilled into the vineyard to naturally increase the mineral content of the soil. Natural cover crops are used to take-up excess water and prevent erosion. Beneficial insects and bacteria are used to control problem insects. The winery uses large-scale composting and recycling to minimize landfill waste. Grove uses local supplies when possible. And much of the wine deliveries are made by electric vehicle. In fact, Grove Winery provides a free EV charger for customers.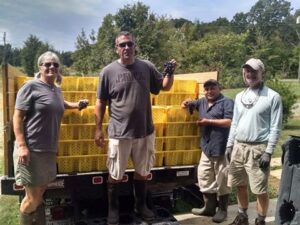 The tasting room is open daily at noon until 6 pm for tastings or simply a glass of wine on the patio. Many evenings the winery is open later as it hosts special events including its award-winning Wine & Song Concert Series, comedy shows, charity fundraisers, private parties, painting classes and wine appreciation classes. Grove Winery is a popular picnic destination and strolls through the vines are welcome. The tasting room also features many gift items made and grown locally.
Located at 7360 Brooks Bridge Rd, Gibonsville, NC 2249. Tasting room (336) 584-4060 | Email info@GroveWindery.com | GroveWinery.com