By Norwood Walker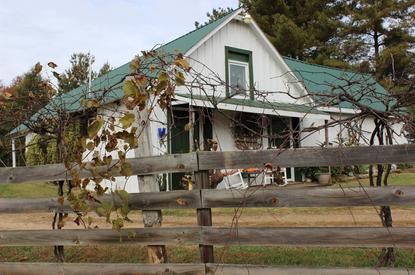 Nathalie is a small unincorporated community about 15 miles north of South Boston in Halifax County, Virginia.  This small community has a population of just over 180 according to the last census, but it attracts its share of visitors.  One of the main draws is the Bright Meadow Farms. As their website proclaims "Bright Meadows Farm is a family owned vineyard and winery located on a 19th century tobacco plantation in Nathalie, VA.  We currently offer 11 different wines and are a part of the Southern Virginia Wine Trail."
In fact, the entire community of Nathalie was once part of the Barksdale Plantation.  It received its current name in 1891 as the railroad extended into the area.  Peter Johnson Otey founder, builder, and president of the Lynchburg and Durham Railroad had a daughter named Natalie, and what was once known as Barksdale Corner became Nathalie.
Boyd and Shirley Archer are early entries into the wine scene in Halifax county.  Grapes were first planted in 2002 on the property which includes a restored mansion left from the past.  They opened a tasting room in 2004 and have steadily gained a reputation for some of the best wines in the area, winning several awards in the process. Ten acres of vines produce grapes that include the following varieties: Concord, Steuben, Niagara, Catawba, Norton, and Chambourcin.  From these grapes they process 11 different wines that have proven very popular and have attracted Bright Meadows a loyal following.
Their current selection of wines includes something for every palate. A complete listing is available on their website www.BrighMeadowsFarm.com.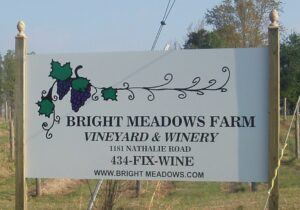 Bright Meadows is easily reached from this area by traveling 501 north to the upper regions of Halifax County.  The winery is located at 1181 Nathalie Road right on the highway.  The tasting room and wine shop are immediately visible and iron gates open to the rest of the farm including the 10 acres of vineyard.  In season the farm is also quite well-known for its blueberries.  The tasting area is part of the gift shop which has many unique items that appeal to a wide variety of tastes.  This family run business has attracted quite a large following from the many wine festivals they attend throughout Virginia.  This other than a visit to the winery itself is only one of the three ways to purchase the fruits of the labor of this vineyard.  Bright Meadow wines are sold only on site, online, or at the festivals they attend. They also can sometimes be found at the Halifax Farmers Market. Many people continue to make their way to this winery once they have sampled the product.
This is recommended as the owners take great pride in their craft and love to share the stories of experiences.  A little wine tasting, great stories, a beautiful setting, this is indeed the way to get into the spirit of any season.
The winery is open to the public from April to December Wednesday through Saturday from 11 to 6 and on Sundays from 1 to 6 or by appointment.  Located at 1181 Nathalie Rd Nathalie, Virginia 24577, (434) 349-5349. They can also be found on Facebook www.facebook.com/brightmeadowsfarm.  This is a good place to check on their festival appearances.