ROXBORO, NC- Southern Treasures Consignment and Antiques in Roxboro is a store, but owner Bettie Yarboro-Jackson offers much more than a mere retail environment.
For instance, on the third Saturday of each month, from 2 to 6 p.m., visitors can taste wines from all over the world. A different country or region is featured each month. The tasting comes with appetizers and music and, according to Yarboro-Jackson, is "a good opportunity to meet lots of different people." She said she has from 40 to 150 people at the tastings.
Southern Treasures also serves wine for special events, class reunions, private parties, weddings and other events. Customers may choose the wines they want, and Yarboro-Jackson handles the rest. She has served at Person County Museum of History events and at the Kirby Theatre in uptown Roxboro.
Contributing To The Community
She said she enjoys contributing to the community through these types of events. She also offers private parties and painting classes from time to time, and Wednesday night shoppers can taste wine or beer. In fact, she said, an older couple from Hillsborough comes in regularly and, while the wife shops, the husband sits and sips beer.
"People come in to just sit and talk" as well as shop, said the Southern Treasures owner, so she maintains a welcoming seating area. The store has been a fixture in Roxboro for years, after the owner turned her love of decorating and home design into first a hobby and then a livelihood.
Yarboro-Jackson has regular customers from all over the area, including Danville and South Boston in nearby Virginia. She said folks who live and vacation at Hyco and Mayo lakes also visit regularly. Interior designers from Chapel Hill, Butner and other nearby cities come to Southern Treasures looking for the perfect items to place in their customers' homes.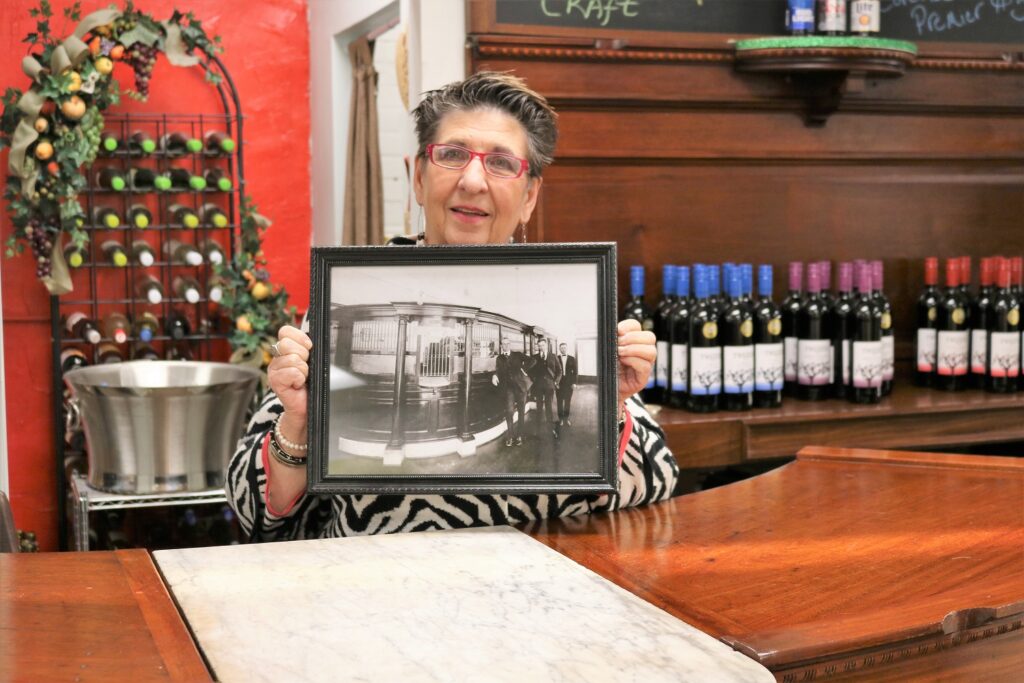 A Treasure Trove of Items
Beginning in January this year, Southern Treasures is offering cooking classes – and of course a glass of wine is included in the $20 price of the class. Chef Rickey, the gentleman who helps Yarboro-Jackson with catering, is conducting the classes.
For those not taking classes or tasting wines, the store offers a treasure trove of items for sale. Many products in the store are there on consignment, such as furniture, framed art, antique tools, Depression glass, costume jewelry, China, Waterford crystal, flatware, ornaments, lamps, chandeliers, stained glass, rugs, outdoor furniture and collectibles.
There is a selection of books, including timeless titles like Harper Lee's To Kill a Mockingbird. And, when a Hyco Lake Magazine writer visited the store in early January, there was even a model car replica of Elvis's 1955 pink Cadillac on the shelves, as well as a 1987 baseball card collection.
In addition to antique items, customers at Southern Treasures can purchase newly-made local honey from Allensville, as well as Thymes candles, soaps, sprays and essential oils.
Southern Treasures is located at 719 Durham Road in Roxboro. Parking is available in front of and behind the store. The telephone number is 336-322-1062. Visit them on Facebook or the web site, southerntreasurenc.com. Operating hours are Monday through Friday, 10 a.m. to 6 p.m. and Saturday, 10 a.m. to 4 p.m.


Phyliss Boatwright is a journalist who for years reported Person County news in The Courier-Times. She has published two books and several short stories. Her book review show, Turn the Page, can be heard on WKRX, 96.7. For the past seven years, she has taught journalism and served as public information officer at Roxboro Community School. She can be reached via email at [email protected].
To see how Southern Treasures has changed, read the original story on our website at https://hycolakemagazine.com/precious-possessions/.