By Phyliss Boatwright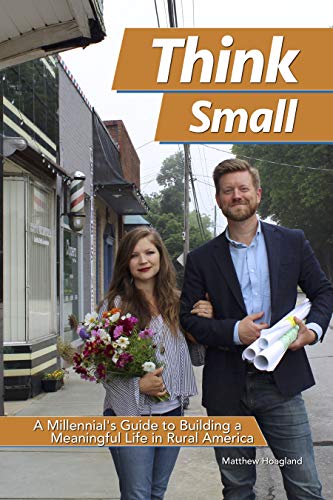 In his book, Think Small, A Millennial's Guide to Building a Meaningful Life in Rural America, Matthew Hoagland offers readers great advice about how to live a full, successful, rewarding life in a small town.
Matt is the planning director for Caswell County. His wife, Celia, owns and operates Caswell Flower Company in Yanceyville (Seeding Dreams from the 2018 Fall issue of Hyco Lake Magazine). The couple moved from Asheville five years ago, and there was more than a little trepidation on Matt's part to begin with. Celia's parents had already moved to Caswell County and she was excited to be near them.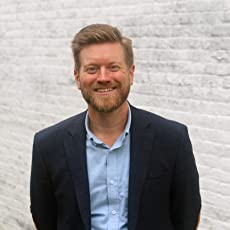 In the book, Matt tells other 20- and 30-somethings that, although he and his wife gave up things like having a lot of restaurants and shops and other attractions nearby, they gained much more than they could have imagined. He says, by moving to Yanceyville, he and Celia were better able to afford a home, start a business and a career and begin a family without amassing the crushing debt that many people their age are burdened with.
He writes that, after a few years in Asheville, and being mostly content with life there, he and Celia "transitioned to a small town that's about as opposite of big city life as it gets." He adds that they "couldn't be more thankful" and that the move "drastically improved" their lives.
"The steps I took," he writes, "can be replicated, or at least borrowed from, in thousands of small communities across our country. This is the story of how we moved to a town I'd never heard of before, found rental property for cheap, got married for half the average cost, started a successful business, bought a house for $39,000, and how I landed one of the most high-profile jobs in town."
Matt goes on to advise readers that their individual story may be different, "But if you're willing to ask tough questions, learn new things, and work hard toward your goals then you can not only carve out a great life for yourself in rural America, but also quickly become one of the most well-known and influential people in your community. Heck, you might even develop some of the most genuine friendships you've ever had. We certainly did." He continues, "Before you know it, you'll have an impact that's much larger than the one you had by blending into the crowd of a bigger city."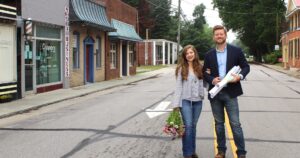 One way in which Matt Hoagland has had an impact on Caswell County is through the Connect Caswell 2020 initiative to pave a way for the county to improve broadband access and offer better cell phone service. He admits it may take several years to fully implement, but he is proud of the role he was able to play in securing grant funding for broadband. Though the project stalled because an Internet service provider did not match state funding, the county manager, several commissioners, and other local leaders have since successfully pressed the state legislature to change the law and allow other providers to compete for the funds. The "more immediate success," Matt told me during a phone interview, is that the county has already approved two new cell towers, which will in turn make for better connectivity.
In the book, he explains how, by being proactive when he first moved to Yanceyville, he put himself in a position to play a large role in the future of the town and the county. I told him that I admired the fact that a young newcomer took the initiative to go to county commissioners and other governmental and civic meetings. By doing so, Matt put himself in a position to not only land an important job, but to really make a difference in the day to day operations of his new home town.
He got involved in the Caswell County Historical Association early on and later began serving on the Heritage and Cultural Preservation Committee. Through this involvement, he was able to help host "the largest heritage festival in the organization's history." He writes that, "The festival was organized around honoring our county's World War I veterans on the 100th anniversary of the war."
Matt told me the event was focused on the anniversary of World War I because "it is kind of a forgotten war." He said the event drew descendants of local veterans from hundreds of miles away.
The Heritage Festival was "a collaborative effort, he told me, noting that many people in Caswell County worked on the event that offered vendors and live music as well as the remembrance of veterans. He said the local Veterans of Foreign Wars (VFW) and Caswell County historians played a huge role in making the 2018 festival the most well-attended in its history. He said he was also grateful to North Carolina Senator Richard Burr's office for flying a US flag over the Capitol Building in Washington, DC and presenting that flag to the families of Caswell County veterans during the festival.
Matt told me that he tried to get involved in the community when he lived in Asheville, but he "couldn't make an impact" there the way he has been able to in Yanceyville. He said young people have "much more opportunity to make an impact" in a small town.
"A lot of times, community leaders don't ask what young people want," he said, adding that around 60 percent of young people want to go to college and return to their hometowns but don't think they would be listened to or allowed to be involved in their communities. They can, though, if they are proactive and work hard to be involved and earn respect. He advises young people to familiarize themselves with the community by going to meetings "with humility" to introduce themselves. Doing so has the "unintended consequence of opening doors. If you want to be in a position of leadership, first get involved and then lay back and learn."
Matt told me that he and Celia were initially afraid that they wouldn't be welcomed in a small town they knew little about but, "by humbling ourselves and being genuinely interested, we were welcomed."
Matt said he enjoyed serving with the Historical Association and added that others might enjoy offering their time and talent to organizations such as the Caswell County Parks and Recreation Department. He was also able to work with E.P.I.C. (Empowering Personal Initiative and Creativity) Caswell, which offers camping trips for children.
This kind of involvement, he said, "pads your resume, but also builds your soul."
When the couple first moved to Yanceyville, Matt remained with the employer he had been with for several years, working from a local office. His involvement in the community, though, eventually led him to the position of county planning director. He said that job is more than fulfilling because he knows it will allow him to touch the lives of everyone in the county and has put him "in a position to help shape the future of the county for generations to come."
As a new father, Matt said he is even more thankful that he will be able to positively affect the community his daughter will grow up in. He said he "assumed we would have to sacrifice a lot" by moving to a small rural town, but "all the conveniences you really need in life can be found in a smaller community. You just have to be creative." He also noted that the cities of Danville, Greensboro and Raleigh are near enough to easily visit when needed.
Living in a small town with a lower cost of living, Matt said, allowed him and his wife to pay off student debt, pay for a wedding, travel and "have a much more meaningful life" than they could have in a larger city.
Think Small is available on Amazon
https://www.amazon.com/Think-Small-Millennials-Building-Meaningful-ebook/dp/B08CCVS61D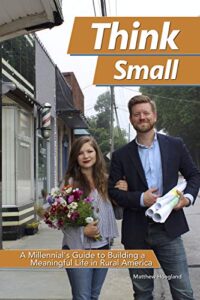 Phyliss Boatwright is a journalist who for years reported Person County news in The Courier-Times. She has published two books and several short stories. Her book review show,, can be heard on WKRX, 96.7. For the past nine years, she has taught journalism and served as public information officer at Roxboro Community School. She can be reached via email at [email protected].