By Meredith Bernard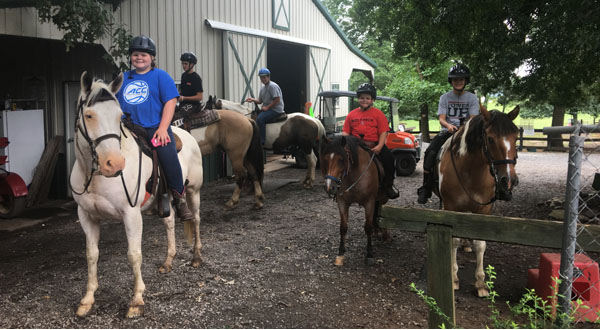 If you grew up on a farm, live on a farm or have ever visited a farm, it's easy to understand the nostalgia, pride and joy that comes from seeing the cycle of life through crops and/or animals raised first hand. If you haven't, it can be harder to understand, but there are farms in our area whose mission it is to help share those feelings and experiences with the public and in the spirit of giving back are working hard to do just that.
Shady Creek Farm – Caswell County North Carolina
Kim Gauldin has always been surrounded by and had a passion for horses and other animals. When she and her husband had the opportunity to buy a farm in Caswell County, she told God that if it worked out for them to purchase it, she would spend her life making it a place used to serve Him and others. For twenty years now, Shady Creek Farm has been carrying out that mission. In the beginning, Kim worked full time as a teacher and used the farm as a means to give riding lessons, board horses and hold summer camps. As her business grew, as well as her passion to do more with and on the farm, she decided to quit her teaching job of fourteen years and pursue running the farm full-time.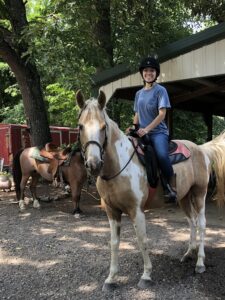 Now Shady Creek Farm is a well-oiled machine run by Kim, with the help of her thirteen-year-old daughter and a team of devoted volunteers that Kim says makes the dream possible. In addition to riding lessons, horse boarding and summer camps, the farm also now offers a place to have birthday parties, school and farm tours. They also raise and sell miniature donkeys and miniature cows called zebus, as well as English bull dogs, which help fund her son's college education and her own pursuit of a Master's Degree in Counseling.
She continues to find ways to use the farm as a ministry, as well. Over six nights, beginning mid-October through the first part of November, over 2,500 people will participate in the farm's Judgement Drama Hayride. For the past eight years local farmers have lent their large tractors and trailers for the event, taking two loads of people every 30-minutes each night through a procession around the farm, stopping intermittently to watch scenes being acted out of a story. The ride takes about forty-five minutes to complete and this year the story will follow the lives of several teenagers through life, death and life after death, and is promised to be action-packed. One-hundred fifty volunteers help run the drama and a petting zoo and concessions are available while people wait to leave for their trip or to hang around before or after the ride.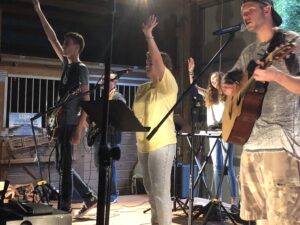 Another monthly opportunity the farm offers is Fearless Fridays, which includes a relaxed, contemporary worship service held in the barn the first Friday of every month. It begins with a free meal at 6pm, band at 7pm, as well as activities for teenagers and adults to participate in such as corn hole and other games. These are free events and have proven to be a great way to get the community together and a safe and supervised place for teenagers to hang out on a weekend night.
Kim says that seeing this dream come to fruition hasn't been easy by any means. It's taken a lot of side jobs over winter to help the business to sustain itself. More than anything, she wanted to make the opportunities of riding horses and being exposed to farm life an opportunity for people who couldn't afford riding lessons and trail rides at other places. She has always purposely charged less than others, as a way to give back. Kim recalls not being able to give her children those opportunities when they were younger because she and her husband couldn't afford it, and wants to give others the chance, even if it turns out not to be as lucrative as it could be. She sees it as more of a ministry than a money-making business – it may not always add up, but she says it's always works out.
Shady Creek Farm often takes in animals that aren't wanted, but need a place to live and be cared for. Over the years she's housed unwanted horses, miniature donkeys, turkeys, peacocks, chickens, pot belly pigs, pigmey goats, llamas, zebus, rabbits and the list goes on.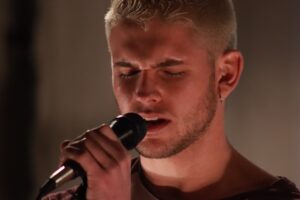 The next adventure on Kim's list of things to accomplish is using the master's degree she is obtaining to start a therapeutic riding program for troubled teens. She has staff members in training and hopes to have the program up and running within the next two years. In the end, Kim has a heart to give and serve and if she's able to do that, she feels like her life and her farm have served their purpose well and you'd be hard pressed to say she isn't and she hasn't.
You can contact Kim and learn more about any of the events and opportunities going on at Shady Creek Farm through their website at http://www.shadycreekfarm.org or by emailing [email protected].
Owen Farm – Pittsylvania County, Virginia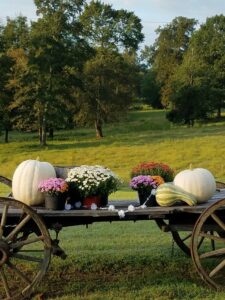 Moving from Caswell County, North Carolina across the state line into Pittsylvania County, Virginia, is another farm on a mission to draw people to the spirit of the farm through a spirit of giving back. Owen Farm has become a regional staple to visit year-round for children, schools and families and continues to grow its offerings and programs to reach the otherwise "farm un-reached."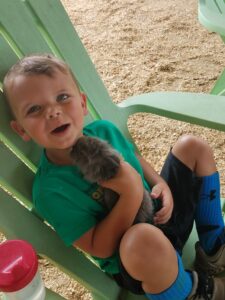 When Pattie and David Owen married, they were living on the farm David's dad owned. When his dad passed away they had the opportunity to purchase and make the farm their own and they have worked tirelessly to give it new life. In the beginning they were solely raising cattle and boer goats while Pattie worked as a substitute teacher for eleven years and stayed home to raise their three children. In 2003 the bottom dropped out of the beef market and they realized they needed to do something to diversify their farm for income. While Pattie was substitute teaching, she would take baby chicks and bunnies to her classes and realized there was interest in students being able to come to the farm to see the animals and farming practices first-hand. So began Owen Farm Tours, one of the first farms in the Danville area to get licensing for such an operation. Where as they now raise pumpkins, have a corn maze, zip line, and year-round produce market, originally the farm started by offering hay rides and a chance to visit with their "barnyard friends." Several schools from Henry and Halifax County were the first to start visiting the farm with students. As word spread, more local schools from Pittsylvania jumped on the wagon.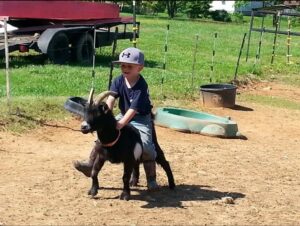 Pattie says in teaching people about farming and raising animals, she and her husband have had their own learning curve. So many things on the farm are weather driven and there's no control over that, but they've had to learn what they can control and that's the experience for their customers, with safety being of utmost concern. Through a lot of hard work and maintenance, they strive to make everything on their farm kid friendly, keeping it safe and healthy for children and animals alike. Through daily checks from a child's eye level, locks on gates, hand washing stations in every area and hand sanitizer access throughout the farm, they are doing all they can to ensure a safe, healthy and enjoyable experience for everyone that comes to the farm.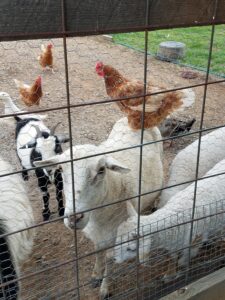 Keeping the farm running is a family affair for the Owen's, with all three children and seven grandchildren involved. In addition, they have paid employees and volunteers, including high school students that get credits through graduate of merit scholarships. Pattie is quick to note they wouldn't be able to do all they do without the help of their volunteers and they are always open to having new ones. She says all the hard work pays off when someone tells them they appreciate what they do and they love coming to the farm.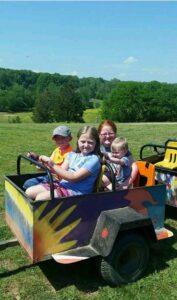 There is never a dull moment on Owen Farm, with something going on for people to experience and be a part of year-round. Starting with the spring planting season, students and children get to participate as "dirt babies" where they learn about the five essentials needed to grow plants and they can take home a clear container to grow their own seed, watching the roots take shape and eventually harvest their own pumpkin. Participants are also taught how to make their own butter ending with a taste test on crackers, which is a delicious and exciting realization for children and adults alike. In addition, participants are taught correct names for animals they get to meet and pet on the farm, and all the ways those animals serve a purpose, as in for wool, meat or milk.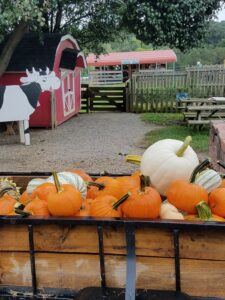 The busiest season on Owen Farm is through fall and winter. In 2006 the farm partnered with Danville Community College and designed their first corn maze using GPS. For a while they had a different design every year, but now they focus on making it more educational, with quiz sheets for kids and students to complete with clues hidden throughout the corn maze. This year's quiz sheets center around all agriculture and farming related questions.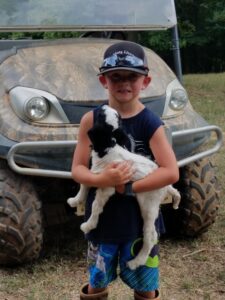 After the corn maze shuts down, the farm takes a week off to transform to its Christmas theme. The Owen's travel to the mountains where they hand pick Frazier fir trees to bring back and sell on the farm. Beginning the week before Thanksgiving they are open for business, set up like a choose and cut tree farm, but with the option to choose, shake and take. They want everyone to be able to afford a real Christmas tree and price theirs competitively.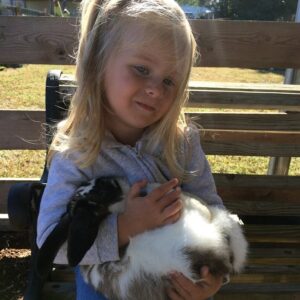 In addition to Christmas trees, they decorate the farm from front to back and offer hay rides, apple cider, hot dogs and s'mores over open fire. The hay ride takes people to their Owen Farm Loft, a large barn built in 2014 that is available for weddings and other special events, and at this time becomes a fun place for children to decorate cookies and color, and then top their ride off with a visit with Santa in a small cabin next to the barn. This has become a yearly tradition for many families, and reservations are available for families or large groups.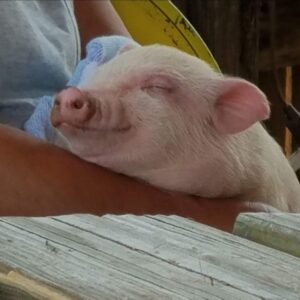 Through the years of growing animals, crops and their farm, Pattie says the best part has been watching children and families grow with the farm, too. There are children who started coming to the farm as four and five-year olds and now work for them. Even though they might not stick with farming for life, they will take some great life experiences with them from what the Owen's have allowed them to be a part of on the farm.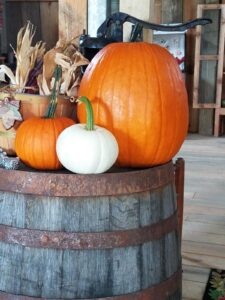 Both Pattie and David grew up on tobacco farms and they revel in the fact that they can give back to others who also grew up on farms, but are now far removed, as well as people who've never experienced farm life first hand. Pattie says there are many kids who step off the bus and immediately say they've never seen such a funny dog – speaking of a goat. They don't always know where milk comes from and many have never seen a cow milked, but they get a chance to experience the act through a milk cow simulator on the farm. Throughout their time on Owen Farm they are taught that everything they eat comes from a farm and they leave the farm taking the knowledge back to their own tables and homes.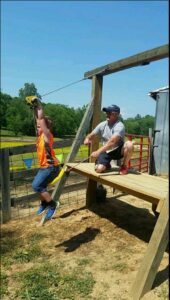 Nothing on Owen Farm is wasted. After the last person has hand-picked the last pumpkin, the last hay ride has been taken, and the last person has made their way through the corn maze, it's the animals turn to enjoy the fruit of the Owen's labor and they eat well on the leftovers. More than that, the time Pattie and David, their family and volunteers put into making the farm an enjoyable, safe, educational place is not wasted, either, because those that come through the gates leave with memories and experiences that they'll never forget and that can't be taken away.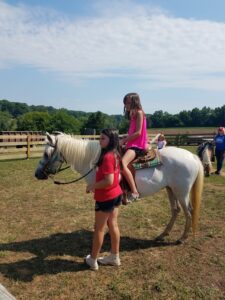 To find out more about specific event dates, reserve your family's hayride this fall or Christmas season or get directions to make sure you know where to find this year's Christmas tree or visit their market, open 9-6 every day but Sunday, you can visit their website at http://www.owenfarmtours.com.
To learn more about Meredith Bernard visit her website ThisFarmWife.com.