Story by Phyliss Boatwright
Photos provided by Semora Volunteer Fire Department
The Semora Volunteer Fire Department (SVFD) will mark its 50th anniversary on April 23 and, according to members, there is much to celebrate, commemorate, and look back upon with pride.
Advertisers make it possible for us to provide these publications for FREE!

Advertisers make it possible for us to provide these publications for FREE!

Advertisers make it possible for us to provide these publications for FREE!
For one thing, members of the SVFD told me, from its beginnings in the early 1970s, the fire department has been one of the most diverse in the state. The Semora department included minority and female firefighters at a time when many volunteer fire departments in North Carolina and elsewhere were entirely male and white.
Another point of pride is the longevity of members. Assistant Chief Landell Cunningham and firefighter Laura Blackard told me they were proud of their long history with the department and that they both considered their fellow firefighters as family. Landell, who joined the department in 1976, told me he still spends at least two hours a day, six or seven days a week, working on fire department business. "My wife still lets me," he joked.
Chief Bobby Dodson has been with SVFD since its seventh year. He told me that, prior to 1972, Semora was a part of the Milton service area. At that time, there was no volunteer fire department between Milton and Roxboro – a distance of about 20 miles. A couple of major house fires and the loss of several barns led local residents to form the Semora VFD in the spring of 1972.
The fire department began operations with one truck that cost $32,000 and with one man — Jimmy Harris – serving as both chief and president. Soon, after various fundraising efforts, a second truck was added. The converted oil tanker was added to the fleet before the fire station building was completed. In its earliest days, the Semora Fire Department worked out of Jack Pointer's barn shed.
In those early days, the volunteer firefighters spent their time working on "fires and fundraisers," Landell told me. Nearly every weekend was devoted to fundraising in the form of stews and bake sales, with the help of the Ladies Auxiliary. After much work to raise money, a fire station was constructed at 4997 NC Hwy 57 in Semora. Thanks to one fundraiser that brought in $5,000, volunteer firefighters were able to "put the boxing on the station," Bobby told me.
Early in the history of the SVFD, when the fundraisers and the weekends were over, members of the fire department met every Monday night for training. Even though these volunteers had to give up a great deal of their personal time, there was a wait list of people who wanted to volunteer with the department, Bobby said. And still today, "We are blessed with a few farmers and retirees" who make it possible for the department to respond to fires and other emergencies during the day. Bobby explained that all volunteer fire departments must have at least one truck and four people on the scene for a structure fire, or it could be charged with a no show.
"A lot of volunteer departments are hurting," he said. "At night, most are OK," but during the day, he explained, the majority of volunteer firefighters are at their place of employment, and departments don't have the manpower to respond to calls.
When asked about other changes they've seen over the past five decades, Bobby and Landell said the SVFD had gone from a fleet of two trucks to six, and from answering about 45 calls a year to answering over 250 calls annually.
In 2017, the department gained an "official chaplain" in Brud Perry, who volunteers his services. That, said Bobby, added "big value" to what the department can offer the people it serves.
Bobby and Landell told me that government oversight is one of the greatest changes they have seen over the years since they first signed on with the SVFD. Documentation is a key requirement now, said Bobby. Fire reports must be completed and sent to the state. Those reports must be kept in a locked box in order to meet privacy laws. Rosters must be maintained in order for firefighters to benefit from the Volunteer Firefighters' and Reserve Officers' Relief and Pension System, which provides death, disability, medical, and retirement benefits to volunteer firefighters, reserve officers, and emergency medical workers in cities, towns, and fire protection districts.
Landell said the cost of equipment is another big change he's seen. When he joined the department in 1976, turnout gear was $250 and would pass muster "as long as you could get it on." Now, the gear costs over $3,000 and must meet stringent regulations. In the early days, members of the SVFD made their own backboards to move injured people. Nowadays, a specific type of backboard is required.
From the department's first truck that cost just over $30,000, the cost of fire engines has increased exponentially over the years. The last one the SVFD purchased had a price tag of over $500,000, Bobby and Landell explained. Luckily, the department earned a FEMA (Federal Emergency Management Agency) grant that covered the bulk of the cost of the truck.
In the early days, said Landell, the department's volunteer treasurer took care of all the paperwork, but now there must be a separate bookkeeper, whom the SVFD pays. The department is audited on an annual basis by Person and Caswell counties. Also, Landell and Bobby said, three people are now responsible for the oversight of funding for the department. Accurate paperwork is essential in order for the SVFD to be eligible for state grants.
One thing that hasn't changed over the past half century is the kindness and gratitude of the people the firefighters serve. Bobby, Landell, and Laura told me many stories about how those they've helped in the line of duty show appreciation to the firefighters. Bobby once wrote a letter for a couple who needed to prove that they lived within the district served by the department. Since then, the couple drops by and brings food for the firefighters. After her husband was saved, a grateful wife brought cakes to the members of the department. In 2000, the department needed an addition to its building. There were many donations, including an engineer who donated his services.
The SVFD volunteers get Christmas cards from families they have helped, and the community shows its appreciation by showing up for events, like the Trunk or Treat the department sponsors for Halloween. Landell said it was always rewarding to "see all the community kids come out" and enjoy that event.
"It's always a give and take," said Bobby. "People always try to do something for us" to show their appreciation for the services provided by the firefighters.
The SVFD services homes on Hyco Lake, thus the district it serves is the third or fourth highest in tax value in Person County. The area has grown so much over the past 50 years that a few years ago, the SVFD ran a campaign to encourage businesses and homeowners to place reflective address signs in front of their buildings and houses.
"Years ago," said Bobby, when there was a call, he and the other firefighters knew exactly where they were going. "We knew everyone," he said. Now, with new houses going up seemingly on a daily basis, the firefighters often "have no idea" who they are rushing to help. Having clearly visible reflective signs helps the SVFD and other first responders get to the correct scene in the shortest amount of time.
Despite the growth in the area, the department was able, a few years ago, to get its Insurance Services Office (ISO) fire rating lowered to 4/9, Bobby said, which means lower insurance rates for homeowners. Fire departments are rated on a scale of 1 to 10, with 1 being the top rating. The lower rating for the department saves homeowners in the district 30 to 35 percent on house insurance.
The three SVFD firefighters told me they are honored to serve their community. They are excited to welcome that community to an event marking 50 years of service.
On April 23, from 10 a.m. to 2 p.m., residents are invited to help celebrate the 50th anniversary of the SVFD. There will be hot dogs and hamburgers as well as ice cream. Old firefighting equipment will be on site for the public to view, and firefighters will be on hand to talk with visitors and answer questions.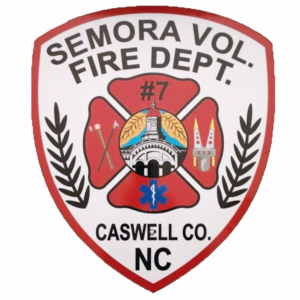 4997 NC-57
Semora, NC 27343
(336) 234-9366
Phyliss Boatwright is a journalist who for years reported Person County news in The Courier-Times. She has published two books and several short stories. Her book review show, Turn the Page, can be heard on WKRX, 96.7. For the past 10 years, she has taught journalism and served as public information officer at Roxboro Community School. She can be reached via email at phylissboatwright@gmail.com.