It's Never Too Late To Fulfill A Dream
Story and photos by Meredith Bernard
Sometimes it takes turning the page on one chapter of life to realize the promise the next chapter can bring. This was true for Beth Capps, owner of Selections Gift Shop in uptown Roxboro, when she found herself entering a new phase of life as a retired empty-nester. With a desire to keep a life of purpose in addition to helping others, a new dream took shape and started to be fulfilled that she says she didn't even know she had.
With a degree from Meredith College in Interior Design and a keen eye for re-purposing old furniture, Beth had dabbled in "flipping furniture" for years – which included buying used pieces and re-selling them. Her hobby led to researching furniture values, buying items from estates and helping other people know how and what to buy in addition to how to use their furnishings in their homes.  Eventually Beth had amassed so much furniture she needed more space to house it and that's when she moved into her current location. What began as a rental space solely for storage has evolved into the beautiful storefront she named "Selections." The name fits the store perfectly, as she has a tremendous amount of gift and home accessories for her customers – and so much more than just furniture now.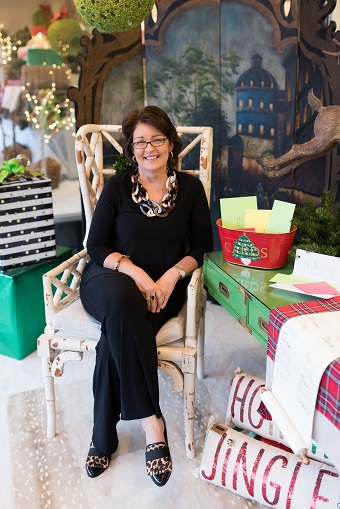 Since the store's ribbon cutting last year, Beth has gone from opening her doors two days a week to five. She's proud to be a part of the revitalization of uptown Roxboro and hopes more local people will continue to visit and shop small businesses like herself and the shops of Hall's Way around the corner.
Beyond supporting the local economy, Selections' customers also have access to unique gifts and furnishings that can't be found in big-box stores. This location has remained true to its roots offering eye-catching, high-end used furniture, but the offerings have become so much more than just that. Gift lines include a full selection of unique wedding and baby items, cocktail and party supplies, jewelry and decorative housewares. Their specialty lines include Julie Vos Jewelry, Beatriz Ball Fine Metalware, Danville, VA artist Sheryl Craig's decoupage watering cans that were recently featured in Oprah's "O Magazine," Lux candles, Roseanne Beck stationery, beautiful handmade pillows and many more lines. Beth and her associate Nancy McBroom travel to both Atlanta and High Point annual furnishings markets to insure Selection's continues to have quality, one-of-a-kind offerings.
If you're in need of any kind of gift or just something special for yourself or your home, you'd be remiss to miss a stop at Selections. One step in their door and you realize you're in gift and specialty store heaven. When you visit, don't be surprised if you walk in as a customer and leave feeling like a friend – and that's something money can't buy.
Be sure to "like" and follow Selections' Facebook page at https://www.facebook.com/Selectestatesolutions/ and on Instagram at https://www.instagram.com/selectionsroxboro/ for up-to-date announcements and new product availability.
Selections
117 S. Main Street
Roxboro, NC 27573
(336) 322-7000
To learn more about Meredith Bernard visit her website ThisFarmWife.com.