Yancey Smith: Artist in Oils and Dirt and with Brush and Shovel
Story by Norwood Walker
What if as a young child you were given the choice of reading a book or helping with the chores?  Young Yancey Moorefield made the choice that most any young child would make.  This choice between reading and chores helped to spur her innate imagination and lead her to become Yancey Moorefield Smith the artist.  This is only one of the many hats that this Caswell county resident wears, and this one she wears very well.  After successfully raising two children and retiring from the business world, she has returned to "art as source of exploration, challenge, and personal satisfaction.
Yancy is a life-long resident of Caswell County and holds a Bachelor of Fine Arts from Averett College  and attended graduate school at the University of North Carolina at Greensboro.  She also has studied under nationally-known artists Robert Marsh, Nancy Richardson Taylor, Peter Agostini, and Kate Yarbrough.  She has been drawing since she was a young child and has experimented with etchings, lithographs, serigraphs, and painting using watercolor and acrylic.  Finding oils to be one of her favorite means of expression she has settled into this medium and most all of her current works are in oils.
As a child, she used her reading and drawing to fire her imagination, and these have been augmented in her adult life by her love of traveling.  Landscapes are one of her favorite subjects, and she has used her travels in England, France, Italy, and South Africa to gather material for these landscapes.  She paints from photographs that she takes and of course her imagination to recreate places she has seen.  Having family overseas gives her the opportunity for frequent travel and inspiration for her art.  But she does not necessarily have to go abroad for inspiration for new paintings.  She has painted landscapes in this region when she has been struck by the natural beauty of a scene.  Yancey strongly identifies with natural beauty wherever she finds it, but as she says she is particularly drawn to ancient civilizations which she finds in her travels abroad.  She wants to capture the lost beauty of these and to create lasting impressions for generations to come. The natural world's importance to is evident in her other great passion which is gardening.  Her work in oil seems to capture the spirit she seeks.  Each painting for her is somewhat a labor of love, and she often grows very attached to a work in the process of its creation.  It is almost painful to part with some of them.  She is an artist who paints for the love of the creation and this is evident in hearing her speak about her painting.  Yancey's quest to find her place in the natural world and commune with this world is very evident in her paintings.  This is also evidenced in her other works in the community.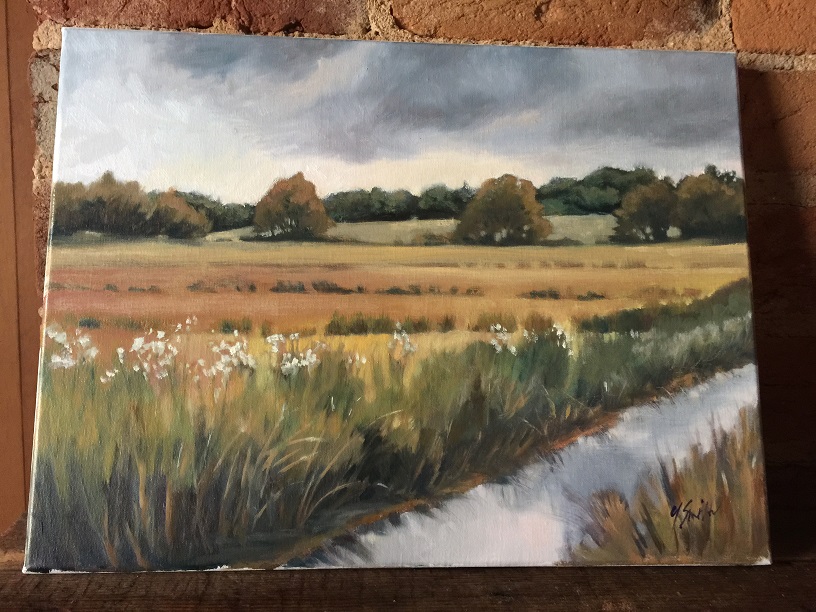 She has been a member of the Caswell Horticulture Club since its inception in 1997.  This group of volunteers came together in with the mission of preserving, beautifying, and historically restoring the gardens in downtown Yanceyville.  She has been a very active member of this group especially in the working with the Caswell Community Arboretum project and other garden project surrounding the courthouse.  Her artistic sensibilities are quite evident here in this living and growing canvas she has helped to bring to life.  Here the artist of the canvas melds with nature in perfect communion.
Yancey has won awards for her paintings, and her work hangs in private collections and in the Caswell Council for the Arts. Her work is also at the Milton Art Gallery in Milton just down the street from her studio.  Her works have also been exhibited in several shows in the area.  The Caswell County Civic Center presented JOURNEYS, a one woman show highlighting many of her landscapes, and the Danville Museum of Fine Arts and History presented a one woman show of her works entitled EXPLORATIONS ON CANVAS.  She was also part of a show entitled THREE ARTISTS ONE SPACE in Hillsborough.  Her most recent show was a very well received show in the Upstairs Gallery at the Kirby in Roxboro.
She also enjoys the helping others to discover their voices in visual expression.  She teaches private lessons for adults and children from her studio in Milton and has also taught classes at the Senior Center in Yanceyville.  She may have returned to art for personal reasons, but anyone who sees her shows or purchases one of her works is the real winner.  Her passion for and love of the natural beauty of the world is evident in her works, and anyone seeing them is the better for it.  Be sure to visit the Milton Art Gallery and see for yourself.