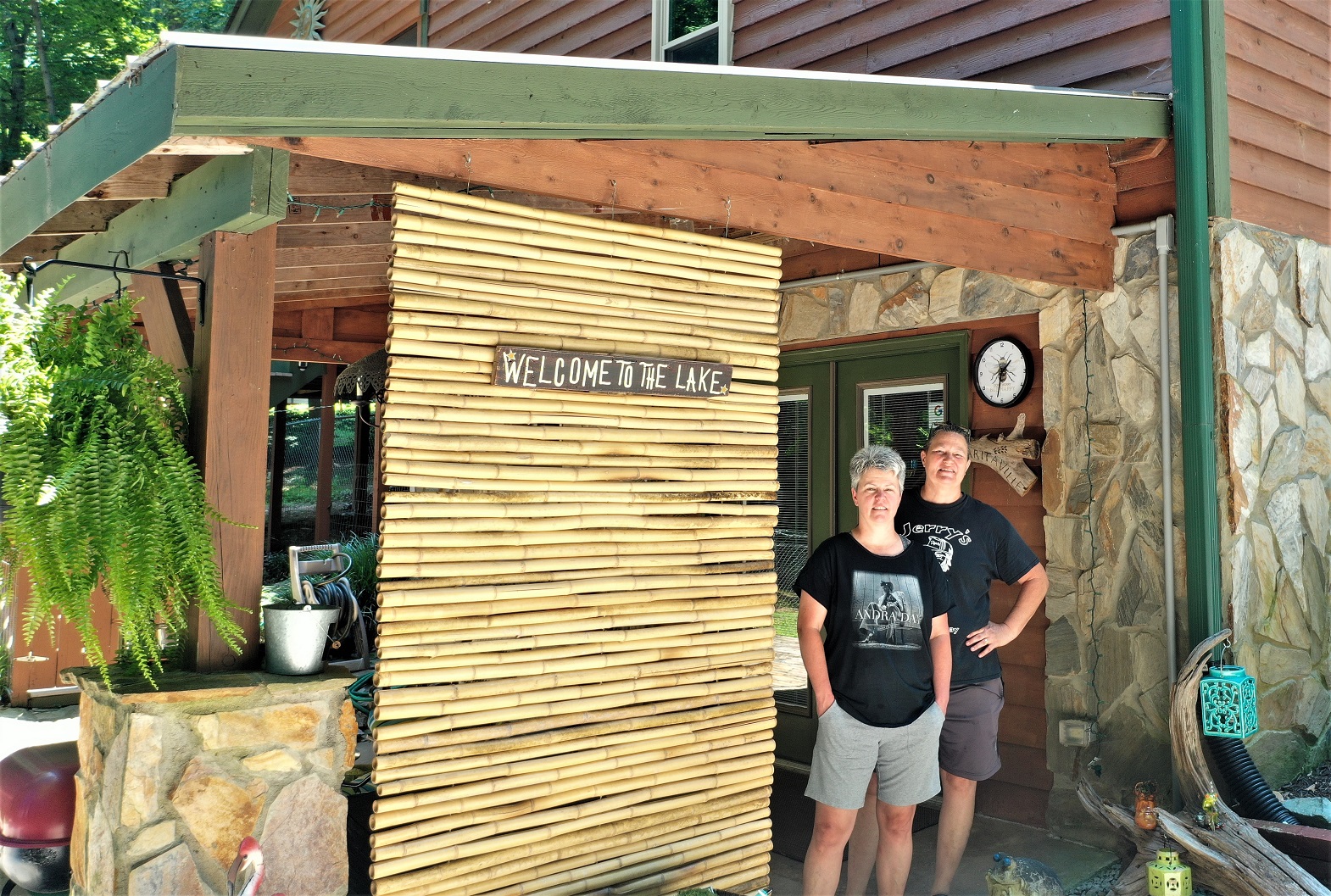 By Norwood Walker
With apologies to Jimmy Buffett, but Saritaville — like Margaritaville — just inspires song.
Eatin' on pancakes
Watchin' the lake bake
Round me all of those flowers covered with blooms
Firin' up the fire pit after dark, see those weenies
Beginning to burn
Lazing away again in Saritaville
Wanting for nothing at all
Some people claim that life's too hard
But I know I am having a ball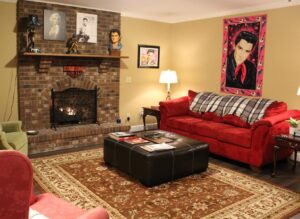 6160 Virgilinia Road is probably a better-known destination to people living outside of the region than those of us living nearby. Located less than 20 minutes from Roxboro and less than 30 minutes from Clarksville, South Boston, and Halifax, this bed and breakfast offers easy access to restaurants, shopping, places of historical interest and more. Add to this that Tunnel Creek Vineyards and VIR International Raceway are also close by, along with local breweries and other wineries, and you have enough to keep even the most jaded entertained. That is if you ever even want to leave Saritaville and all it has to offer.
Right off of NC Highway 49 North is a short concrete driveway leading down to a bit of paradise that would make Jimmy Buffett smile. Immediately in front is a view of Mayo Lake. A bamboo wall shelters one side of the covered patio with a sign welcoming all to the lake. The bumble bee clock beside the door advises everyone to be happy, and a large, beautiful filigree brass chandelier hangs above an inviting arrangement of chairs and settees. The large patio is the perfect place for that first cup of morning coffee or that last glass of wine or milk under the stars before turning in. A carefully maintained array of plants, including rescued hostas, edge the patio, and in one corner sits the fire pit. Halfway down to the lake, a hammock hangs between two large trees singing a siren's song to come and laze away the day. For the more physically inclined, two kayaks await at the lake's edge to allow exploration of the lake and exercise. After a paddling excursion, the covered portion of the patio offers deep shade, cool breezes, and the doors to inside.
Opening in a Pandemic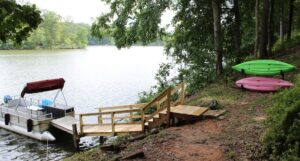 While many businesses were closing during the pandemic of 2020, Julie Ann Morris and Sarita Bissette launched a new one. It immediately began to attract customers and soon began to show a profit. From its May 2020 opening, it housed traveling nurses and other medical workers coming to Duke University Medical Center and other area hospitals; business travelers who were looking for alternatives to hotels; and as the holidays approached, out-of-staters visiting family in the area. Displaced vacationers found it to be a great go-to place for otherwise canceled trips. If they stayed once they were very likely to stay again, and many of those business travelers began to extend their stays and return as vacationers themselves.
What was it that made this a successful gamble during a time when many things were shutting down? My guess is the beautiful lake views, the abundant amenities including a private entrance, and — maybe most of all — Sarita and Julie, the hosts.
The Beginning: Julie and Sarita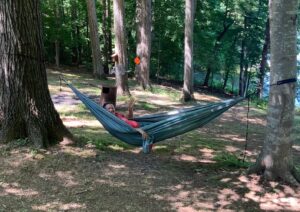 When Sarita and Julie moved from Youngsville into their three-level house on Mayo Lake, Julie realized that it was time and they had the space to make one of her dreams become a reality. After traveling all over the US for her job with WideOrbit and staying in many hotel rooms along the way, she wanted to create a welcoming place for business travelers and vacationers. Their new house had a 1,000-square- foot-basement, plus a ground and third floor. Julie set to work convincing Sarita that it would be the perfect space for her vision. Sarita's concerns were those that many would have — like the idea of perfect strangers in your home, plus security, privacy, and insurance issues. Soon Sarita became sold on the project and dived into shaping the space into what would become Saritaville. As an added bonus, Julie saw it as an excellent way to move some of Sarita's extensive Elvis memorabilia out of their own living area.
While Julie continued her work with WideOrbit, Sarita, who had left her job of 30 years in Raleigh when they moved, devoted her time and energy to the project. Soon the basement was transformed into a welcoming space with kitchen, living, and sleeping areas. The outside landscape was spruced up as well with new trees planted and hostas moved from the underbrush to the patio area. Many fun touches were added, some being left by guests in appreciation of their hosts. All of the planning started before the pandemic hit and they did not let it deter their opening in May of 2020.
Saritaville 2021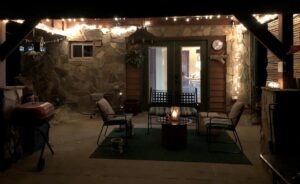 Saritaville offers a 1,000-foot square living space inside with its own private entrance and room to sleep four guests. There is a dedicated work space with 200 Mbps Wi-Fi available. Guests can prepare their own meals in a fully equipped kitchenette. Of course, there is a blender! Outside, there is a fire pit for roasting weenies and s'mores, along with a grill. All bedding needs are furnished, and they even include bath products such as shampoo, soap, conditioner, and a hair dryer. In fact, practically everything is there but you and your clothes.
It has been a busy summer and bookings have already been made into the fall and holiday season. These two lively and lovely ladies took a big gamble, but it looks to have been a smart one. A smart decision for them, but even smarter and better for business workers, vacationers, relatives visiting families in the area, and anyone just wanting to get away a bit.
Saritaville is located at 6160 Highway 49 N., Roxboro, NC, on Mayo Lake. They are online. Just Google Saritaville and put on your flip flops. But don't take my word for it. Here is just one of the 70 five-star reviews:
"We had a lovely stay at Saritaville! My sister and I were so grateful for the attention to detail and kindness of the hosts. Being a host myself, I know how difficult it is to get such immaculate ratings and joked with Sarita that she is the Nadia Comaneci of Airbnb! All of the praise is well deserved and I highly recommend Saritaville. A place like Saritaville is what makes [an] Airbnb not just a place to stay but an experience. Beautiful sunrises!"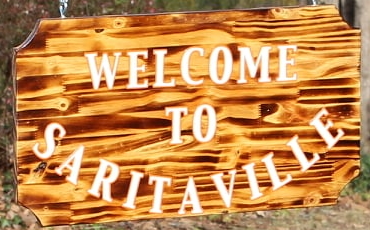 6160 Highway 49 N.
Roxboro, NC
(919) 274-4430
https://airbnb.com/h/saritaville-yourlakefrontparadise



Norwood Walker was born and raised in Hurdle Mills and was a member of the last eighth grade class at Hurdle Mills School. After all these years, he is still teaching, but more importantly, he is still learning.