By Sue Brooks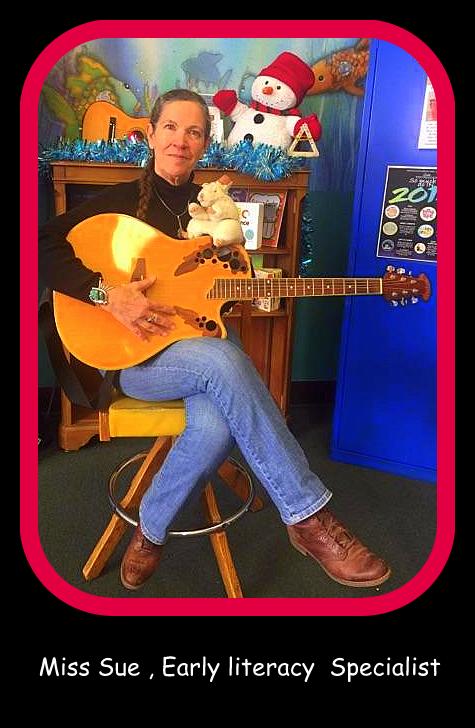 The Halifax County-South Boston Public Library recently held its fourth annual early literacy fundraiser. This year's fundraiser was titled "Rock 'n Read." Fourteen local artists donated their time and talent to paint nine donated guitars, four ukuleles, and one hand-built cigar box guitar.
The early literacy fundraising event came to be four years ago when the First Baptist Church of South Boston donated 10 mule-eared children's chairs to Early Literacy Specialist Sue Brooks. "A light just went off in my head when I saw them and I knew that we could paint the chairs and raise money for the early literacy program," she said.
The fundraiser was planned to take place the first Friday evening in December to kick off the Christmas season. The chairs were bid on during a silent auction, bringing in $1,200 for the program. During the next two years, the event featured bookshelves and rocking chairs for local artists to paint with images of their favorite children's books.
Partnerships were built with community businesses that donated door prizes, with local artists donating their time and talent.  The Southern Virginia Higher Education Center's Innovation Department served as a partner and Lowe's provided deep discounts on materials.
The most recent event, Rock 'n Read, was a wonderful evening featuring music provided by Duane Brown of the Brown Brothers, along with local musician and luthier Gordon Barnes accompanying him on his homemade cigar box guitar. Heavy hors d'oeuvres were provided by Southern Plenty of South Boston, with wine donated by Hunting Creek Vineyards of Nathalie.
"I don't think we could have had more fun raising money than we did this evening," said Sue Brooks. "Folks were singing, enjoying good food and wine, all while bidding on a beautiful array of instruments. "
Funds raised from the event will go toward the development of early literacy services and the children's areas of both libraries.
Thanks to everyone who came out for the event and to the fabulous people who donated their time and talent. We look forward to seeing you all again next year!
Sue Brooks is an Early Literacy Specialist with Halifax County – South Boston Public Library located at 509 Broad St., South Boston, VA 24592 | (434) 575-4228 | [email protected].