Golf: my grandfather played, my father played, my brother and I both play. I love the game and the challenge. However, my mother told me once that "golf is not a natural game." But what was natural for her was to open her home to friends to enjoy food, laughter, and good-natured teasing while socializing. That is why common interests, good food, and recreation are great basic ingredients for gatherings. That's why around 96,000 voters chose River District Golf & Social "Best Of" in four out of five categories in an April 2023 Readers' Choice poll. Open only five months at the time, this new "concept restaurant" is scratching an itch in the developing River District in downtown Danville.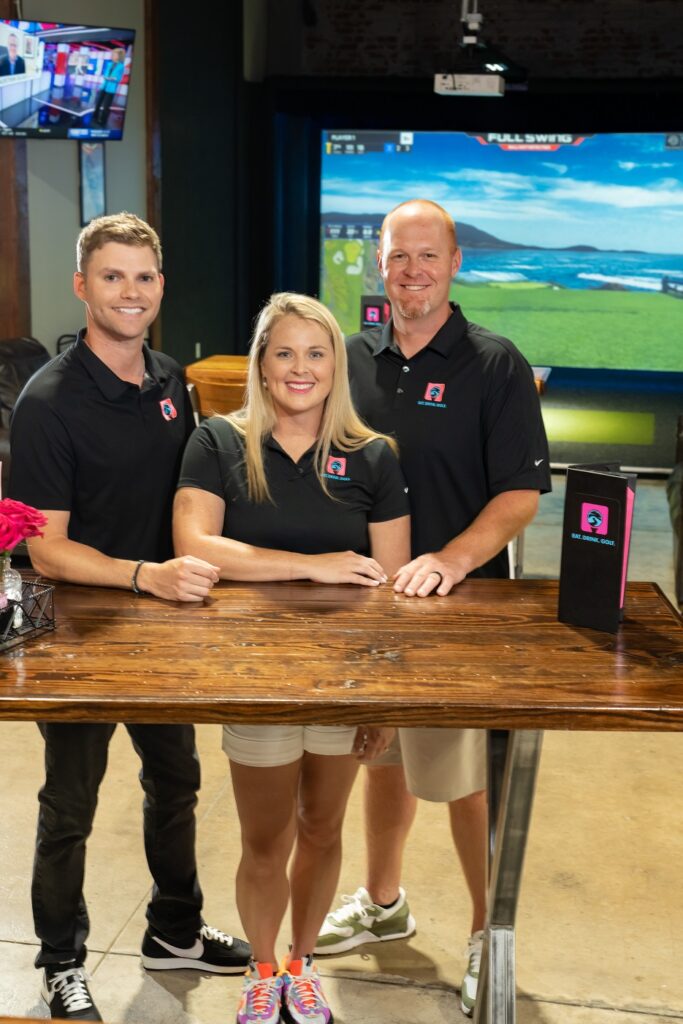 River District Golf & Social (RDG&S) opened in November 2022 and has garnered a unique place in the Danville River District. After visiting only one time and interviewing the three partners, I can see why. I can appreciate the way the RDG&S owners brought a 120-year-old tobacco warehouse back to life as an exceptional dining and entertainment experience. Visitors are greeted by a bright, open, well-thought-out and well-designed space. It is not the typical sports bar venue with TVs on every inch of wall space and jammed-in tables. There are TVs to be sure, and "The Game" or tournament is on, but there is a welcome balance to the space. The partners – Jonathan and Meredith Walker and Richie Barrick – have made a concerted effort to provide an environment for an entertaining good time and not just a glorified "man cave." Even some of the custom-designed furniture that has elements of tobacco leaves is a testament to the efforts made to link to the history that helped build Danville and other Virginia and North Carolina cities.
Starting a business is a challenge, but opening and running a successful restaurant is a huge challenge. So how did a husband-and-wife team and long-time Danville residents and friends decide to take the risk? None of them had any personal experience running a restaurant, but they all had a love of sports and saw the growth in the Danville area in the last three years. And they took into account the influx of River District apartment dwellers who would be looking for services and entertainment close to their front doors.
Jon is an experienced business owner and has built a nationally-known baseball player development and performance business currently operating as "Elite Performance Academy" with indoor training facilities. His wife, Meredith, mother of two boys, recently resigned from teaching eighth grade math to work full time at RDG&S. She is the numbers person and Jon says that "she is an absolute genius." I asked if she wanted that in writing and now she has it.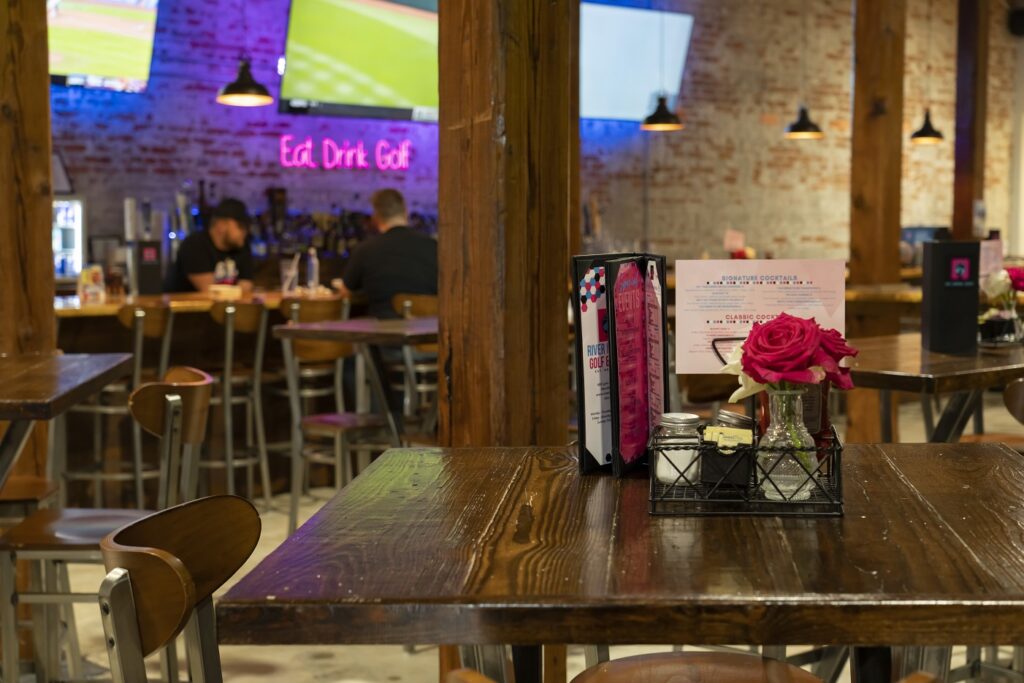 After seeing the success that places like Top Golf were enjoying, Meredith was encouraged. Richie Barrick went into the business with a background in physical therapy, and of course loves golf. He said it teaches a lot about life…true. In one of the studies Richie reviewed, he read that always at the forefront of revitalization of downtown areas are food, beverages, and entertainment. "We combine all three of those here, so it just made sense," he said. Finally and thankfully, Jon's brothers just happen to have over 35 years of experience in the restaurant business and were the missing piece to the puzzle. With them as "exceptional resources," the partners tapped into their guidance, and the plan came together to launch River District Golf and Social.
Jon credits a lot of their success to hiring a veteran staff. He wanted a staff that could execute their vision. In fact, he said he "hunted for staff with experience in higher end hospitality." Receipts from the restaurant part of RDG&S account for almost 80 percent of all revenue. A full featured menu is regularly evaluated and tweaked to add and refine selections. You can't get a "Best New Restaurant" award if the food doesn't taste or look good. According to Jon, "We're doing it all, from bacon cheese fries to ahi tuna." Meredith added that RDG&S is more than just golf. Visitors can meet up for events like "Sip and Paint," "Yoga & Mimosas," "Kids' Golf Camps,"or come to a live music event. You don't have to play golf to enjoy a visit. What is rewarding to Meredith is "owning something that others can enjoy but also enjoying it ourselves."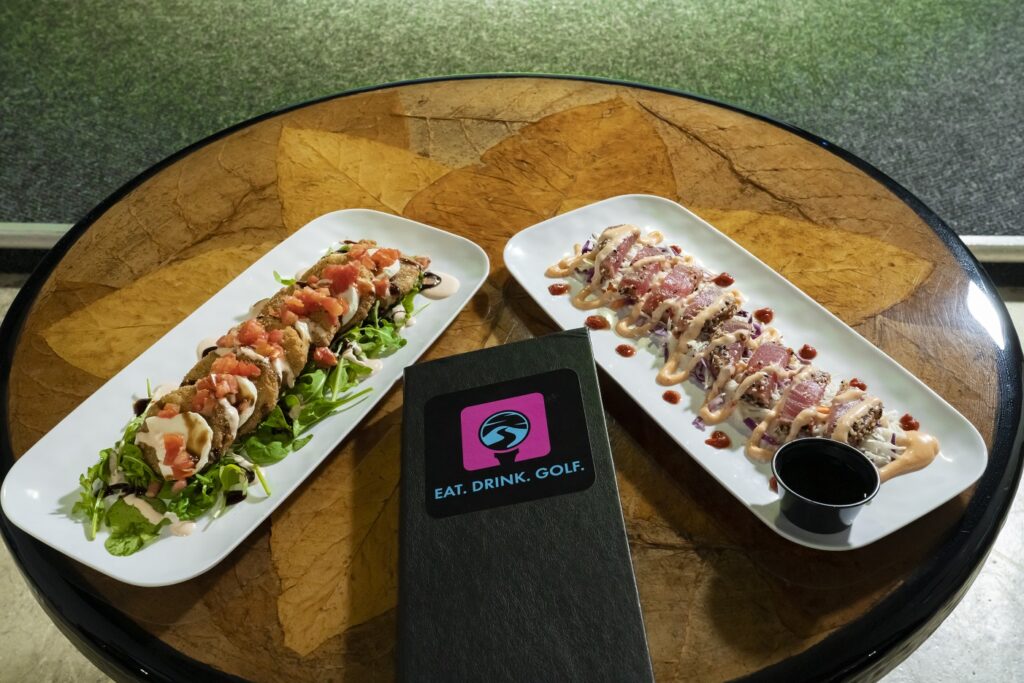 During the pandemic, the golf industry grew, and RDG&S is capitalizing on that growth. It has four "Full Swing" simulators that provide an immersive golf experience for the avid golfer, like me, or someone just getting started and wanting to learn to play. More pro golfers have this model in their homes than any other.
On my first visit I noticed moms and kids in one bay, a senior adult foursome in another, a couple on a golf date in a third, and some pals talking trash and enjoying the "pot bunkers" that St. Andrews, "the old course," is famous for. That may be the only way I will get to play that course! It is just you, the ball, and your target. There might be a train whistle in the middle of your backswing or one of your buds snickering about the four-foot putt you missed on the last hole, but other than that, no distractions. You can set up to practice or play one of the 40 courses already installed, complete with putting guides if needed.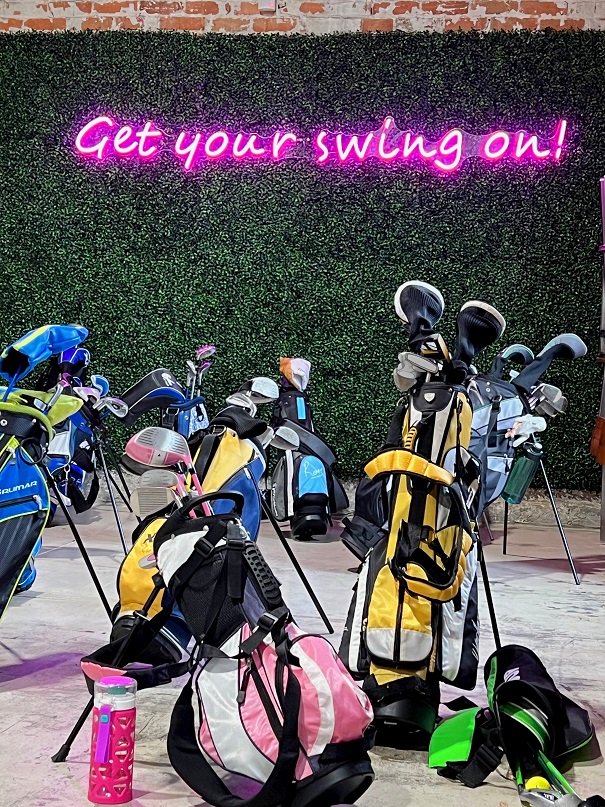 Richie said, "Time, money, and weather are the biggest inhibitors to outdoor play and RDG&S has all those variables covered." All of the thrills for a fraction of the cost, the weather is always perfect, and no lost balls, especially playing TPC Sawgrass and the #17 island hole. Count me in. I would have to say that there is nothing like RDG&S within a reasonable commute, and golfers can totally "geek out" on all of the data they get. Swing and club head speeds, spin rates, club path data, and more provide all the info needed to improve your game. Viewing every shot from the overhead camera to check swing path is my favorite feature. The staff will walk you through the operation and features or even set you up with clubs if you don't have your own.
You won't feel a breeze in your hair, hear birds chirping, or smell freshly-cut grass, but it's probably as close as you can get to outdoor golf. Walk-ins are welcome, but it is best to book one of the bays on their website.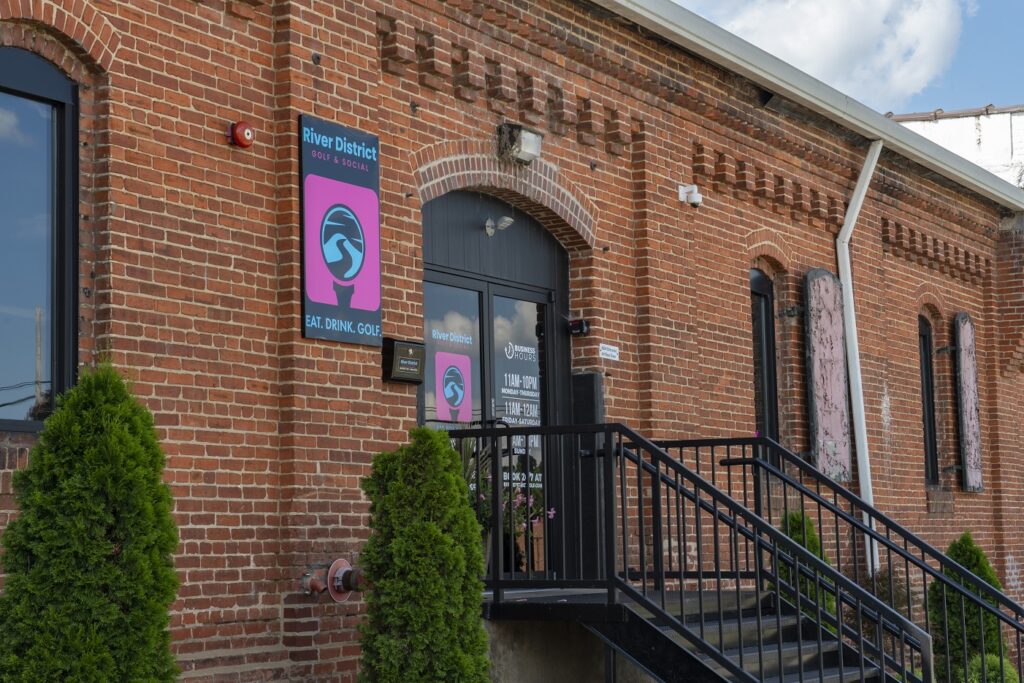 Jon said, "The perfect customer at RDG&S is really a group! A couple couples." To sum up, RDG&S is a small family-run business with lots of energy, pro-level implementation for food and beverage service, and golf entertainment. Because of that, it has the freedom to explore whatever avenue will make the customer experience meaningful and fun.
Jon's closing comments to me were, "People in Danville know us and that we did the work to bring this to life. Having our friends come in and support us because they appreciate the product we are putting out means a lot. We are bullish on Danville, and we wanted to do business in our hometown."
They want to be known as a place to "hang out and let loose a little bit," and it seems as though people are already thinking they have "a good vibe." I'll be back for sure to "Get My Swing On."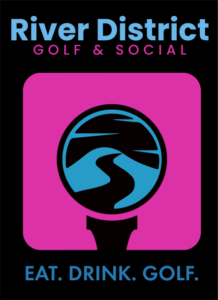 River District Golf & Social
680 Lynn St. Suite C
Danville, Va. 24541
(434) 228-4155
www. riverdistrictgolf.com
Learn about the author at https://ncvamedia.com/authors/paul-liggitt/