He Won't Give His Age, but He Will Give Back to His Community: Alex Vardavas – WBTM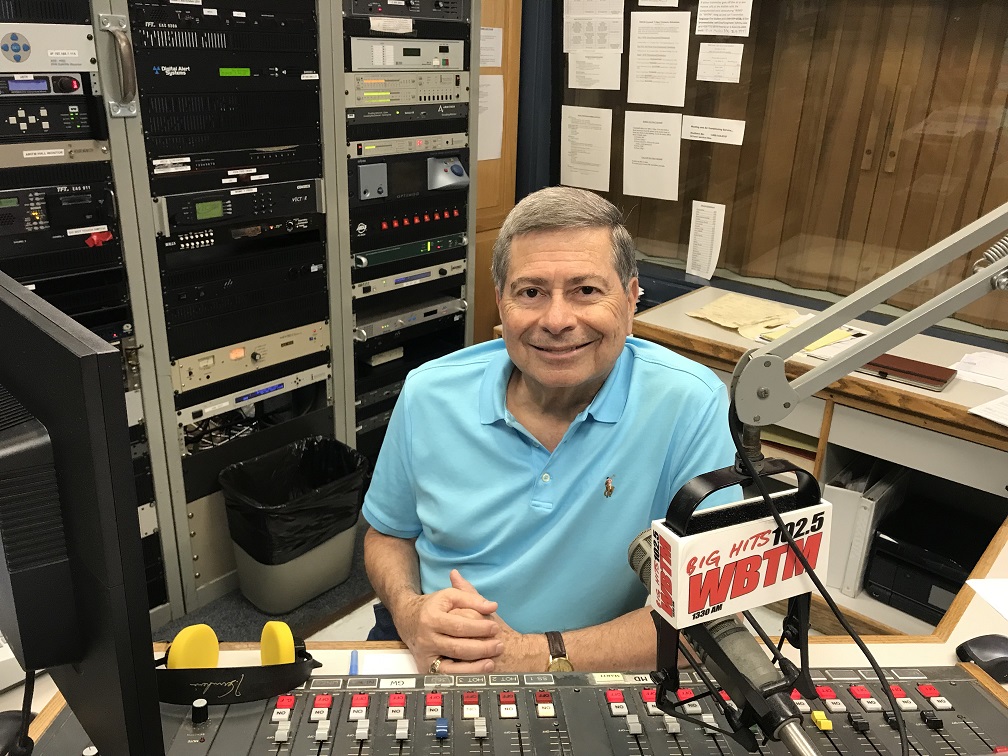 The Danville area has for years (I am not allowed to say how many) enjoyed the on-air antics of a certain radio personality of indeterminate age who plans to stay that way despite any available records that may suggest his actual number of years on Earth.
Alex Vardavas has been a part of WBTM 1330/102.5 Danville since he was a rising junior at George Washington High School. The actual dates Alex attended GW are strictly off the record. He said that checking old yearbooks wouldn't help either, because everyone knows that, in this day and age, any publication can quickly and easily be altered.
The same goes for Elon University publications that might hint at Alex's college days. Although he refuses to divulge exactly when he was there, Alex loves his alma mater, from which he obtained a political science degree. Since his graduation, he has remained loyal to and involved with the university.
Last April, Elon recognized this young man – along with two other alumni and current students, faculty, and staff members – with induction into the Phi Kappa Phi Honor Society. Alex told me this was one of the greatest honors of his life.
Alex did not originally intend to go to Elon. In fact, he didn't really want to go to college at all. But, his mother, Mary Vardavas, had a different plan for her boy. Her original idea was for Al to attend the local branch of Virginia Polytechnic Institute for two years, then transfer to the main Virginia Tech campus in Blacksburg. However, just as he was getting ready to graduate high school, the university system closed the VPI branch and it became a community college. Mom Vardavas did not think that was the best education option for her son, so she looked into schools like UNC-Chapel Hill, where Al's favorite college basketball team plays. Mrs. Vardavas also contacted Wake Forest and William and Mary, but it was too late for fall admissions at those three choices.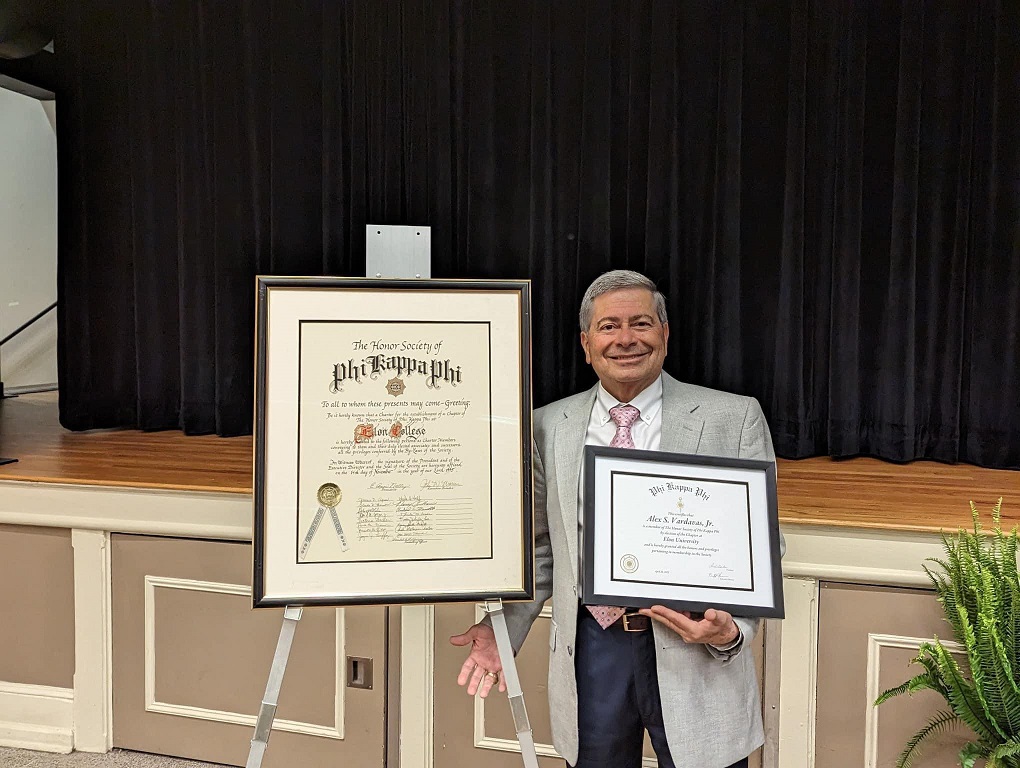 While lamenting the problem at the Danville bank where she worked, Mrs. Vardavas was told about "a great school just outside of Burlington" and instructed her son to contact Leon Smith, an Elon graduate and WBTM's news director. Smith called the registrar at Elon, and before he knew what was happening, Alex Vardavas was on his way to becoming a Fighting Christian – today known as the Phoenix.
Laughing about it a "few years" later, Alex told me that without his mother's determination, he would not have gotten a wonderful education, enjoyed four of his happiest years, and made lifelong connections. He said that although he told his mom he would rather find a full-time job than go on to college, his mother said, "Over my damned dead body." He's now thankful for her gentle guidance, as well as that of a few other key people in his life.
Also thanks to his mother's guidance, Alex worked at WBTM his last two years of high school and throughout college, coming home every weekend for four years. He said, "At the end of my first semester senior year, [at Elon] I asked David Luther if I was good enough to hire full time." Luther was the program director when Alex was first hired, but had become operations manager by the time the younger man was ready to graduate college. Alex continued, "He said I was," good enough, "but there was no opening for me, as everything was full…in other words, no room at the inn. That's when I started debating graduate school or a job in [Washington] DC." This debate led him to seek the advice of then 5th District Congressman Dan Daniel.
Alex said the congressman asked him if working in politics and living in Washington would make him happier than working in radio. After some thought, he realized Daniel was offering him sage advice – it is more important to be happy in your work than to just make money.
"I thank him to this day," Alex told me. He said he has tried over the years to convey that "very important message" to others, adding that his years in radio have made him happy "in spades."
After his conversation with the congressman and the realization that radio was his passion, the stars aligned for young Alex. "Two weeks before I was to graduate," he said, Luther "called me at Elon and asked if I was still interested in full time employment, to which I replied 'yes!' As the story goes, the two air personalities working the 7 to midnight shift … got each other fired, opening the way for me."
He said he started out working the 7 to midnight slot, and after a few years eventually landed in the 3 to 7 pm time period, where he's been ever since. "So," he concluded, "my career began after one week of graduating from Elon."
That career, he said, has allowed him to meet a lot of interesting people and give back to his community. In addition to supporting Elon, Alex was involved in the March of Dimes for many years. For 31 years, he hosted Danville's March of Dimes Telethon, and said that is one of his greatest honors.
His interest in the March of Dimes mission began early in life. His best childhood friend, Dean Hudson, died at age 15 due to cystic fibrosis. Throughout the rest of his life, Alex said, whenever he has encountered anyone who is "less than healthy," he has said "a little prayer that their life could be made better."
Over the decades while working with the March of Dimes, Alex said, he was consistently impressed by and grateful to the greater Danville community for its support of the organization. He said the local chapter was "the absolute best" and the citizens of Danville and surrounding areas had been "extremely loyal" to the cause. That commitment led to a long, successful fundraising effort to benefit mothers and babies.
He said he believes his history of work with the March of Dimes led to the opportunity to emcee the first Life Saving Crew Gala at the Institute for Advanced Learning and Research this past April. This event honored the "unsung heroes" of the community, he said, who do the "invaluable" work of being first on the scene of tragedies. Alex said the sold-out event was "very successful" and he was honored to be a part of it.
In addition to his work with the March of Dimes and other causes, Alex has been recognized by the Danville Sertoma Club with its Service to Mankind Award. He also received the Humanitarian Award from VFW Post 647, the Toastmasters' International Communication and Leadership award, and a Certificate of Appreciation from President Gerald Ford for his service to the Selective Service System.
He said his career in radio has allowed him to be involved in and recognized by the community, and for that he is thankful. Although the work itself has changed over the years, Alex said he is blessed to be able to "play for four hours a day" and get paid for it.
When I asked about changes in radio over the years, he said when he started out, he played 45s and LPs that had to be cued on turntables. "The record would get scratchy after a while," he said, and ultimately recorded on tape before being played on the air to preserve the sound. Of course, "the machine would eat the tape" from time to time, he laughed. But, along came CDs, eliminating that problem. Nowadays, "it's all on computer," he said. "You can get to a song in an instant" instead of rifling through 45s.
Everything, including commercials, is preloaded now, and all he has to do is hit hot keys on a touchscreen. Computers can bring their own problems, though, and while still relatively young himself, Alex is thankful for the even younger people at the station who can easily fix any technological malfunctions.
Be sure to tune in to 1330 AM or 102.5 FM to hear this ageless guy spin tunes and tales from 3 to 7 pm weekdays, playing adult contemporary music, and on Saturdays from 4 to 7 pm, playing hits from the 1960s and 70s and some 50s, in addition to requests.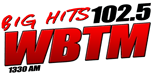 WBTM
P.O. Box 1629
Danville, Virginia 24543
(434) 793-4411
WBTMDanville.com
Learn about the author at https://ncvamedia.com/authors/phyliss-boatwright/