I won't be asking anyone for a Christmas list this year because I already know where I am going to do all my Christmas gift buying. I know where, but the hard part will be deciding among the many treasures there that I would like to give family and friends for the holidays and just because.
River District Artisans is located on Main Street in Danville, right around the block from The Bee (see story in this issue). The exterior of the building is striking with a black and white awning stretching across the recessed entryway and the name appearing in large white letters between the awning and the seven rows of second-floor windows in which the opposite buildings are reflected. Built first as a department store, the entrance to the building is flanked by two large showcase windows with ample room for displays. What once displayed the store's offerings to entice passersby to stop and shop serve the same purpose today, showing the wares of numerous local craftsmen and beautiful handmade quilts and other items made by store employees.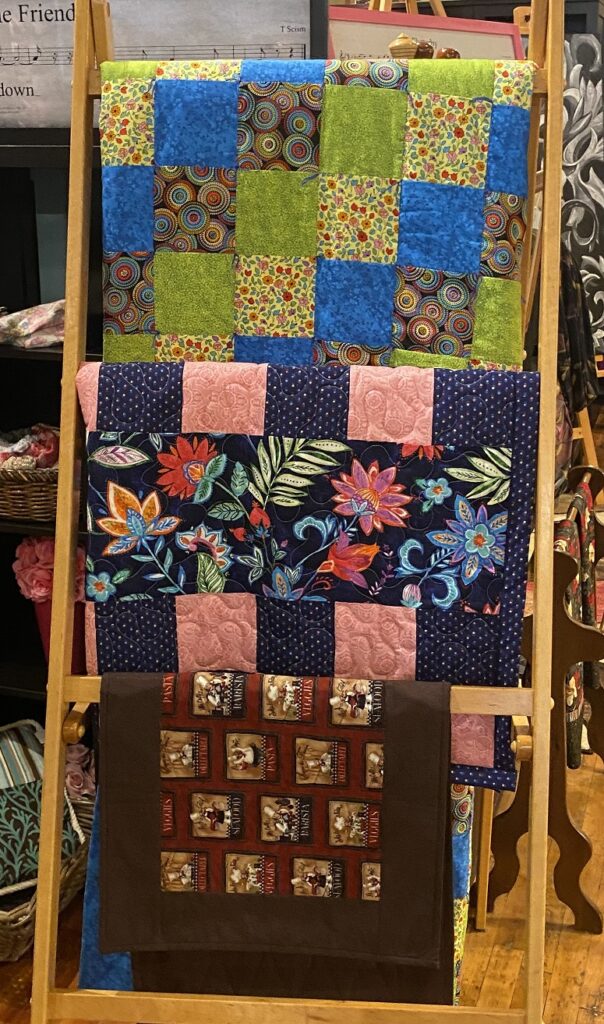 When I was there, large brown paper trees covered with large colorful flowers filled the window spaces. Scattered around the trees were quilts, prints, paintings, and wooden bowls and toys alongside handmade jewelry. I can only imagine what these windows look like during the holiday season.
After lingering for one last look at a particularly colorful quilt, I entered what I assumed to be just another collection of textile, paper, and wooden arts and crafts. But I was wrong. Immediately my eye was drawn to a tableau featuring a single bed covered in a quilt made of large squares of red, white, and blue prints of lines, dots, and sock monkeys. On a table beside the bed was a small spruce-like tree covered with handmade snowmen. Resting against the foot of the bed was a large painting of a cow smiling right at me. There were hand-painted and individually decorated birdhouses; no two alike.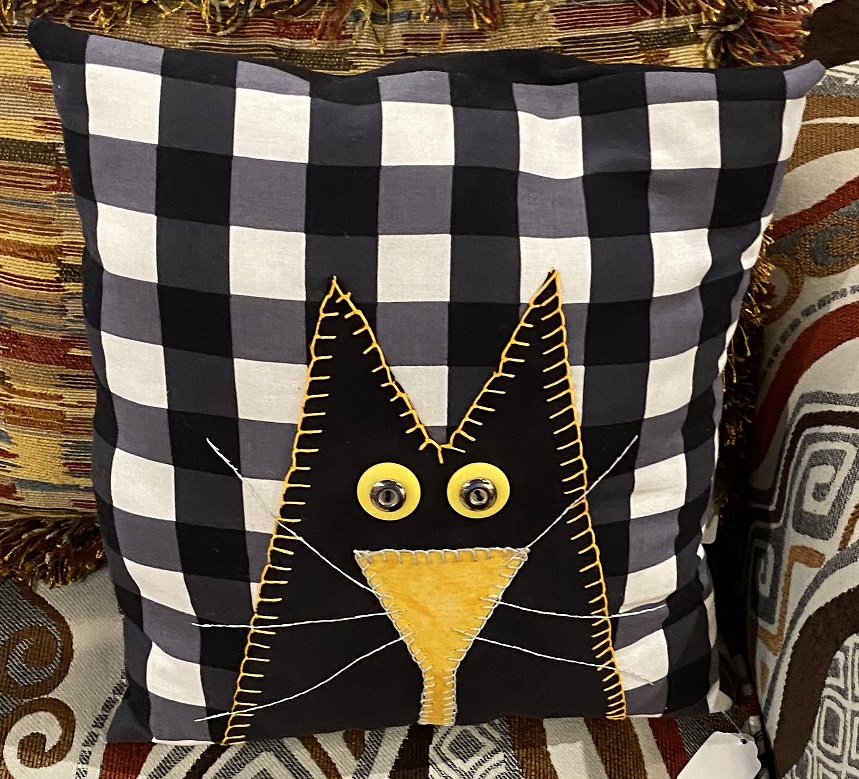 Prints, photographs, and original paintings were everywhere. There were beautiful photos of flowers and scenes of Danville past and present. Some were arranged on easels while others leaned against counters, couches, and chairs. There were shelves filled with all types of woodworking, handmade baskets in all shapes and sizes, and original children's books written and illustrated by local authors. There was a black and white checked appliqué pillow with a black cat that seemed to be enjoying yellow liquid from a martini glass.
So many one-of-a-kind pieces, candle holders, embellished mason jars, wine bottle covers and stoppers, and unique jewelry. But what stopped me dead in my tracks – and wallet – were the quilts. Thrown over a chair was a quilt made of multiple squares maybe 2"x 2" in brightly colored patterns of flowers, fruits, cars, clouds, and on and on. There was one square with the words I SPY. Then I noticed the I SPY book of PICTURE RIDDLES lying on the quilt. It made me smile. Looking closer at this quilt, I saw dogs, cats, horses, unicorns, crayons, books, butterflies, and in a corner square was a smiling little red-headed girl. I knew this was going home with me and on the bed of my red-headed granddaughter. I then started looking for one for her brother. I didn't have to look far. On a shelf was one full of Nutcrackers. I almost cried, like now. It was perfect. Then I discovered the full, queen, and king-sized quilts as well. Many were made by employees of the store, right there on the premises.
Sarita Gusler, manager, took me on a tour behind the retail part of the store and introduced me to some very special employees who had been with the ARC for many years. There are workstations equipped with sewing and cutting machines and a large quilting machine. The space is as beautiful as the people working there.
Currently there are more than 80 outside artisans affiliated with the store as well as the long-time employees, so there is a constant coming and going of products. I encourage you to go discover this treasure store for yourself. Don't wait for the holidays, but definitely remember them then as well.
There is so much more to this story I would love to tell. Stories about the people, about the ARC, about how they came to be on Main Street, but you can find a lot of this for yourself.

411 Main Street
Danville, Va. 24541
434-228-4125
https://www.riverdistrictartisans.com/
@riverdistrictartisansdanville

Founded more than 60 years ago as a grassroots movement of families, the ARC today has almost 700 state and local chapters nationwide working as a network of human service agencies to ensure both children and adults with intellectual and developmental disabilities have educational opportunities, work programs, and other services they need to be fully functional in their communities. Until the formation of the ARC, many of these services were denied to this population. The ARC of Southside is one of 700 and owns and operates the River District Artisans as well as offering many more services to its members and the community. For more information visit their website www.thearcofsouthside.org
Norwood Walker has always had a love for books and learning. He taught at Person High School, Durham Tech, ECPI University, and currently is teaching at Piedmont Community College.