Roasted Bone-in Pork Loin with Mushroom, Garlic, Tomato Ragout + Braised Greens
This is a delicious, rustic dish that is easy to make. It's one of my favorites when I cook for my friends and family. I hope you enjoy!
Ingredients you'll need:
1 bone-in pork loin (5-6 lbs.)
3 cups of quartered cremini or button mushrooms
1 diced tomato
½ sliced yellow onion
6 cloves of garlic
¼ cup of fresh sliced basil
1 tbsp olive oil
1 tbsp butter
1 head of romaine lettuce chopped
A pinch of red pepper flakes
2 tbsp olive oil
1 tbsp fresh chopped garlic
¼ cup of grated Parmesan cheese
½ cup of chicken stock
Salt + pepper to taste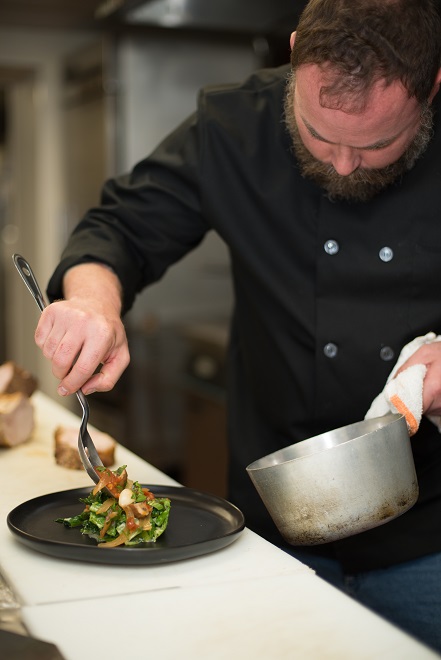 Season pork loin with salt and pepper. Preheat your oven to 400 degrees. Roast the pork loin for 30-45 minutes. Check the meat temperature after 30 minutes (temp should be 140 – 150 degrees). If after 30 minutes the temperature is not hot enough, cook until you reach the 140-150 temperature mark. Remove the meat from the oven and let it rest for 10 minutes.
In a sauce pot heated over medium heat, add olive oil, sautéed with whole garlic, mushrooms, sliced onions, and tomato, then reduce the heat and simmer for 10 minutes. The liquid from the vegetables will make a nice vegetable broth. Remove the pot from the heat and season with salt and pepper, add the butter and basil and stir. The butter will make a nice, rich sauce.
Heat a skillet to medium heat and add olive oil, sauté the chopped garlic for 1-2 minutes just to release the aroma. Then add the chopped romaine and stir for 1-2 minutes. Add chicken stock and cook until the romaine wilts (2-3 minutes). Add red pepper flakes and Parmesan cheese and stir.
Plating
Add the mushroom, garlic + tomato mixture to the center of plate and top with the braised greens. Slice the pork loin into one bone slices and place on the vegetables.  Use a spoon of the vegetable sauce around the pork, serve + enjoy!
Chef David Gaydeski is the owner of Brookland Eats, located at 333 Old Durham Rd in Roxboro. For information call (336) 322-1015 or visit www.BrooklandEats.com.