HALIFAX , VA- In the early days, peddlers brought more than wares to people in the sparsely settled lands of our country. Folks living on the frontier looked forward to seeing the peddler's wagon cresting the hill and hearing pots and other goods clanging together announcing his arrival.
Not only could they get pots, cloth, dry goods, and other items which made their lives a bit better, but the peddler was a source of news from other areas. He was also a source of entertainment with stories of his travels and adventures.
In our age of instant communication and online shopping, we no longer need the peddler coming to our doors. If you feel this way, then obviously you have not had the pleasure of meeting Tom Shepherd. No, Tom doesn't travel from place to place, but you can easily find him at The Peddler's Market, at 21 South Main Street in Halifax, Va., directly across the street from the Halifax County Courthouse.
The Tour
Entering the front door of the Peddler's Market — the old Garland's Jewelry Store building — you find yourself in a narrow entryway flanked by a counter on the left, behind which is Tom's nest with shelves loaded with an array of eclectic treasures. The glass-topped showcases are full of all kinds of glassware ranging from Victorian to Depression to Mid-Century Modern.
A Richard Nixon president and other collectable plates keep watch over all from their perch above the mirrored shelves lining the wall. Another showcase displays jewelry ranging from old costume pieces to modern creations. Across from the jewelry counter is a counter ladened with candy. Here you find plastic tubs full of old-fashioned orange slices, hard candies, fudge, chocolate covered caramels and nuts, and even some modern favorites — Snickers and Almond Joy.
Around the corner created by Tom's nest and resting against a back wall is a beautiful old walnut Chicago Cottage organ from the late 19th century. This serves as a resting space for several stuffed bears, a penguin, and a monkey. On the music rack, two pieces of sheet music feature Rudy Vallee and Irving Berlin, the famous singer and composer from the 1920s.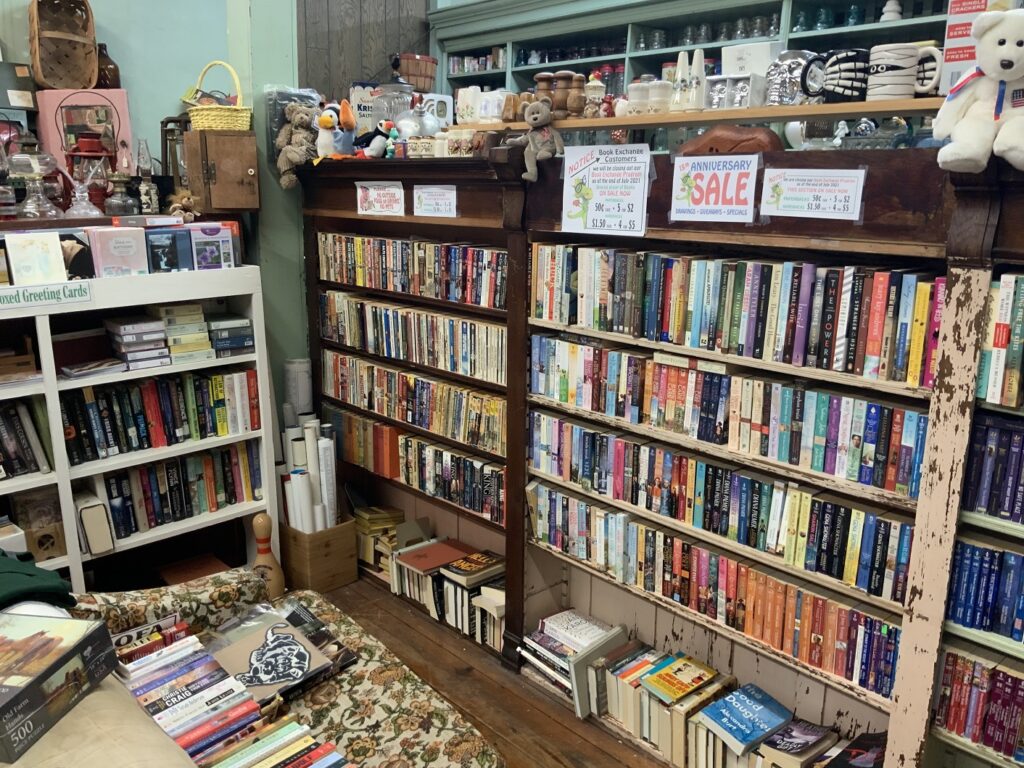 Around the Corner
Turn a corner and there is a maze of rooms. The first has a display of hats. No less than five mirrored back shelves contain hats from Panamas, fedoras, cowboys, camouflaged to several styles of straw hats. An alcove off of this contains racks of multi-colored souvenir t-shirts with logos from Halifax and the surrounding areas. There are also Peace Frog items here, as well as a large selection of hoodies.
Moving out of the alcove to a larger room there are pieces of antique furniture, including a walnut bed of the Victorian era and a chest of drawers to match. There are handmade quilts, beautiful old lamps, and Christmas items. There is an area with almost every type of kitchenware imaginable, from teapots to gadgets. Hand-made aprons in multi-colored patterns and fabrics hang from wall hooks.
At Christmas last year, I found a camo-patterned apron perfect for both my son and son-in-law, both of whom are avid hunters. But there was only one. Tom immediately put my dismay to rest by saying, "No problem, Ginny can make another one just like it." Ginny Bogart, Tom's wife, is an accomplished graphic designer and seamstress. She "dressed" the Prizery for all 10 of its summer-theater seasons (a story yet to be told in a future issue).
The Big Surprise
Through a doorway that you see when you enter the front door lies a coffee shop, a tea shop, a book shop, a collectible ephemera shop, a Christmas shop, and more. The room is full of bookcases holding paperbacks lining one wall and creating a wall of their own perpendicular to these. There are glass jars full of a variety of coffee beans and an area to grind these beans.
There are other glass jars filled with many different blends of tea. It would be a great surprise if there is a taste in tea, coffee, and reading that can't be satisfied by something in this room. In the middle of the space there is a table, chairs, and a short couch inviting you to pick a book and stay a while or just sit for a chat. If you wanted to know what was on TV in the past, there is a large collection of vintage TV Guides. National Geographics, Look, and Alfred Hitchcock Mystery magazines as well as other lesser known publications await readers curious about the past.
You can even find a mint condition 1969 calendar courtesy of R.B. Hughes Drugs and Medicines of Main Street, Halifax. Most if not all of the Halifax Historical Society publications can be found here, as well as other books of local and area interest.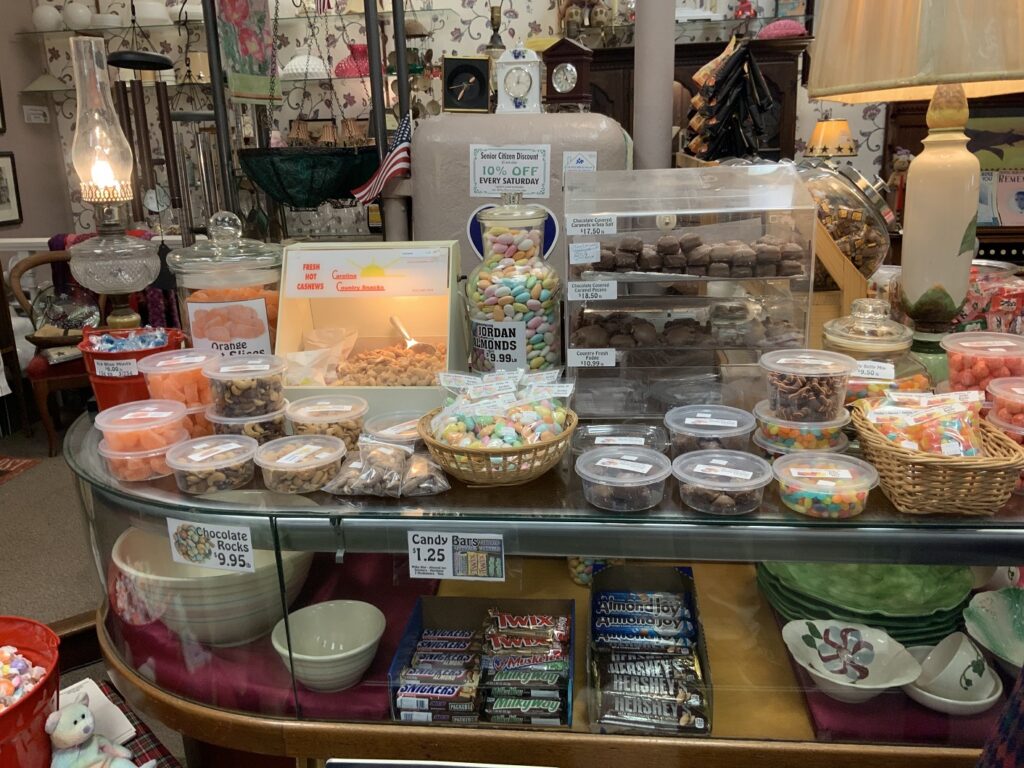 Then There's Tom
Perhaps the best source of local information and just entertaining conversation is Tom himself. He is a dedicated believer that small retailing is an art and not a science. He believes that people enjoy the experience of small shop personalities and the unique merchandise discovered inside of four walls and not online. He has created a store, but not one just for shopping for what you need — more like finding what you don't know that you need, as some of his customers have said.
The Peddler's Market recently celebrated its 15th year in Halifax County, but Tom's history in retail and small business ownership goes back further. Shoppers today can benefit from all his experience in customer service and his genuine interest in people. There is much more to Tom and Ginny's stories than can be told here. A great history of their 15 years in this business can be found in a story by Miranda Baines, staff writer for The Gazette-Virginian, at the link below.  The Peddler's Market can be found on Facebook (@peddlersmarkethalifax). But the best thing that you can do is visit for yourself. Be sure that you are not in a hurry when you do. There is so much to see and so much to hear.
When I enter the door of the Peddler's Market, I know I am not shopping but visiting a friend. There are not that many retailers I feel that way about. Go enjoy a cup of coffee, a chocolate covered caramel, and a new friend. It's all there waiting.

Norwood Walker was born and raised in Hurdle Mills and was a member of the last eighth grade class at Hurdle Mills School. After all these years, he is still teaching, but more importantly, he is still learning.