Outdoor Living Decisions
By Joe Wilkerson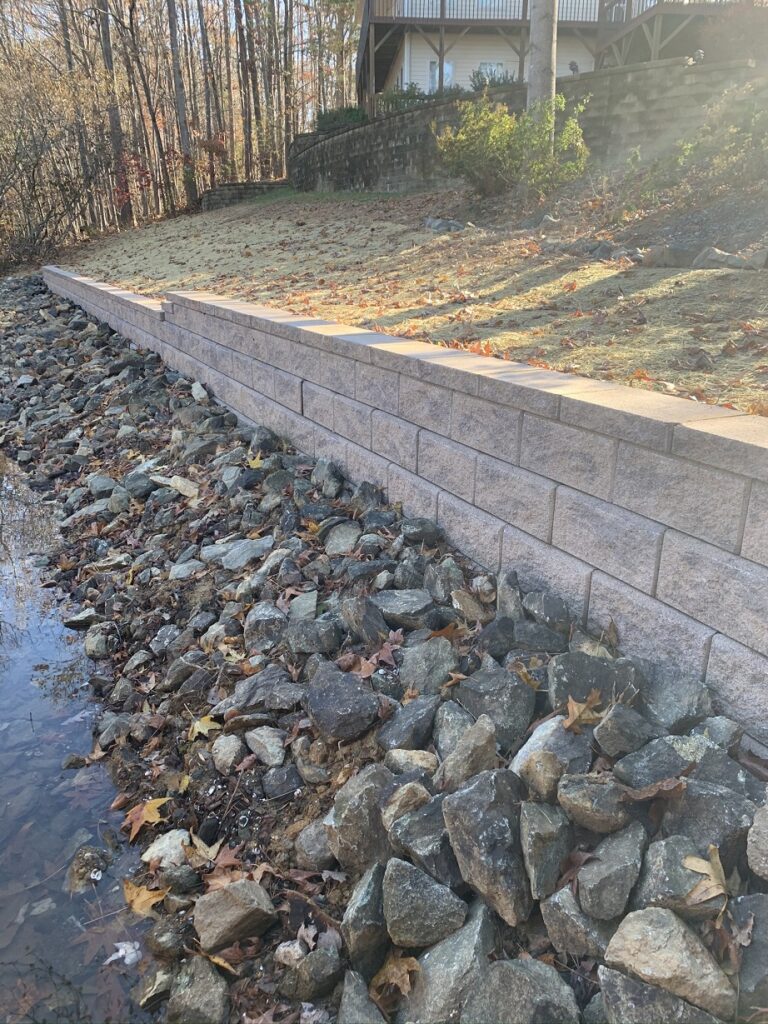 Living on the lake is special. Lake life is relaxing. It's a lifestyle that can rejuvenate your mind and soul, but anyone who owns a place on the lake can attest to the need to maintain and protect your lifestyle investment. One of the most problematic issues we work with is erosion. Water is an incredible force, and lake-front property has to contend with plenty of water. Water can carve rock, move rock, and grind it to dirt.
Ride around the lake and you will see various conditions of the shorelines. All face the same issue; wave action from the water erodes the shoreline over time. We understand owners of these properties want to protect their investment, and want to describe the various methods we can use to protect your shoreline.
As a shoreline erodes, it becomes increasingly unstable. The water never ceases its work — always churning, a little at a time — until before you know it, you have lost feet of shoreline. As the water erodes the soil, the result is murky water, loss of land, and an unsightly view to an otherwise pristine lake front.
The wave action is ever present on the water. Even the slightest breeze can start ripples that affect the shore, but boat wakes can cause significant erosion. Wake boats are fun, but they impact the lake shoreline, often moving large amounts of soil and rock. Even 18-inch boulders can eventually be moved by the force of the wakes crashing ashore.
Protection Methods – Function and Beauty
How we handle shoreline protection comes down to three basic criteria: budget, aesthetics, and the regulations from the U.S. Army Corp of Engineers, Division of Water Quality, and the local Lake Authority.
Armoring Up with Stone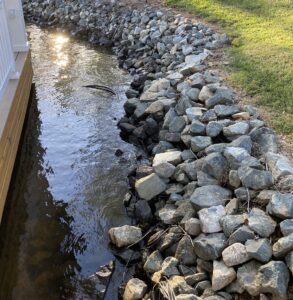 The basic level of protection is usually installation of rip rap. Rip rap is large rocks used to stabilize the shoreline by armoring it up with large, angular stone that breaks the wave action and retains the soil.
In order to provide true protection, rip rap must be installed correctly. The slope must be graded and a geotextile fabric installed as the initial layer of protection to separate the soil from the rock. This is critical to ensure long lasting stability. We often see just one layer of stone placed on the surface, and this is incorrect. In order to secure a slope, an initial layer of smaller filter rock needs to be installed over the geotextile fabric, and a second layer of larger, Class B rip rap ranging from eight- to 14-inch stone should be placed to provide the armoring layer to the shoreline. These stones provide the necessary weight and interlocking structure to break wave action and retain the shoreline.
Often in stormwater mitigation and fragile environmental areas, we need to take it one step further by providing plant material as additional protection and filtering. In these applications, plants can be placed within the stone layers to add further protection via root structure. Native wetland species are commonly specified for the naturalizing areas.
Bulkheads and Walls
Installing bulkheads and retaining walls for water applications can provide a lot of protection. You can create a very clean look with a shoreline wall, and often overcome space limitations where you may not be able to slope the area as needed for rip rap. These walls must be built correctly though, as they will be working double duty retaining the soil behind them and the wave action in front.
Wooden Bulkheads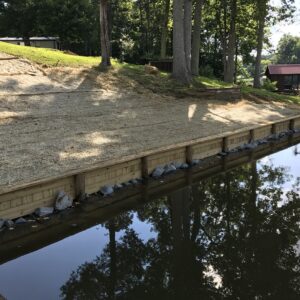 Pressure treated wood bulkheads are often installed for shoreline protection. Wood bulkheads can provide long-term protection but are under constant threat from the elements due to decomposition. They are the least costly to install but may not provide the longevity of other alternatives. As with all construction, choosing the right methods and materials are critical for the durability of your wall. The soil behind must be filtered with clean stone and geotextile to provide adequate protection from erosion. It is also critically important that enough structure is built to provide the adequate support for the shoreline it will protect. The proper size wood and spacing is vital to prevent failure.
Block Seawalls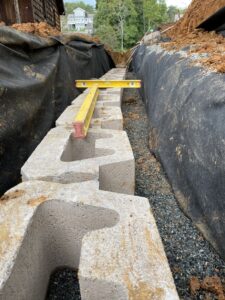 Block seawalls are commonly built around the lake and provide a clean look while protecting the shoreline. There are nuances in seawall construction versus typical segmental retaining wall construction, and improper construction will lead to failure and expensive repairs.
First, a seawall must be properly embedded in the soil to prevent undermining of the footing. Second, protection for the soil must be provided with proper placement of the filter fabric. Additionally, there should be sufficient drainage behind the wall with clean stone to ensure no unwanted pressure is built up. Finally, to properly finish the seawall, a layer of protective stone must be placed in front of the wall to prevent erosion. This rip rap will provide an armor layer to protect the footing.
Overcoming the Elements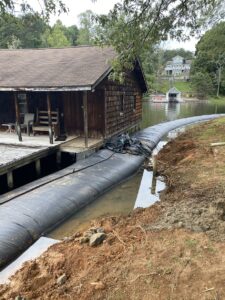 Working in water is never easy. Building walls in the water takes additional time and equipment. Typically, when the summer droughts come along, everyone wants to capture this time to repair their shoreline. While this is ideal from a working standpoint, coordinating mother nature and construction schedules remains elusive.
For building shoreline walls, we have invested in a cofferdam that allows us to adequately dewater an area up to 30 inches to allow work below the water level. They are long tubes we fill with water and sink to the bottom, allowing us to pump the water from behind, creating a dry work area. They range in size from two to 20 feet tall.
By dewatering the area, we have the time and conditions needed to install a proper level footing. Once we are above the water level, it becomes less critical to stay dry; however, the cofferdam provides additional protection from wave action that can disrupt construction.
Working with wood and rip rap is not as problematic, as a perfectly level footing is not critical to our success. We can pound in the post on a wood wall from the shoreline or water, and much of the work is done with machines.
As you might expect, though, winter is not the ideal time for this type of construction. Cold and mud do not create a pleasant work environment, and the construction is exponentially harder.
With increased traffic and wave action, the shoreline will continue to erode away without proper planning and control. If you have a shoreline that needs protection or stabilization, we are able to help walk you through the process. Proper stabilization protects both your investment and the water quality of the lake.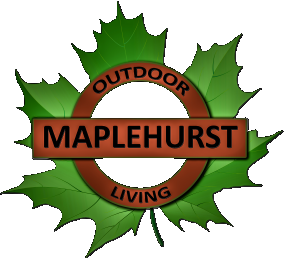 (434) 579-5625
www.MaplehurstOutdoorLiving.com
[email protected]



Joe Wilkerson is the owner of Maplehurst Outdoor Living. His passion is building your dream outdoor living area. He is dedicated to building fine outdoor living projects in Southern Virginia and Northern North Carolina, so you can Unplug & Relax.