Making a Cliff
By Joe Wilkerson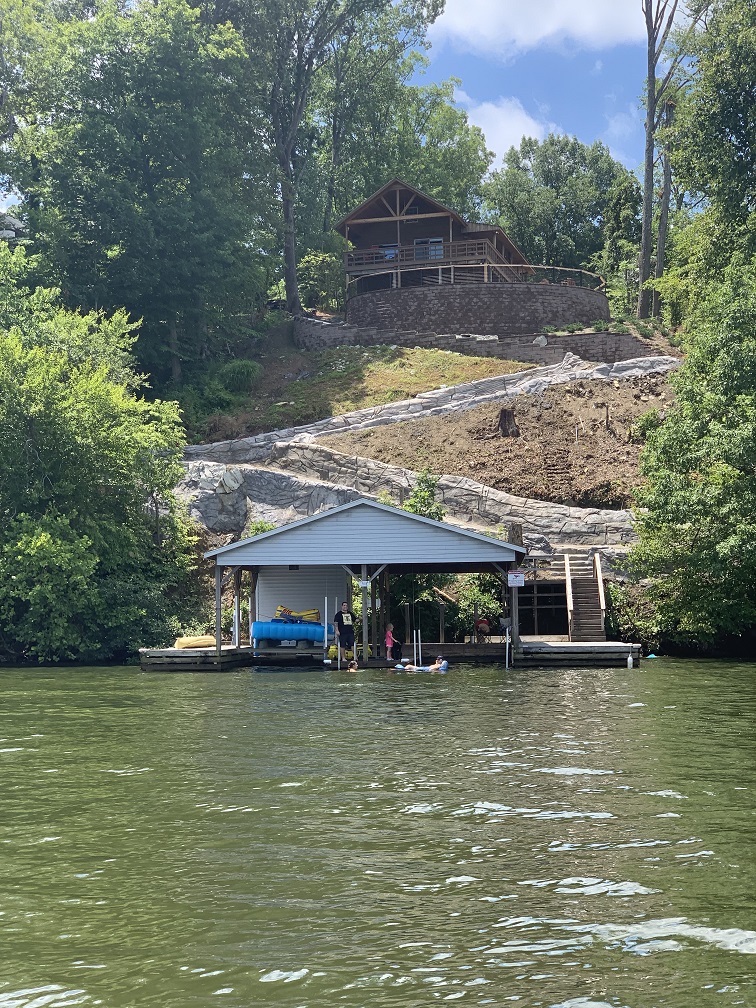 Often, we are presented with challenges that require out of the box thinking to solve. I learned through a series of successes and "learning experiences" that when these challenges arise, if we take a step outside of our comfort zone, we can achieve remarkable advances in ourselves and our abilities. One of my favorite jobs that we have had the pleasure to build, located on Hyco Lake, took us well outside our comfort zone and required us to dig deep for a creative solution to solve a difficult problem.
The Challenge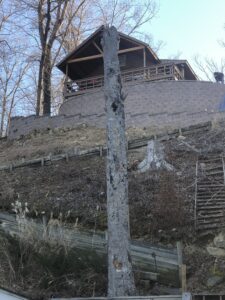 Initially, we were tasked with replacing an existing wood retaining wall that was failing. Most retaining walls are usually straightforward, and through our experience we can usually identify the recommended solutions. This job presented some unique challenges, though. On the top of the list – 88 feet of elevation above the lake in about 80 linear feet. To say this was a tight spot is an understatement.
The second major challenge we faced was the handling of material in such a tight location. While we are always striving for productivity, we need to stay alive. Here productivity in the normal sense was out the window. We had to change our mindset. Working in such tight quarters and dangerous conditions, we were much more deliberate in our actions to ensure safety.
This leads us to the time required to build. Nothing is truer in construction than the adage "time is money." When evaluating this job initially, the plan was to build the upper wall and leave the path down the hill alone. However, upon completion of the new upper patio, it was clear the remaining project was in desperate need of further renovation. As we evaluated the potential job and its impact on time, we knew that we needed to evaluate all methods of construction to ensure we could achieve the desired outcome within a reasonable budget.
The Solution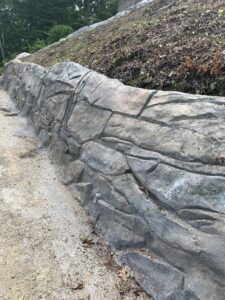 This leads us to our chosen method of construction – Stonemakers. When evaluating available options, we came down to using the same segmental retaining wall (SRW) system that we used for up top, or carving a rock face retaining wall using a special reinforced grout mix by Stonemakers. As we began to review the budget, it was clear that the Stonemakers solution was the way to go. The limited access and the engineering requirements to build an SRW on this difficult site would have taken extraordinary amounts of time. Hidden in that extra time is extra risk. Another day for a chance of something catastrophic happening on such a dangerous slope.
Stonemakers has been the leader in developing an alternative way to build retaining walls and outdoor structures. Traditionally, cement walls had to be veneered to have any aesthetically pleasing appeal and were limited in strength by the concrete mix and rebar that bound them together. Stonemakers has created a proprietary admix for a very high cement grout mix. Technically, it crystalizes the cement and grout, and it alters its curing properties. This allows us to stack the concrete up using no forms. Additionally, it is hygroscopic – meaning it attracts water from the air over time. Much like the little silica packs you find in packaging, the Wall Builder admix slows the curing process of the grout by constantly attracting water. This ultimately yields an incredibly strong final product, curing at over 9-10,000 PSI. This is much higher than traditional concrete can cure based on limitations of the chemistry and structure of the mix.
Now the fun part – since we use no forms, we can carve the concrete basically however we want. On this job, we decided to mimic a cliff. Like exposed bedrock coming out of the hillside, we carved the concrete much like giant boulders and sheer rock faces. In other jobs, we have carved out rock boulders, veneered flagstone, giant granite slabs, or even wood railroad ties. You are not restricted to one simple look, the myriad of finishes you can achieve is virtually limitless.
As mentioned earlier, time was one of the main concerns for building this site. SRW construction would have required toting 90-pound blocks down a steep embankment 40 square feet at a time and stone backfill 500 pounds at a time for over 2000 square feet. Additionally, we would have needed to excavate 6-8 feet of additional soil to create a reinforced zone to support the walls. This undertaking would have taken months considering the site conditions.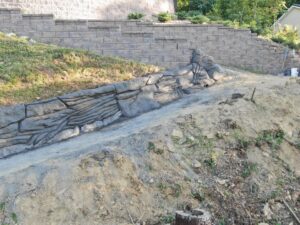 The Stonemakers solution gave us another advantage here. Because of the increased strength of the wall material, and the addition of rebar, we could forego the excavation required in an SRW installation. Also, rather than toting all the material down the hill we were able to utilize a concrete pump truck to move the grout mix to where it was needed. By pumping the mix down the hill, we were able to move 20-30 cubic yards of materials and carve about 400-600 square feet of wall face per day.
There were certain areas that we chose to veneer the face with panels that we make from a special mix of glass fiber reinforced concrete (GRFC).  The panels can mimic any mold we choose. Utilizing our Cliffrock panels, we were able to achieve an incredibly realistic cliff face that towers above the lake. It looks like the rock has been there, eroding away for years, and we just happened to build a path on top of it down to the lake.
The panels are an exciting design tool. We have upcoming jobs that we will use them to veneer boring block walls, giving new life to an existing structure and saving the homeowner money. These panels are also used to build outdoor kitchens, waterfalls, water features, firepits, ovens, fireplaces – the list is endless. As with the Stonemekers grout, we are able to achieve incredible breaking strength with these GRFC panels. They are quickly becoming a go to solution in the commercial construction industry as well because of the unlimited applications, incredible strength and being a greener alternative to many traditional building materials.
The Build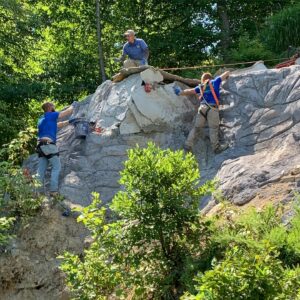 As we began this job, there were plenty of unknowns, but as Benjamin Franklin is quoted, "Those who fail to plan, plan to fail." We planned out each day as best we could, understanding there would be circumstances beyond our control. We did our best to get in early, and prep the areas needed.
First, we took time to pull out the existing wooden walls that were falling. Then we had to excavate the footing by hand because there was no way to get equipment down the hill to dig it out. This was time consuming and humbled us to say the least. Digging footings today has become so routine with excavators and skid steers it is easy to forget how a shovel and grubbing hoe can find new muscles long forgotten.
Here we began the first phase of reinforcing the hillside that was to become our artwork. We used a steel rebar curtain, tied together to reinforce the grout mix that we were about to lay and carve. This rebar curtain ties all the wall together, and adds strength to the overall system. On the steepest and tallest parts, we doubled up the rebar curtain, offering extra strength to support the lateral pressure and load.
Day one of the pour did not go quite as planned, and here is where flexibility and emotional control come into play as the best laid plans need to be modified from time to time. Day one was upon us and our contracted pump company had overbooked and failed to provide us with a pump truck. We rescheduled for two days later, knowing that this job would be pushed into the next week.
Pump day arrived – again. Everything is going just as planned, we were geniuses! We were gonna knock the job right out on schedule, or so we thought. Truck two was a little late to the job, and if anyone remembers this summer was hot. Well this special mix in a 200-foot-long black hose decided to get very tight, very quickly. Truck two never got poured. We spent 4 hours with sledge hammers, a pressure washer, and a lot of grit and determination. We saved the pump hoses, and at about $600 per 20 feet we were tired yet relieved.
Day 3 would surely go better; we had a plan, right?! Wrong! The pump truck owner decided the job was not for him and just did not show up. We went from thinking we were the smartest people in outdoor living construction to "uh oh, what were we going to do"?
At that point, we were committed, and I wasn't about to let this concrete win. With some good help from the guys at Chandler concrete, we modified our mix a bit, and the guys from Coastal Pumping showed up with their truck the next day and we were back in business.
Day 3 (again), we were feeling our luck was turning, and we worked hard, and ambitiously said "send that third truck to us." We got it done, but to say we were whipped would be an understatement. Concrete waits for no one, no matter what you have planned. It's going to work you till it's done. Forcing down water, Gatorade and any energy source we could find, we pushed through.
As we were starting to see our concrete masterpiece take shape, our energy levels were taking a huge dive, and we still had three more days to go! Fast forward to the end, as the middle is somewhat of a blur of sweat, tears, cramps and tired muscles. We hit our target. The wall was there, just like we planned. I'm sure we could have done a few things differently, but I was sure proud of our guys as we adapted and pushed through.
To finish the wall, we had a few areas that needed our attention. Here we used our GRFC panels and tackled the most extreme portions. Suspending ourselves in the air with harnesses and ropes, we were able to knock out that last section, a satisfying experience to say the least.
The final touch to finish this project was to color our walls. Using earthy tones, we stained the grout to shades of gray and browns with hints of reds, rust, whites and blacks. Whenever you look at rock in the natural landscape, you know nothing looks just alike. Here is the secret, do not try to make it look perfect. Nothing in nature is perfectly colored, and that Is what makes it so pretty.
Going Forward
This was an exciting project, and I was super happy that we were able to achieve the desired outcome for our client. While the project probably gave me a few more gray hairs and sped up the balding process, it is satisfying to know that we could overcome such adversity and never quit. Through this experience we were able to add another option to solve customers' issues with their outdoor spaces.
We have built several other Stonemakers walls, and the results have been great. We are able to mimic natural stone veneer in a fraction of the time, saving costs and impact to the property. With any new process, there is some learning curve, but I am happy with the progress of our guys as they have adapted.
While Stonemakers is not the solution for all projects, in the right application it can serve very well. Additionally, it is exciting that we are able to offer such a wide array of solutions for people who just want to enjoy their outdoors. One of the neatest areas to explore is around pools and spas, where we can create grottos, slides, waterfalls, and other unique features that can really enhance your outdoor living space. From rocks, to stacked stone, wood, block, even trees, the options are truly limitless. We are only bound by our imaginations.
I am Joe Wilkerson, owner of Maplehurst Outdoor Living, previously named Southside Hardscape & Landscape Co. My passion is building your dream outdoor living area, and we recently changed our name to better reflect our purpose and mission. We are dedicated to building fine outdoor living projects in Southern Virginia and Northern North Carolina, so you can Unplug & Relax.
Click here for a cool video and lots more photos!


www.MaplehurstOutdoorLiving.com | (434) 579-5625 | [email protected]