Outdoor Living Decisions
Expanding our homes into the outdoors is one of the key motivators to most of our projects, but our often-hectic lives today limit us to just a few hours to enjoy our homes and backyards. We are drawn back indoors soon after the sun sets seeking light to wrap up our day. The absence of light creates uneasiness. Light, however, brings us comfort; we can see our surroundings, see each other, read, work, or just get things done.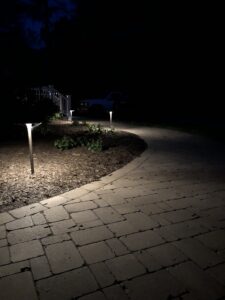 Expanding our homes into the outdoors is never really complete until we overcome the absence of light. Landscape lighting, when done correctly, can transform any landscape into an awe-inspiring work of art. Of course, the added safety of being able to see your surroundings is a great benefit, but landscape lighting ultimately creates a totally new and different experience between day and night.
Lighting works to harmonize nature and architecture by accenting and highlighting features in the home and landscape. It can create the flow you need to move your eyes to a highlight of your home, or away from that problem area. We can also light the landscape to help guide guests,thus creating a more welcoming experience.
Finished Look
Achieving that finished look can be accomplished by many techniques, and by expanding our imaginations we can accomplish a lot with a little in landscape lighting. I've had the pleasure of working alongside and under some really talented artisans, and it took a while for me to understand how they could make it so simple yet finish so refined. Their experience tells them when to stop. The inexperienced person does not know when to stop, and ends up cluttering the work and losing the effect. Landscape lighting is no different – less is often more.
The light – or absence of light – ultimately creates the experience we seek in the nighttime landscape. We can accomplish this with a variety of fixtures. Most common are pathway lights, spotlights, and wash lights. Well lights, hanging lights, and other specialty fixtures also come into use to achieve our goals.
Path lighting is the most commonly used technique. Fixtures are placed along the borders of walkways, patios, and driveways. It is important to consider the fixture style and also the placement. We want to avoid them being kicked, knocked over with a mower, or moved.
Accenting and highlighting is probably the second most used landscape lighting technique. Customers usually bring up "accent" lighting, as it is most commonly labeled in box stores and home and garden magazines. Accent lighting is focusing a narrow beam on a specific feature, whether architectural or plantings. Highlighting is usually done from the base of a tree or large element in the landscape, drawing your attention and creating a dramatic effect.
Wall-washing creates a comforting, even glow off a wall or façade. It is directed at a wall to cast off a subtle amount of light that warms the area.
Uplighting offers that bold accent, often highlighting a sign, plant, or other fixture we want to get noticed. Unlike wall-washing, we use stronger, more focused lights to really make that area pop.
Downlight is often an under used technique in landscape lighting. Just like an uplight, we are working to highlight a certain area with a bold focused light. This is a great technique to use when we want to light an area for walking but want to avoid pathway lights, or to accent cool foliage on low growing plants.
Moonlighting is my favorite technique to use over large areas. Placing the fixture high in the tree or home and casting a broad beam of light over a large area can really expand a landscape at night and create a safe area. Much less noticeable than security lighting, moonlighting a yard expands your field of view at night. Placed high enough, the branches and leaves of the trees cast shadows that mimic a full moon.
Silhouetting and shadowing can create dramatic effects in the landscape and give you a totally different experience from your daytime landscape. Focusing a light toward an adjacent wall can bring out a specimen tree in the landscape at night. The effects of movement from wind can add a dramatic element to an otherwise still landscape.
Durability
Durability must not be overlooked in any quality install. All too often people rush out to the local box store inspired by a DIY show or spring fever, grabbing some fixtures and placing them in the ground, only to be disappointed in a short time when they fail to work or fall apart.
High quality fixtures are more expensive, but worth it when considering their durability. Even high quality fixtures are not created equal. When considering lighting, we have focused on three areas of failure – the fixture's finish, the quality of the LED, and the wiring. Aluminum lighting is definitely cheaper, but after one year, the elements and the oxidation begin to take their toll. Quality fixtures are usually cast brass, and even those range in weight. The added weight adds durability and protection from dings, dents and oxidation from the elements.
Another area you will notice is that not all LED bulbs are created equally. When we switched to using Coastal Source lighting for most all of our lighting projects, one of the first things I noticed was the actual weight of the LED bulbs. The LED bulbs manufactured by Coastal Source will outlast most all bulbs bought online because they are focused on durability and maintenance free fixtures. Paying extra attention to the waterproofing and heat reduction, Coastal Source has engineered their bulbs to last, and you can feel it as soon as you pick them up.
The wiring and connection issue is why, for us, switching to Coastal Source lighting has been a great step in the right direction toward delivering quality, maintenance free lighting. Coastal Source has a patented wiring connection system. The days of splicing wires, silicone wire nuts, and connection failures are a thing of the past. These waterproof connections screw together and can withstand being submerged in up to four feet of water. Holding the molded connection, you know it is built to last. Its simplicity makes it impossible to install incorrectly.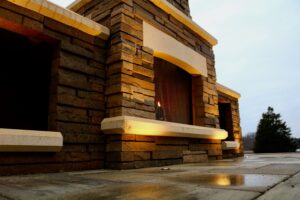 Another huge advantage of Coastal Source, we have found, is the speed of installation. While the fixtures do cost a little more, our installation time is literally half of the installs where we have to cut and splice wires. Their patented wiring can also be used in their remarkable outdoor audio systems, creating a system that makes your perfect outdoor room. Simply said, it is the best lighting system on the market.
Perfect Addition
Lighting is the perfect addition to any landscape. Lighting can solve safety issues and beautify your home. Professionally installed landscape lighting will create a totally different experience from day to night around your home. Landscape lighting pictures are the most liked and commented on photos in our online galleries, and they are my favorite pictures to take. Reach out anytime, and I'll be excited to talk to you about all the possibilities of using landscape lighting to enhance the warm and inviting look of your home.
(434) 579-5625
www.MaplehurstOutdoorLiving.com
[email protected]



Joe Wilkerson is the owner of Maplehurst Outdoor Living. His passion is building your dream outdoor living area. He is dedicated to building fine outdoor living projects in Southern Virginia and Northern North Carolina, so you can Unplug & Relax.