Outdoor Living Decisions
By Joe Wilkerson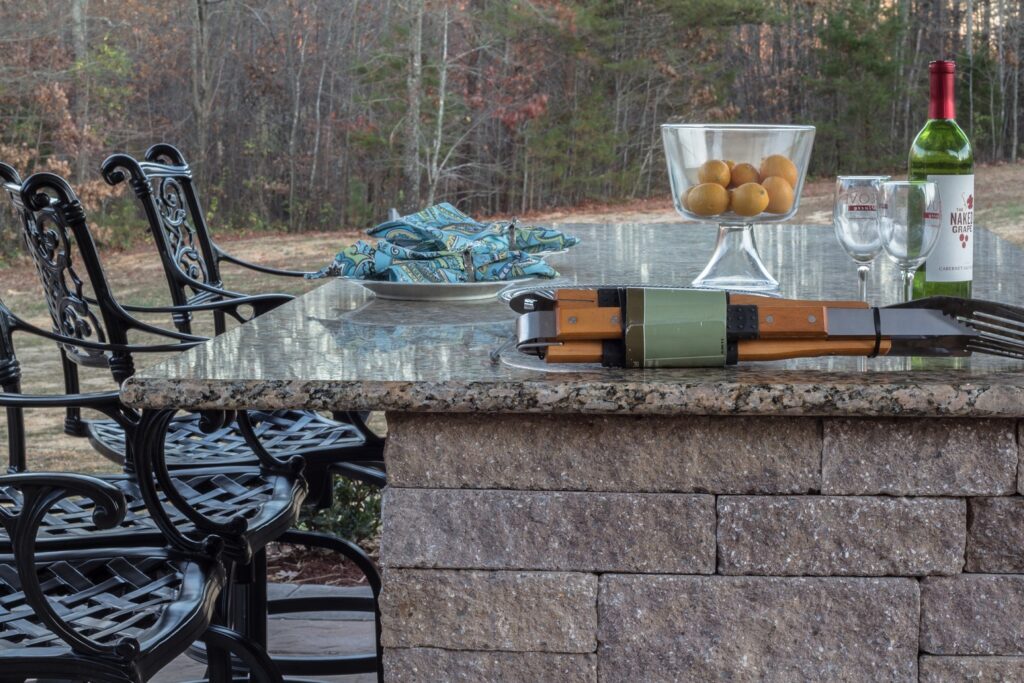 When I think of summer my mind races to memories of times gathered together outdoors, and when we gather, we eat. Grilling on the back patio is a national pastime. Search for ideas and Google will yield 2.5 million results in about a half a second. Eating is functional, but grilling outdoors is an experience.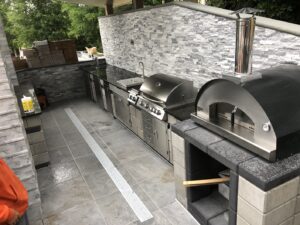 When we are asked to build an outdoor space, we always want to determine your "why." What are your goals for this backyard? Is this space an intimate setting for two, or will this patio host dozens of friends and family? Once we know the why, all the pieces will fall into place. Personally, I love the outdoors, so gathering and eating there feels natural. Creating the ideal space for any backyard retreat almost always incorporates grilling and serving food.
Design for No Regrets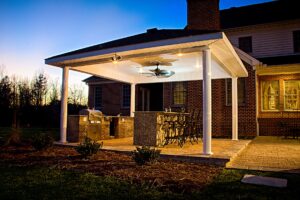 Once we have a foundation for the project, we design and build in layers to tie into the elements of your backyard. Whether you just need a small area for your grill, or a complete backyard oasis, each element needs to be introduced in the right order to ensure you have no regrets later.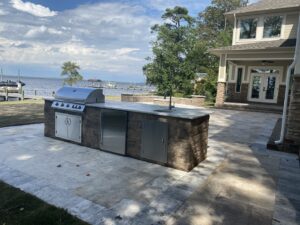 As the outdoor living industry has grown, our options for complementary elements have too. The many choices are exciting. Even the simplest of patios can have unique elements. The grill industry gives us so many options it will leave your head spinning. Do you want charcoal, gas, maybe even wood, or is a combination unit best for you? Do you like the enhanced flavor of smoke in your food? Ceramic, stainless, flat top, rotisserie, infrared…options, options, options. You can see that our imaginations are our only limitations, once we have goals and a budget.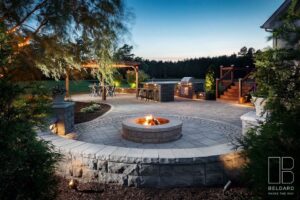 Grill islands can be built in many ways, including modular block and veneer. Our preferred method of late is utilizing our Cliffrock system. Cliffrock is an extremely strong, durable, and lightweight reinforced concrete panel system that we fabricate in our shop, then assemble on site. We can move these panels into any area and are not limited by the size and weight of pallets of materials. We do not have to tear up your existing backyard, and the speed of installation is second to none. It can be ideal for incorporating a grill island on an existing deck due to its light weight.
Utilizing special molds, we can replicate just about any appearance you want. I personally like the Ledgestone and Drystack looks, but we can do wood, random rock, rounded rocks, or even mix elements into the design such as faux trees or stumps.
Built for You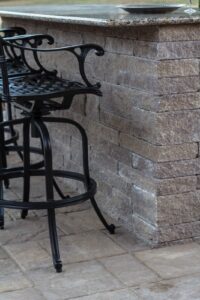 Now that we have settled on the direction of our project, we can determine how we can best spend our time and money. I try to simplify the process as much as possible by offering three different levels. A basic outdoor kitchen usually has a grill area. A mid-range outdoor kitchen starts to incorporate different appliances. With the ultimate outdoor kitchen experience, we may add a cover or shade structure, a pizza oven, multiple cooking surfaces, and additional seating.
The basic outdoor kitchen can serve most people well. If you have an existing serving area with a table, but that grill you bought at the home improvement store has fallen apart, building an island for your new grill can really enhance your outdoor cooking experience. How many times have you looked around for a place to set that serving tray because that little foldout tray on the side of your grill couldn't hold it? An island with a countertop would greatly improve your experience cooking outdoors.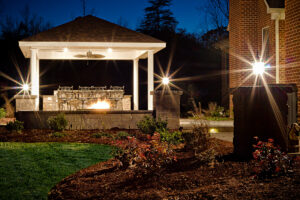 A mid-range outdoor kitchen begins to add additional elements to your space. Adding a backsplash and a bar height counter can bring your guests right up to the action. Cooking and socializing together builds relationships and memories. Beside that grill, you may incorporate a small mini fridge and an icemaker to keep drinks chilled. Drop in a small sink and maybe a flat top griddle, and you are well on your way.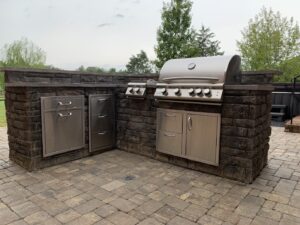 As we begin to navigate into the ultimate backyard kitchen, the options for customization are endless. Maybe you need shade to block the scorching sun – or my personal favorite – an outdoor pizza oven. Designing the kitchen in the shape of an L or a U can bring everyone in for large gatherings. With the addition of a pavilion, we can incorporate sound; TV for fall football Saturdays with your friends; mood lighting; and a small fire bowl or fireplace to create the perfect spot for entertaining.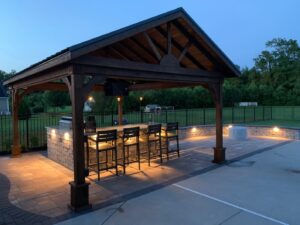 As we go into the fall, it is a great time to begin to think about incorporating an outdoor kitchen into your backyard. With the uncertainties today, eating out has many people concerned about their health and safety. We are social creatures. Our health and wellbeing hinges on gathering together and loving our neighbors. Start planning now to bring that experience to your backyard. As I am sure you can tell by the theme of my writing, I am passionate about helping you build memories with your family and friends, and there is no place better to do so than in your backyard.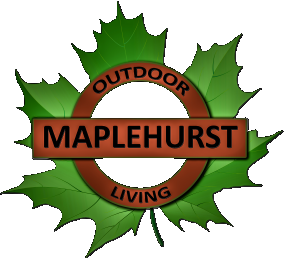 (434) 579-5625
www.MaplehurstOutdoorLiving.com
unplug@MaplehurstOutdoorLiving.com


Joe Wilkerson is the owner of Maplehurst Outdoor Living. His passion is building your dream outdoor living area. He is dedicated to building fine outdoor living projects in Southern Virginia and Northern North Carolina, so you can Unplug & Relax.