Local Celebrity Shares the Secrets of a Long Broadcasting Career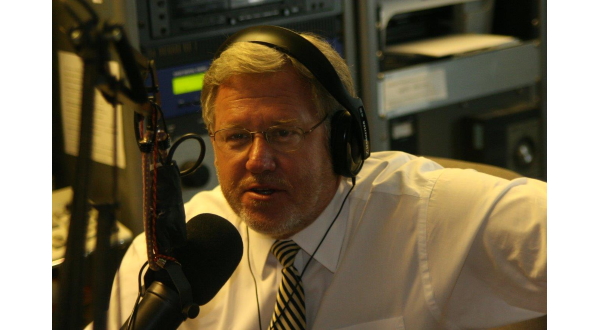 Out & About with Chef Rickey
By Rickey Esto
[box type="shadow" ]UPDATE – 10/2019
Nick Long interviewed the Editor of Hyco Lake Magazine and Chef Rickey. This originally aired on WHLF 95.3 during the morning drive on Wednesday, October 9, 2019!
[/box]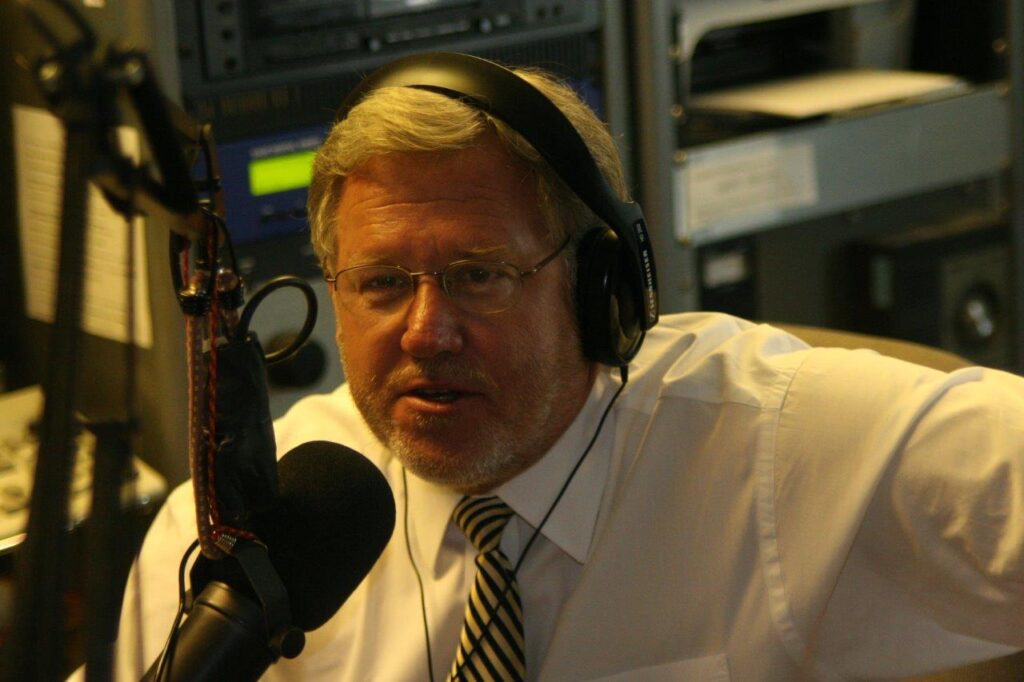 A few weeks ago, I had the privilege to interview a radio announcer in the quaint town of South Boston, Virginia. I was excited to sit down with someone who has been in this industry for decades and learn about this fascinating medium. Especially because I would tune to this station regularly since moving to the Hyco Lake Region (Person County, NC | Halifax County, VA | Caswell County, NC | Danville, VA).
I arrived for the interview to find a rather nondescript building nestled among a residential area. I was greeted by Nick Long, the personality behind the microphone for the Breakfast Club Program at WHLF 95.3 FM. He put me at ease, letting me know that he was only too happy to chat with me. We sat down in the lobby and began one of the most interesting interviews I have ever had the opportunity to do.
"How long have you been in radio, Nick?" was my ice breaker question. He was already at ease, as if he were behind the microphone for one of his play-by-plays at a local high school ball game. Nick told me that he started working at this station, albeit at a different location, in 1973. He said that a radio announcer on Sunday afternoons was getting ready to return to college and that the station needed someone to fill in. Nick was all too happy to become the "fill in" announcer. At first, he was an untrained and unpaid talent at the station, spending a lot of time observing the intricacies that go into hosting a radio program.
"Were you always interested in radio?" I asked. Nick reminded me that back in the 1960's, radio was the iPhone of that era. He said that he purchased his first AM/FM radio for $9.99 during a time when his father was in the military. He said he could listen to the Rolling Stones or a live broadcast from a baseball game and thought it was the coolest thing in the world. He went on to say that this was the reason he was drawn to being on the radio. After he graduated from high school, his father thought he would make an excellent accountant as he was always good with math. He set out on his accounting journey but as fate would have it, he befriended the son of the person who ran the Broadcast Academy of Richmond. It was there he received his certification from the FCC and the rest, as they say, is history!
As I mentioned earlier, Nick is an interesting interviewee, he seems to anticipate the next question! Perhaps that is because he has performed so many of his own interviews over the years. He told me that radio is an ever-evolving medium. He said that the station he is currently with has been around since 1947 and that one of the fundamental aspects is being able to find the engineers who understand the dynamics of its operation. Nick said that radio allows people who are unable to be at a specific event, to experience it through the technical engineering that goes into the broadcast.
"What do you believe is the most beneficial thing that local radio provides to the community?" Nick explained, he got into radio because he loved the concept of being able to listen to music, local sports, and that radio also provides the entire community with emergency alerts. He went on to say that the license his radio station has is for emergency broadcasting, not for music, sports, etc.  Nick told me that radio was developed with the mission of alerting the community to any catastrophic event that may be taking place. Another aspect of radio is to provide Public Service Announcements for the local community. A PSA may be regarding an event that raises money for the local fire department, or for organizations such as, The American Red Cross, Cancer Society, etc. This he said is one of the fundamental responsibilities that a radio station has; benefiting the local community through emergency broadcasting and local PSAs.
"How is local radio able to stay relevant with all of the technology out there today: streaming services, apps for smartphones, podcasts, satellite radio, etc.?" Nick smiled when he explained that as long as there are automobiles where occupants can turn on the radio and be informed or entertained, or people who listen while doing chores at home or an office or retail store that use it to enhance customer's experience; that radio will always be relevant. Nick said that audio is the one thing you do when you are doing something else. It enhances what a person may be doing. Local radio becomes an intimate experience for listeners. The person with a lengthy commute can turn on the radio making it a one on one experience. Nick went on to explain that the programming being broadcast over the airwaves is reaching many people, resulting in both an intimate and public or common experience for community members at the same time.
"What challenges does local radio face with the ever-changing technology?" Nick said that evolving technology poses many challenges. One of the ways to overcome these is to embrace consumers' changing expectations. Having a presence on the internet with streaming, Facebook and podcasts is important in today's world. Technology has compelled all traditional mediums to evolve to continue serving the community.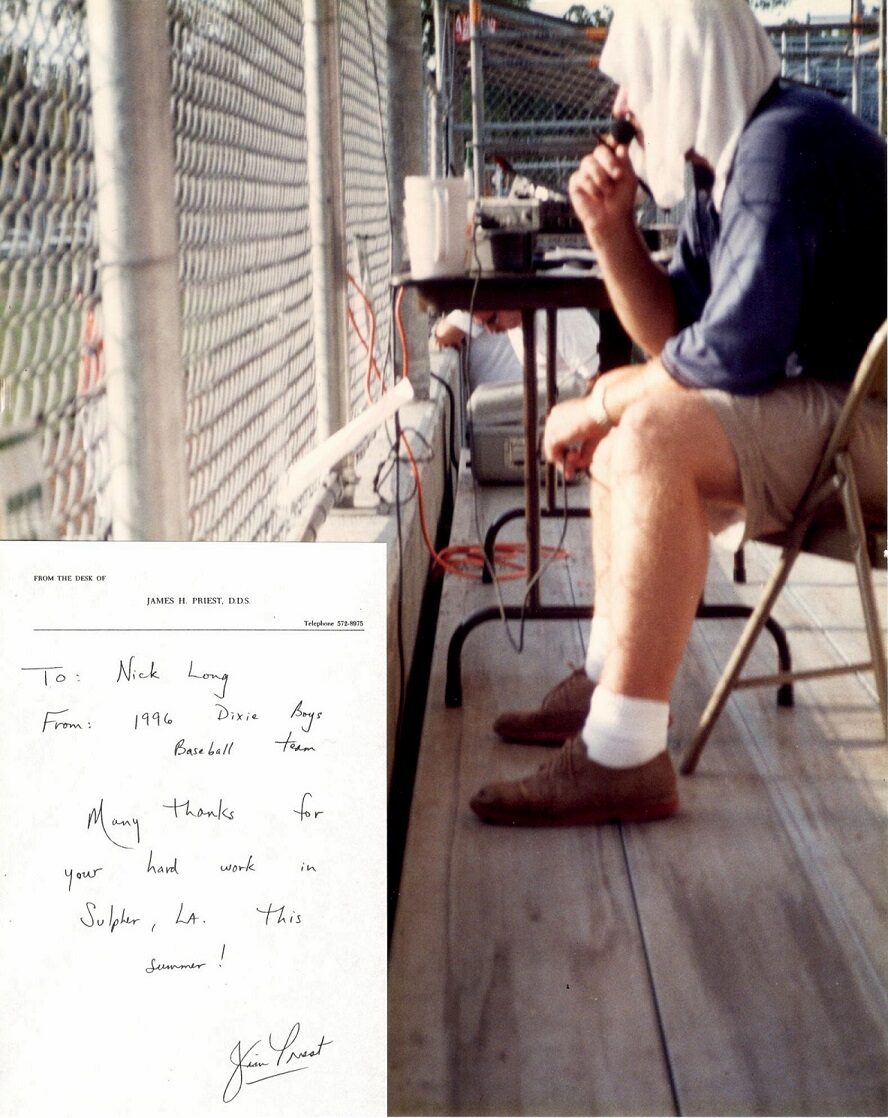 "Do you find advertisers are more apprehensive with respect to sponsoring a local radio station or local radio program with so many competing mediums out there?" Nick was quick to say absolutely not. The most important concerns to advertisers are the demographics of the listeners and the reach (the number of different people who hear a radio commercial.) He did elaborate that advertisers need to recognize that no amount of advertising is a quick fix for a company that is struggling with issues such as poor customer service, inferior quality, etc. Nick said that companies have to look within to resolve problems before any type of advertising will have an impact on the opinion of the consumer.
"What challenges do you face with respect to the programming for local radio?" Nick said that the biggest challenge is finding time. He reviews demographics of the listeners to the music and other programming allowing him to select the content.
As our conversation continued, he and I spoke about the many people who were pioneers in radio; for example Franklin D. Roosevelt having a fireside chat and Winston Churchill keeping everyone up to date with respect to WW II, and even a future president of the United States who started out as a radio announcer in Illinois; President Ronald Reagan. As we spoke about these people you could see the spark in his eye, and how well he fit in with this group of accomplished talents.
I wanted to know what was next for Nick. After decades in the radio industry what would be his next adventure? Quite simply he said that maybe gardening, vegetable gardening; then with a mischievous look and a pause he said "perhaps I will get into local politics." With that answer we concluded the interview, after all he had to get back to his programming duties at the radio station and I had an article to write.
You can listen to WHLF 95.3 FM on your radio or you can visit www.953hlf.com  to stream the programs live.
It was an honor and a privilege for me to have had the opportunity to meet and interview Nick. Something of interest to me and outside of the wonderful world of food. If you have any questions regarding catering and or cooking questions, or would like to comment on this article, please feel free to email me at: [email protected]
Here is the unedited interview that lead to this article!