By Donald F. Oakley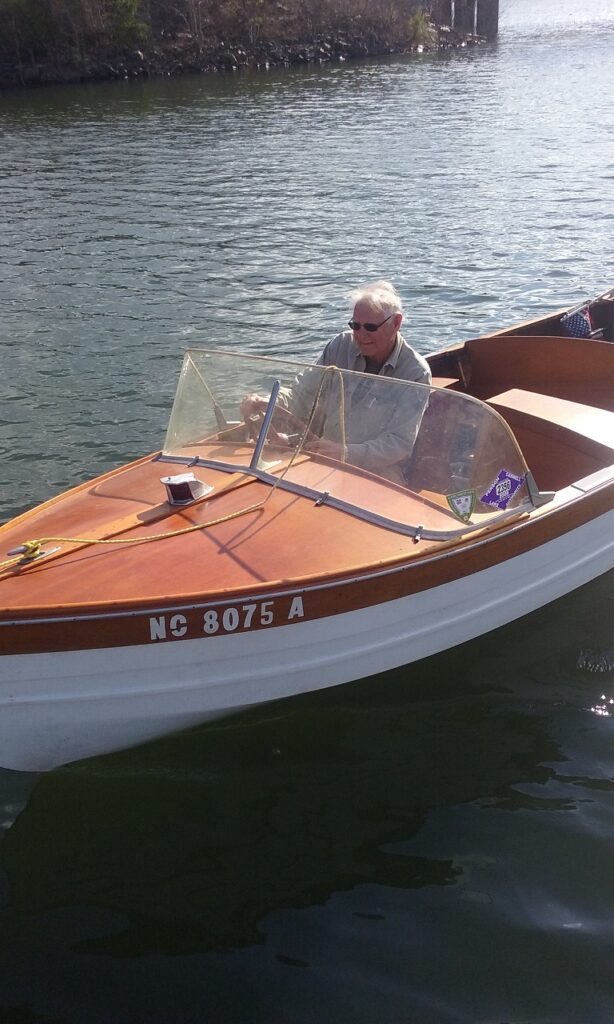 Herbert W. Barbour opened Barbour Boat Works on New Bern Trent River in 1933. His company made U.S. Rescue Boats. By 1943, Barbour employed over 1200 people. By 1945, Barbour Boat Works was making Coast Guard Tug Boats and Ferries for the State Department of Transportation. Next came the glamorous mahogany wood pleasure recreational Barbour Boat measuring 14 to 21 foot for cruising and skiers. Sadly, Barbour boats ended the wooden boat building in the late 1960's.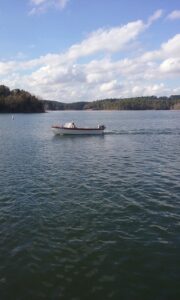 I, Donald Ferrell Oakley, was born in 1940, own a 1958 16-foot Barbour Wooden Boat made in New Bern, N.C on Trent River. My 1st child, Don II, born in 1965 slept under the bow of the boat on Hyco Lake while we cruised the lake in its totality.  This 1960 Model 40 H.P. Evinrude Lark has pulled three skiers at one time. The motor still runs good just like it did years ago.
The Barbour has been in every nook and channel on Hyco Lake over the many years that I've owned it. Parents, grandparents, our children, Don II, Dana, Dawn and Devon have boated with Andrea and I at Hyco Lake over the many years.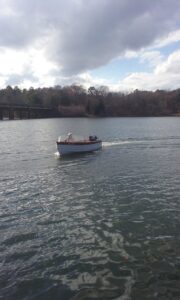 The late Jack Satterfield, owner of Roxboro Broom Works bought this 1958 Barbour boat new. Mr. Satterfield sold this boat to the late Paul Blair and bought another Barbour boat. I believe Mr. Blair put the 1960 Lark Evinrude motor on my boat after he bought it from Mr. Satterfield.
Incidentally, Mr. Jimmy Dallas, owner of The Sport Shop in Roxboro N.C. told me he learned to water ski behind my boat way back when. Mr. Dallas and I are close to the same age. The Dallas family, Satterfield family, and the Blair family lived near each other on Highway 49 South. Another fact about my boat, the late Flemmie Ray Long fiber glassed the bottom of my Barbour boat in the mid 1960's.
Built in 1958, in New Bern N.C., NC 8075A Barbour is water ready. She even passed U.S. Coast Guard sticker inspection at the Crystal Coast a few years back. We have many good memories.
Editor's Note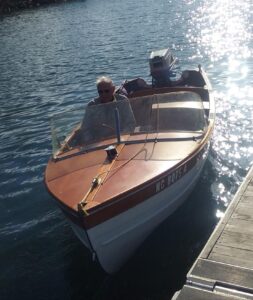 I received a call from an excited owner of several wooden boats, including a few Barbours. Joe Peaco Jr. lives in Greenville, NC, host of the Facebook page "Barbour Boat Enthusiasts." He told me that word of mouth traveled his way that we were planning to publish Donald's story. We talked for some time about my love for wooden boats, my childhood experiences with wooden boats in the 1,000 Islands, and the many wooden boat restorations he has completed and currently has underway.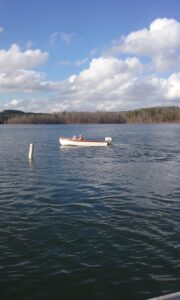 We have had several wooden boat stories in Hyco Lake Magazine, click here. We hope to continue bringing these historical boats to our readers. But we need your help! Please let us know of any wooden boats you know about, any where in the Hyco Lake Region (Person County, NC | Halifax County, VA | Caswell County, NC | Danville, VA).
Cheers,
Peter Berry
Editor, Hyco Lake Magazine